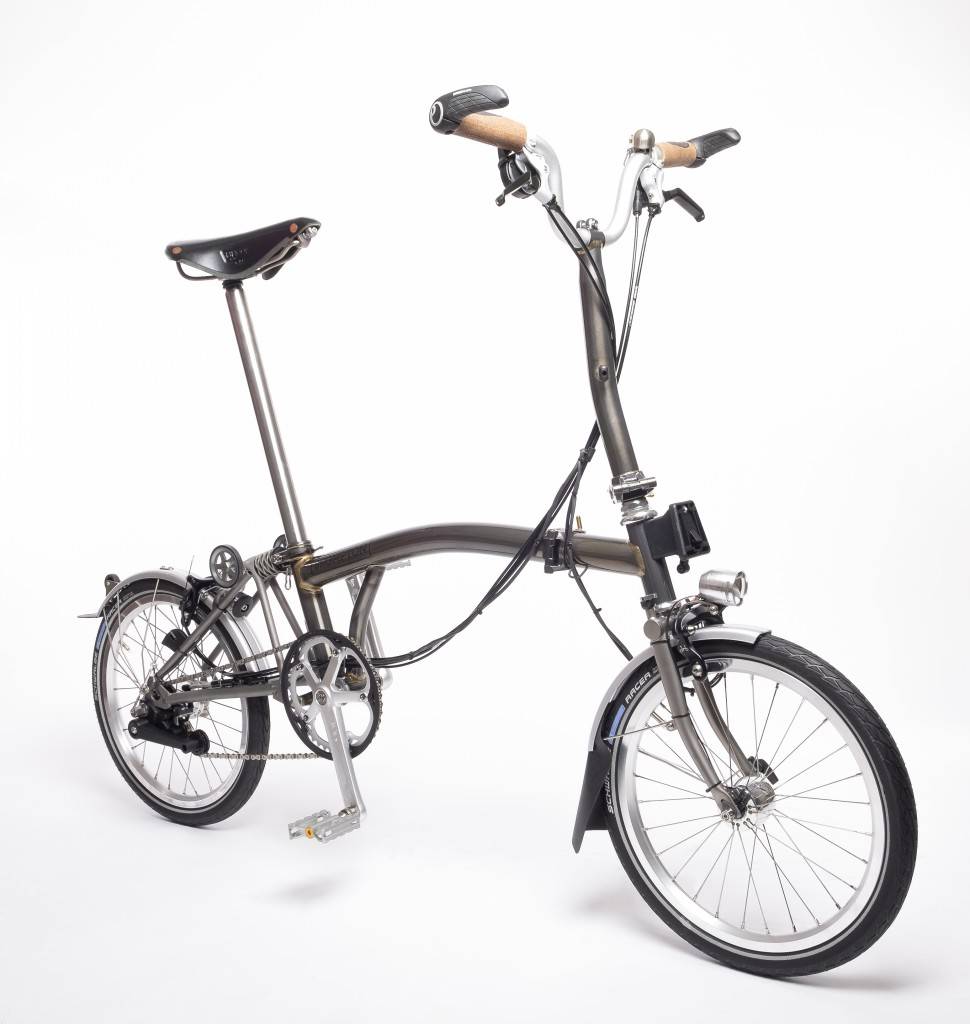 Introducing Our Omakase Lux Series Bromptons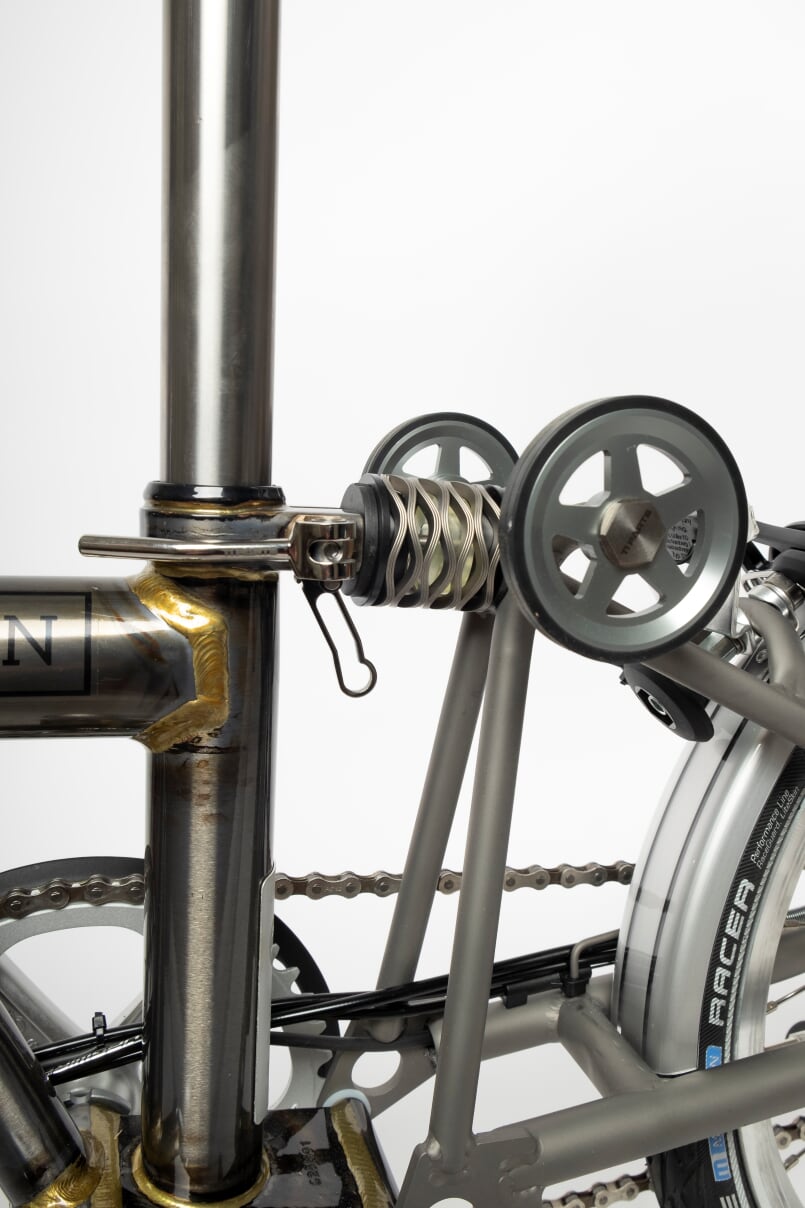 Of all the bikes we've ridden and sold over the decades, Brompton folding bikes inspire by far the most passion. This often takes the form of aesthetic and functional accessorizing, or simply riding them to their limits, wearing out parts, and upgrading incrementally, both as Brompton continually improves its components, and as third parties offer special solutions. With Brompton's core design stable for almost 40 years, an aftermarket parts industry has sprung up to cater to the most particular demands.
Some people like to customize their Bromptons piece by piece over time, selecting upgrades from several vendors. This path can yield striking results: striking in both good and bad ways, frequently with some waste of parts and labor as various incompatibilities and quirks surface. We can support these efforts to some extent. But there's another group of people who'd prefer to skip the long road, instead relying on us to deliver a highly optimized bike in one go, either as a springboard for yet more tweaks or as a final, shimmering destination.
Omakase (oh-ma-KAH-say) is a Japanese word familiar to sushi fans meaning roughly "leave it to you." Faced with a long menu of unfamiliar or difficult choices at a sushi bar, it's hard to go wrong entrusting your selection to the chef, who will reward your confidence by serving you the best stuff. Clever Cycles' Omakase Series Bromptons follow this model. You leave the details to us, and we go all out to please.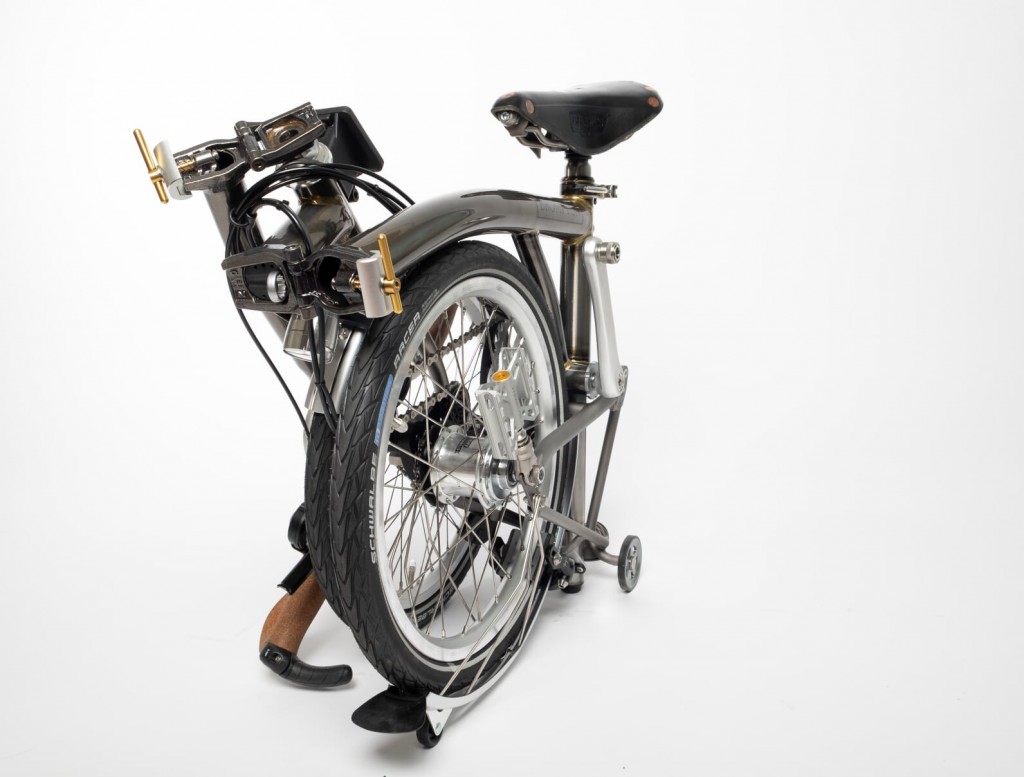 Our goal with this first Omakase "Lux" series is to offer the lightest Bromptons that don't skimp on function, comfort, durability, or aesthetics. The easiest way to shed weight on a Brompton is to jettison features like gears, lights, fenders, leather saddles, etc., and to use plastics (including carbon fiber) instead of metal. We reject this approach here, instead packing in all the goodness we can with as little weight penalty as necessary.
A normal 6-speed Brompton with dynamo lighting, fenders, a Brooks saddle, luggage block, and Ergon grips can weigh nearly 30 pounds. This happens to be our customers' most popular configuration, almost our house style, but it can be a bit much to lug up stairs or hoist into a carry-on luggage compartment, especially if you're a smaller person.
Selecting Brompton's factory "superlight" option can take 2 pounds off that. That's meaningful, but not enough for everybody. Our Omakase Lux Bromptons start with Brompton's superlight variant of our most popular configuration, and bring it down to about 24.5 pounds. In other words, we double Bromptons' superlight weight savings while enhancing function, looks, and comfort even further.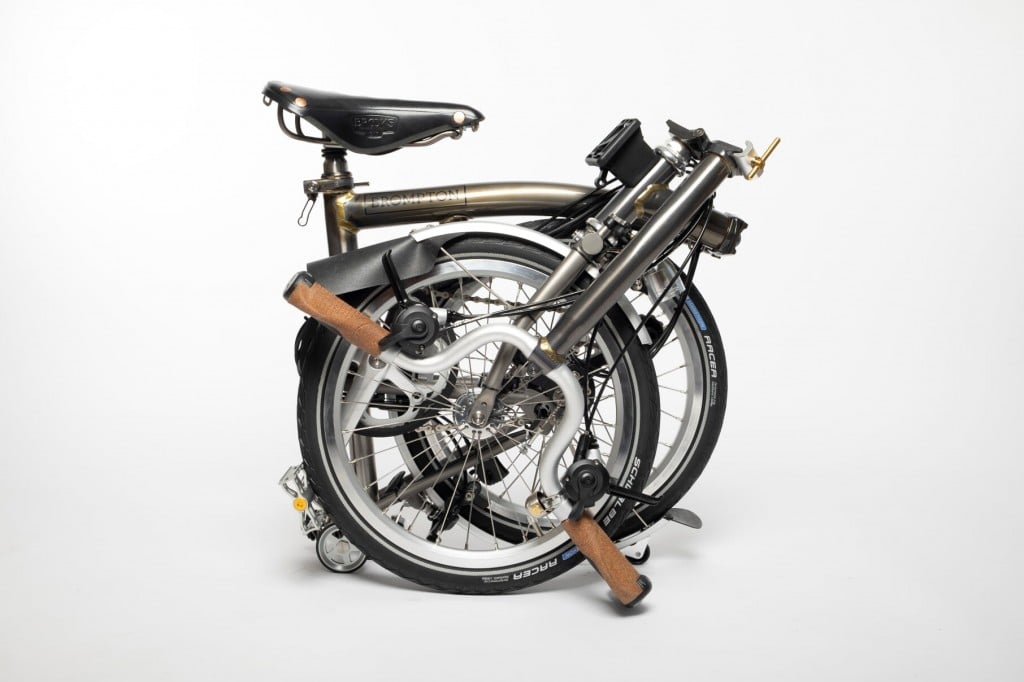 It's not all about weight. In a few instances we add weight back because we deem the benefit worthwhile. In several instances, for example, we substitute metal parts where Brompton uses plastic, because metal is more durable and attractive. We might later introduce a true ultralight Brompton that we expect can be under 20 pounds, but it won't be nearly as functional as the present offering.
Sometimes it's about beauty. Brompton's popular Raw Lacquer finish has always been a standout, celebrating the look of raw metals and the talent of Brompton's brazers. That's the unifying theme: let metal be the color of metal, not hiding or artificially coloring it wherever possible. We've selected several of the upgrade parts on our Omakase Bromptons specifically to complement the Raw Lacquer finish, in its fine tension between drab industrial and brassy bling.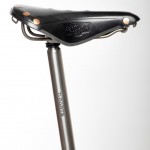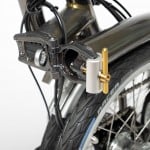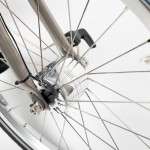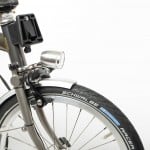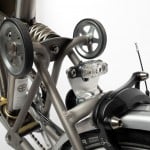 The Clever Cycles Omakase X6L-Lux Series Brompton
OK OK, we have to work on the naming.
Your choice of 6-speed S, M, or H-type superlight Brompton as a base, in Raw Lacquer. Because it has to fit you. Did you know that the 2018 Raw Lacquer bikes have brought back the gloss finish?
Ti Parts Workshop Diet Kit: this replaces the bottom bracket and nearly all the steel fasteners of a Brompton (almost 40) with titanium versions, for a significant weight savings and invulnerability to corrosion.
Ti Parts Workshop titanium seatpost, in either standard or extended length; telescopic option forthcoming. In addition to saving weight, ti seatposts add comfort through vertical compliance.
Brooks B17 titanium-rail saddle, in any color you want as long as black. The ti rails contribute both to lightness and comfort through greater flexiness. Raw hand-hammered copper rivets carry the bare metal theme, changing variably from bright to rainbow-y to brown based on wear.
Ti Parts Workshop "Double X" quick-release pedals, with pedal holder. These are a light, lovely, comfortable upgrade to Brompton's stock solution.
Ti Parts Workshop hinge clamp and seatpost levers, in natural/gold to complement the Raw Lacquer finish's exposed brass. These are lighter and also work better than the originals, preventing wasted motions in the fold/unfold processes.
Brompton Toolkit. Adds weight, worth it: all the tools you need for common adjustments and repairs, tucked neatly away inside the frame like something from Q in a James Bond movie.
Schmidt SON-XS dynamo lighting with IQ-XS headlamp, Toplight Line Plus taillight. Jewel-like finishes, unmatched efficiency, fantastic safety benefit by day or night, dynamo lighting is for everybody except daytime racers, we think.
Ti Parts Workshop Easy Wheels, 5-spoke 66mm in ti grey.
Matumura-Kohki Scrowave suspension spring, your choice of soft or firm. Weighs more, but it's beautiful, stainless, and you get to say Scrowave.
Schwalbe AV4 tubes. Yes, we replace the perfectly intact factory tubes with Schwalbe AV4s, because they hold pressure about twice as long, and keeping Brompton tires topped up shouldn't be so hard.
Lezyne Pressure Drive pump in seatpost. When you buy a superlight Brompton, they leave off the Zefal pump. We add back a much better pump, and put it in a better place. With little hose so your pumping action doesn't over-stress the tube's valves.
Ergon GP3 Biokork grips. They add weight, but bar none these are the single most popular Brompton upgrade we've sold over the last 11 years. Adds a few hand positions, all more comfortable than stock.
Spurcycle bell, raw brass. Bromptons come with a bell already, not bad. Once you see and strike a Spurcycle, you'll understand. The singing bowl of bicycle bells, with about 30 sweet seconds of sustain.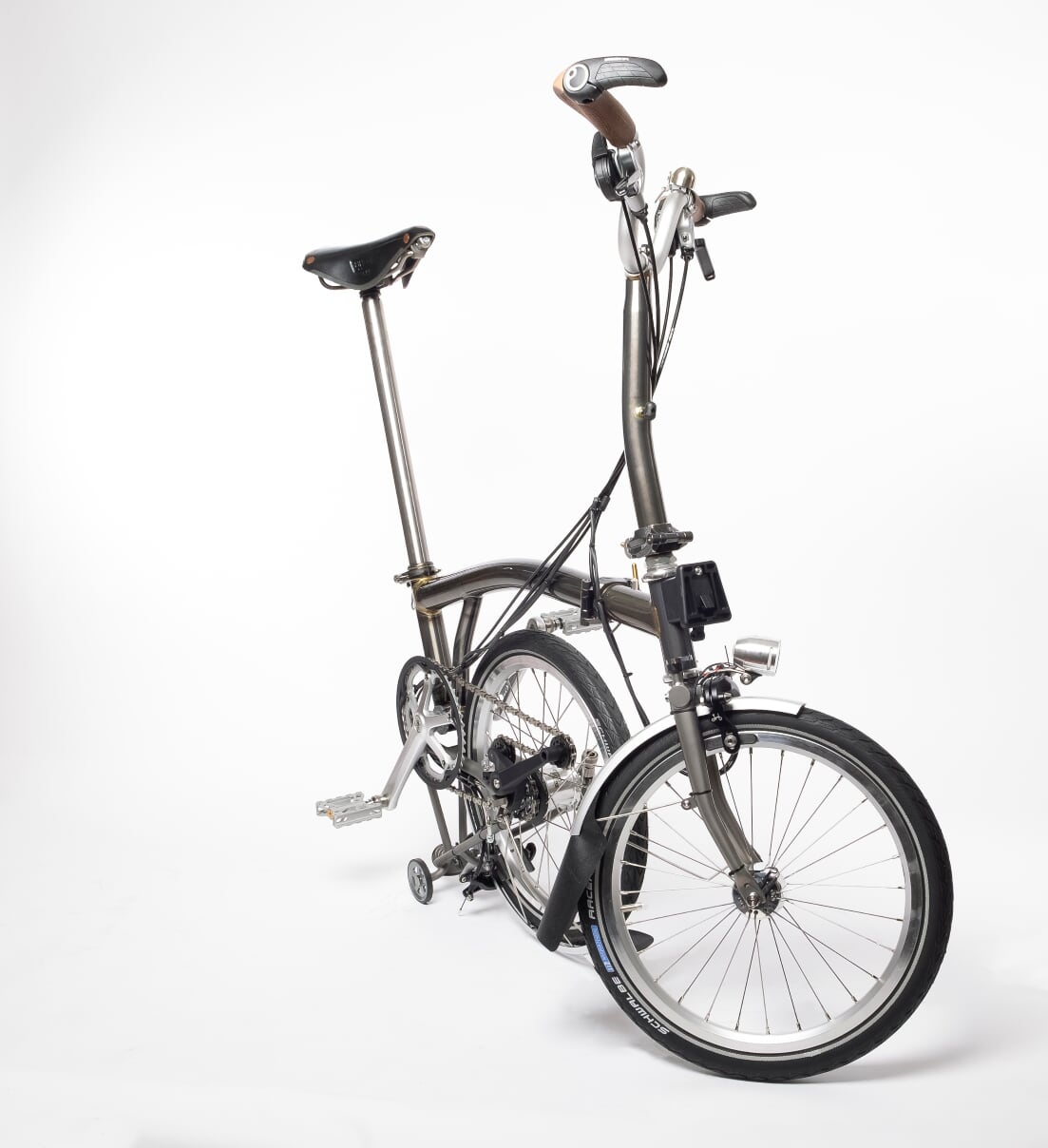 What's It Good For?
Almost anything. Ride it around the world? Please don't shoot it into space: a waste. These bikes are substantially identical to mine, that I took on this trip: Bikepacking Central Oregon mountains in Spring. I also use it daily for my too-short commute. Parked in the shop, it regularly attracts lustful comment. This project is partly an attempt to make a product out of my own evolving desert-island bike, to make sales conversations less strenuously long and complex.
How Do I Get One?
Tell us you want one. We'll reply with sizing questions and lead time.