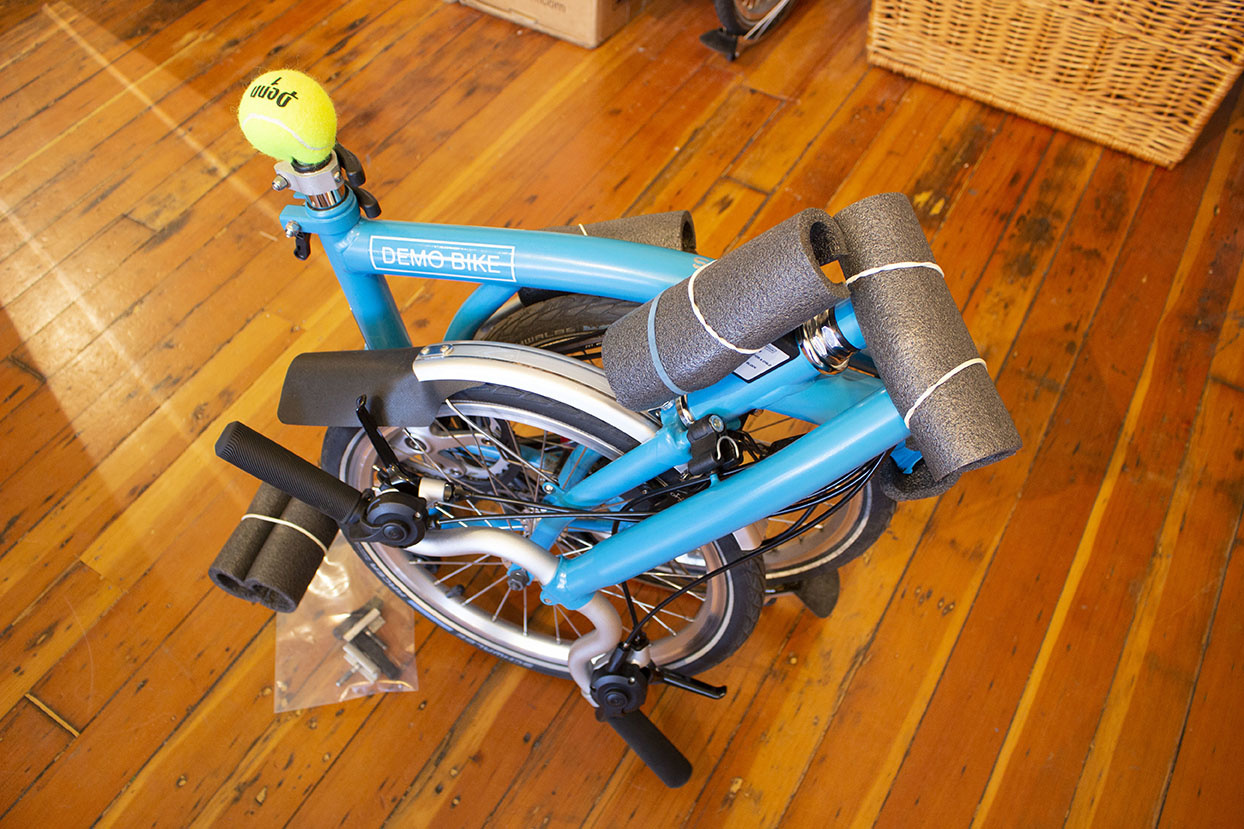 Bromptons are a favorite among frequent flyers because they fit in most airplane overhead bins, they're easy to pack for a flight, and they fit in standard size suitcases, so you won't pay extra if you decide to check the bike. They're also easy to transport to and from the airport. You can ride it, take it in a taxi, or carry it onto the train or bus. Other folding bikes fold in half. Bromptons fold in thirds. The combination of the three part fold and smaller wheel size makes Brompton one of the smallest folding bikes made. Measuring only 23 x 22.2 x 10.6 inches, a folded Brompton can be stored in your hotel room. If you're at all curious about this bike, or you have a Brompton you want to take on your next flight, this guide is for you. Remember to check your airline's policies before traveling.
Checked Bag vs Carry-On Item
Airlines charge up to $150 each way for traveling with a bike as checked baggage, sometimes in addition to standard bag fees. Because a folded Brompton fits inside a standard size suitcase, Brompton owners can usually avoid paying bike handling fees provided the bag doesn't exceed the airline's size or weight allowance for checked bags. In most cases, the bike and suitcase by themselves won't exceed the weight allowance, and you'll be able to fit a few additional lightweight items, like clothing or spare tubes. The average weight of a large, lightweight suitcase 28 to 30 inches long is about 11 pounds, and a heavier Brompton might weigh 28 pounds. You will need a suitcase with interior dimensions measuring at least 23 x 22.2 x 10.6 inches or 585 x 565 x 270 millimeters (the size of a folded Brompton). There are advantages to checking your Brompton. For example, you don't have to take it through the airport or security check, or worry about overhead bin availability. However, you do not need to check it unless you want to. 
If you'd rather avoid fees, lines at the ticket counter and baggage carousel, and potential damage or loss, you can either carry your Brompton onboard or gate check it, depending on the size of the plane. (Update: From the time this was written, some airlines have changed their maximum carry-on size, and the Brompton may exceed those measurements. You should contact the carrier directly to confirm current regulations.) Gate checking is when travelers check their carry-on bag at the gate due to lack of space in the cabin. Some carry-on items, like strollers and car seats, are too large to fit in the overhead bins, and overhead compartments often reach capacity before everyone has boarded. Gate agents often make an announcement ahead of boarding encouraging passengers to gate check their bags on flights that are full, which nowadays is most flights. A gate-checked item is tagged at the gate, then handed off to an agent at the end of the jetway. The bags are placed in storage, in the belly of the plane, for the duration of the flight, and are returned to the passenger either at the boarding stairs or at baggage claim.
Some airlines, like Southwest, let you pay extra for early boarding. This will decrease, if not eliminate, the possibility the overhead bins will be full when you board. If you don't mind paying an additional fee, check to see if the airline you want to book with offers upgraded boarding.
How to Fly With Your Brompton as a Carry-On Item
There are two accessories that will make flying with your Brompton as a carry-on even easier. The first is a Brompton Bike Cover. We recommend covering your Brompton, especially near the ticket counters and security screening area, as this will minimize the number of questions you'll get from airport personnel. At the very least, fold your Brompton. Do not walk up to the security checkpoint with the bike unfolded. You are allowed to fly with a Brompton as a carry-on. However, not every airline employee is familiar with the bike, and it's possible that the person checking IDs and boarding passes will see your bike and arbitrarily decide you have to check it. Covering the bike will spare you the hassle. It also protects passengers and their luggage from a dusty, oily, or muddy bike. Brompton's nylon zip-up bike cover folds into an integrated pouch that attaches to the saddle for easy storage. It's lightweight and durable, and the open bottom design makes it easy to put on and remove. You can cinch it tight around the base of the bike using the drawstring. The bike cover in its saddle bag has three velcro strap attachments and is compatible with Brooks saddles. One strap goes around the seat post, and the other two feed through the eyelets or slots.
The second item that will make flying with your Brompton even easier is the roomy Borough Roll Top Bag. It's Brompton's largest bag, a classic roll top with outer front, side, and rear pockets for organizing and a 28-liter capacity. Most airlines allow two carry-on items. If your Brompton is a carry-on item for you, that means you can choose one other item to take with you. The Borough Roll Top Bag can hold everything you need for your trip (from clothing to tech to toiletries). It includes a hi-viz, reflective waterproof rain cover (though the bag itself is water resistant) and has an adjustable external load carry strap for helmets, jackets, or other large items. There's a padded laptop sleeve inside the main compartment. The bag is compatible with all handlebar types and has a rubberized carry handle and detachable shoulder strap.
If you have a Brompton Cover and Borough Roll Top Bag, you can roll your Brompton through the airport with the cover on by zipping the top partway open, snapping the Borough Roll Top Bag on the front carrier block, and pulling it along like a rolling piece of airline luggage. Bromptons with rear racks roll better. Bromptons upgraded with Easy Wheels, even better. Easy Wheels are larger and slightly softer. If you plan to walk your airports, train stations, and bus terminals, we strongly recommend the upgrade as it will significantly improve the bike's rolling function.
What You'll Need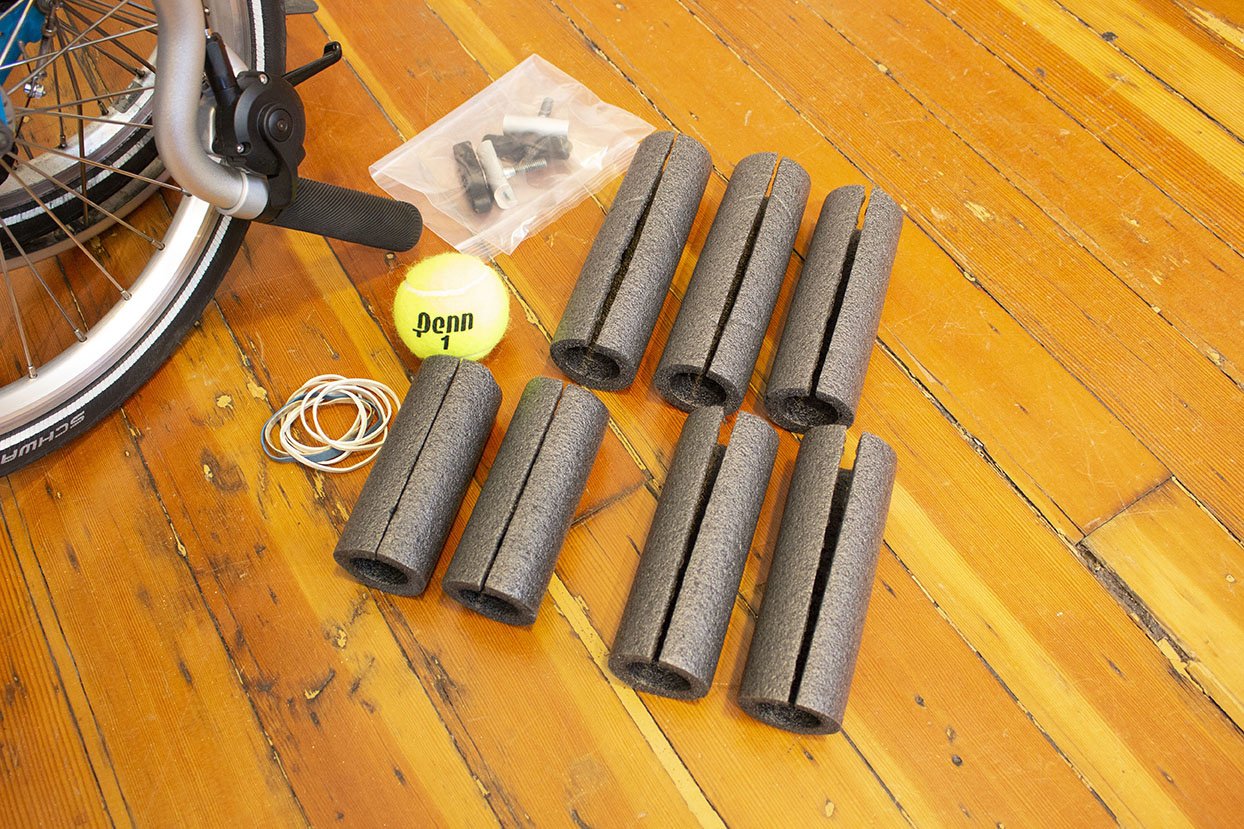 If you're traveling with your Brompton as carry-on luggage, bring these to the airport. If you plan to check your Brompton at the ticket counter, you'll use them at home while packing the bike in your checked luggage.
Small plastic bag (for storing hinge clamps)

Pipe insulation

* cut into 7 pieces (to protect hinges, front carrier block, and pedals)

8 rubber bands (to secure the foam pieces of pipe insulation)

Tennis ball

with a small slit cut into the middle of it (to protect the seatpost)

IKEA Dimpa bag

* (adds an extra layer of protection and a handle for ground crew)

5 mm hex wrench (to remove saddle)
*We used pipe insulation with an inner diameter of 1 inch, roughly 3.5 feet of it. Our local hardware store sells it in 6-foot pieces for less than $3. We cut each piece to size. You can label them with a Sharpie.
IKEA Dimpa Storage Bag
For less than five dollars, you can purchase IKEA's Dimpa bag, a clear 25.5 x 8.75 x 25.5 inch polypropylene storage bag that will protect your Brompton in the event you have to gate check it. Savvy Brompton travelers prefer the Brompton-sized Dimpa (1) because it provides handles for carrying and attaching a luggage tag and (2) because the Dimpa is see-through. This allows the ground crew to see the bike inside, and hopefully, they'll be more careful with it. You can also tape a handle-with-care sign to the inside. At only seven ounces, the Dimpa won't weigh your bag down if you don't end up using it.
How to Get Your Brompton Through Airport Security
When you arrive at the airport, remove the Borough Roll Top Bag from the front carrier block, and fold your Brompton. Once it's folded, reattach the Borough Roll Top Bag and roll your Brompton through the airport, until you are near the security screening area. It's best to prepare your bike for the screening process before walking up to the security screening area. To start, remove the Borough Roll Top Bag. The bike will fit more easily through the x-ray machine if you remove the saddle. Loosen and remove the saddle from the seatpost using the 5 mm hex wrench. Once you've removed the saddle, put the tennis ball over the seatpost to protect it. If you have a Brompton Bike Cover, put it on. Proceed to the security area with your Brompton, carrying your Borough Roll Top Bag on your shoulder. Send the Borough Roll Top Bag through the x-ray machine first, by placing it on the conveyor belt. Your Brompton will fit through the x-ray machine. It fits best folding pedal side down on the conveyor belt with the rear rack (or wheels if you have an L type) either facing toward you or away from you. Security may want to perform a swab test to make sure it doesn't contain any explosives. Once you, your bag, and your Brompton are through the screening process, you can remove the cover, reattach the Borough Roll Top Bag, and wheel your Brompton to the gate. 
If you plan on flying with your Brompton, we recommend a telescoping seat post because it allows you to remove the saddle without tools.
When you arrive at your gate, cover your Brompton if it is uncovered. When you present your boarding pass to the gate attendant, ask for a bag tag. Don't attach it. Save it, in case you need to gate check your Brompton. Proceed down the jetway. 
How to Prepare for Your Flight - Know Your Plane
On newer Boeing 737 jets, the Boeing 737-700 and Boeing 737-800 series aircrafts, Bromptons will fit in the overhead baggage compartment. On smaller planes they won't. The smaller overhead bins on older Boeing 737 jets like the Boeing 737-300 and Boeing 737-500 series aircrafts may not fit a Brompton. If you're flying on a regional jet, you will have to gate check your Brompton.  
If you can get aircraft information before making a reservation, you can pick your flight based on jet size, i.e., choose a larger jet with overhead bins you know will fit a Brompton. Even if you've already purchased your plane ticket, you'll be better prepared knowing the type of plane you'll be flying on. On Southwest.com you can view the scheduled aircraft by clicking the flight number in the search results. On AlaskaAir.com you can obtain this information from the seat map preview.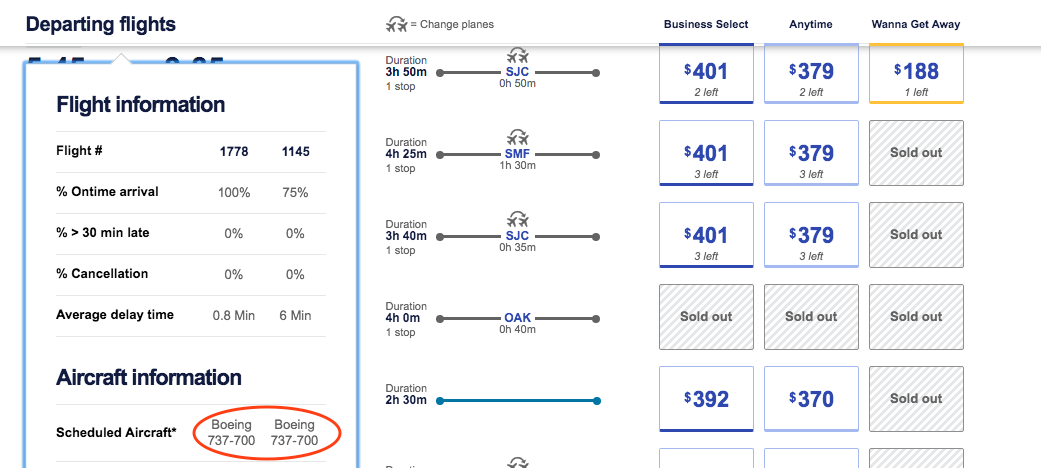 How to Prepare Your Brompton for Gate Check
If your Brompton won't fit in the overhead compartment because the overhead bins are too small or completely full, you will need to gate check it. This means protecting the sensitive parts of the Brompton from becoming damaged during the baggage handling process.
To prepare your Brompton for gate checking, first, remove the cover. Remove the hinge clamps from the hinges, and store them in the empty plastic bag. This will prevent them from getting grease on your stuff. Protect the hinges, the front carrier block, and the folding and non folding pedals with the pipe insulation pieces—two on each pedal, one on the main frame hinge, one on the handlebar hinge, and one on the front carrier block. Secure them to the components using the rubber bands. For an extra layer of protection, we recommend putting the Brompton in a Dimpa bag or something similar. Lastly, secure the bag tag you received from the gate attendant. Your Brompton is now ready for a gate check.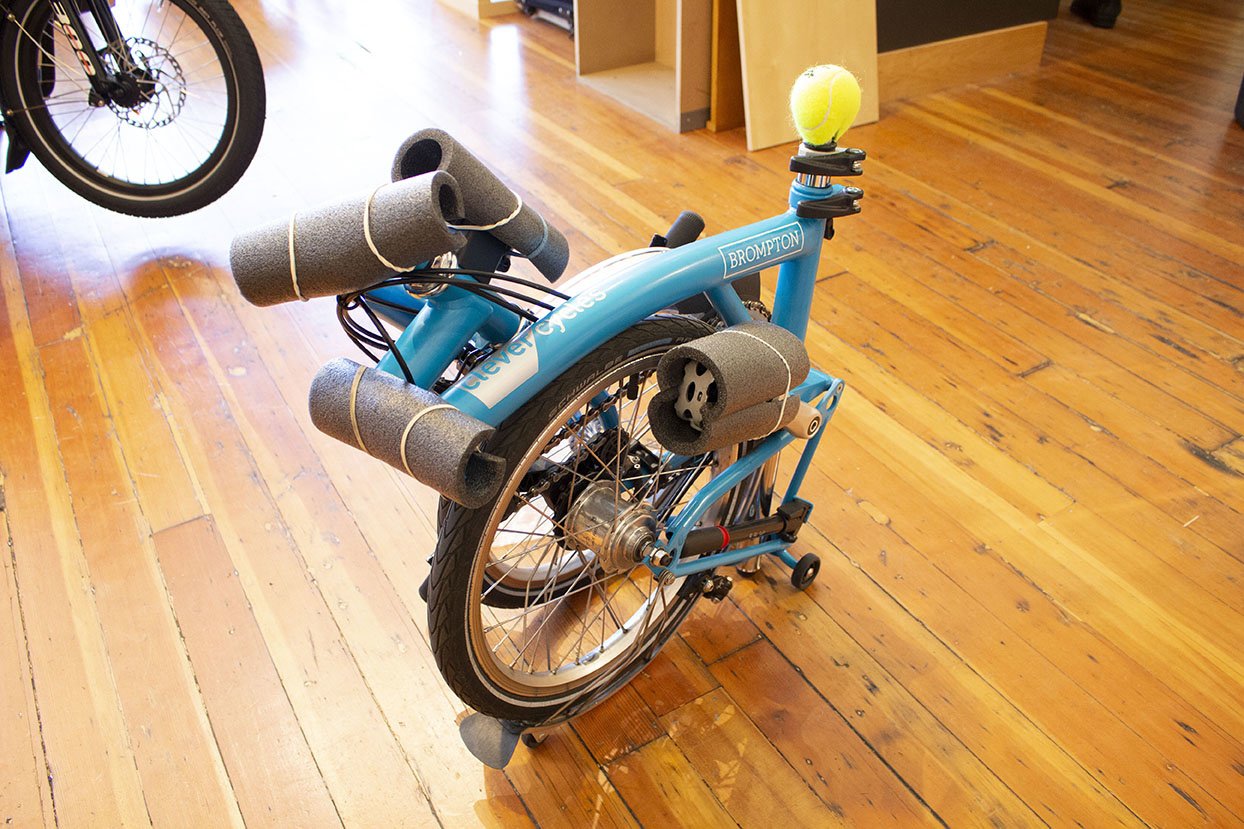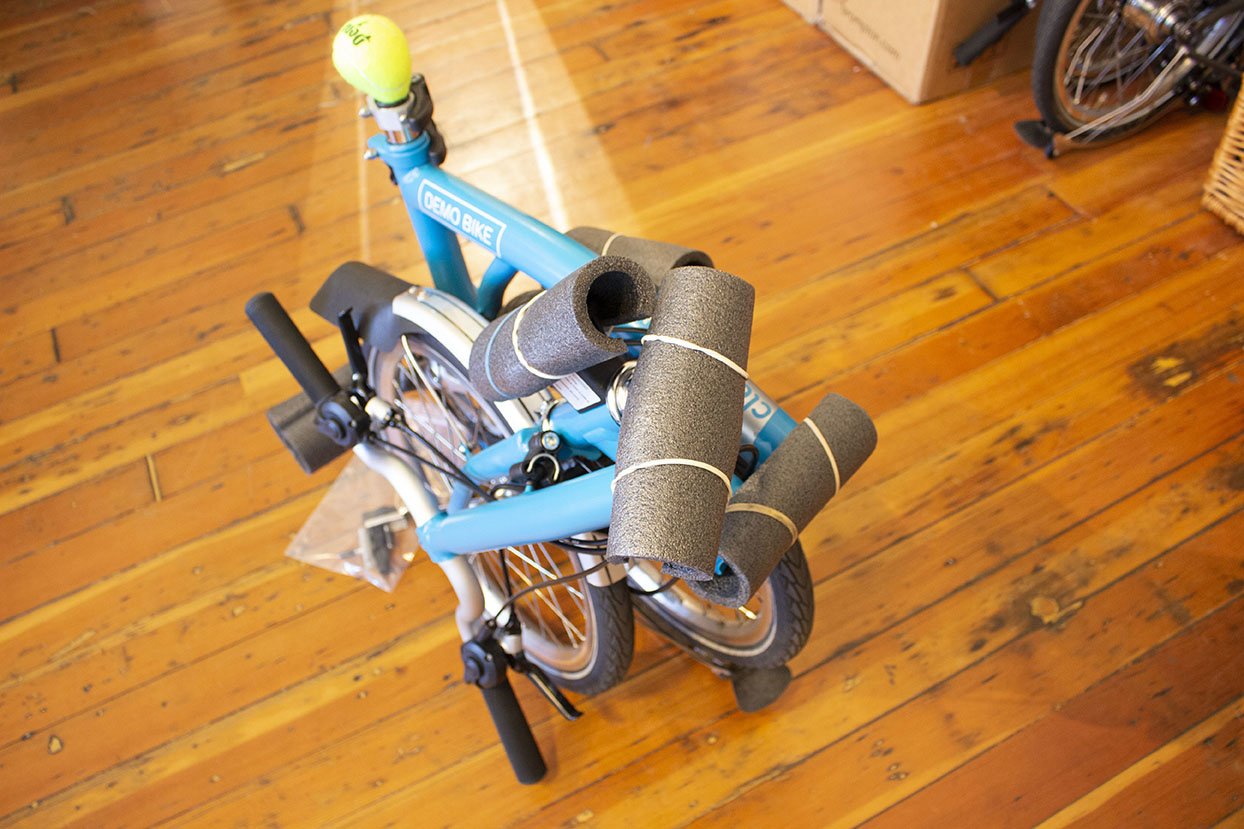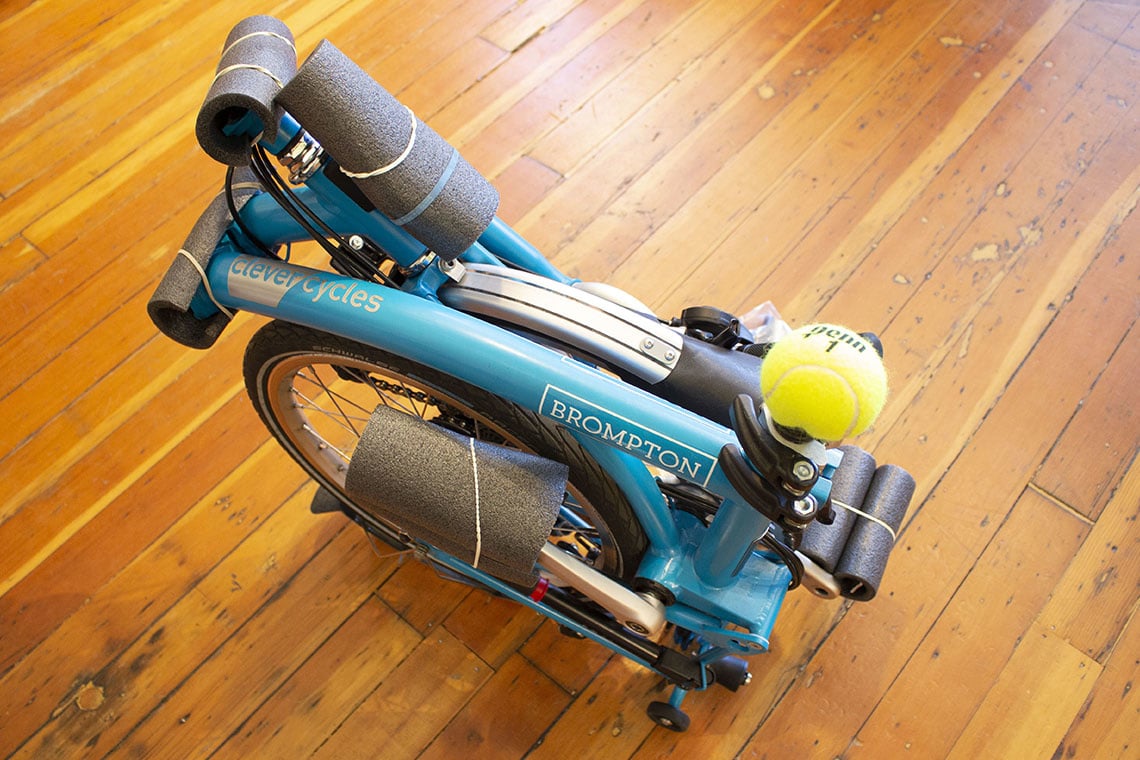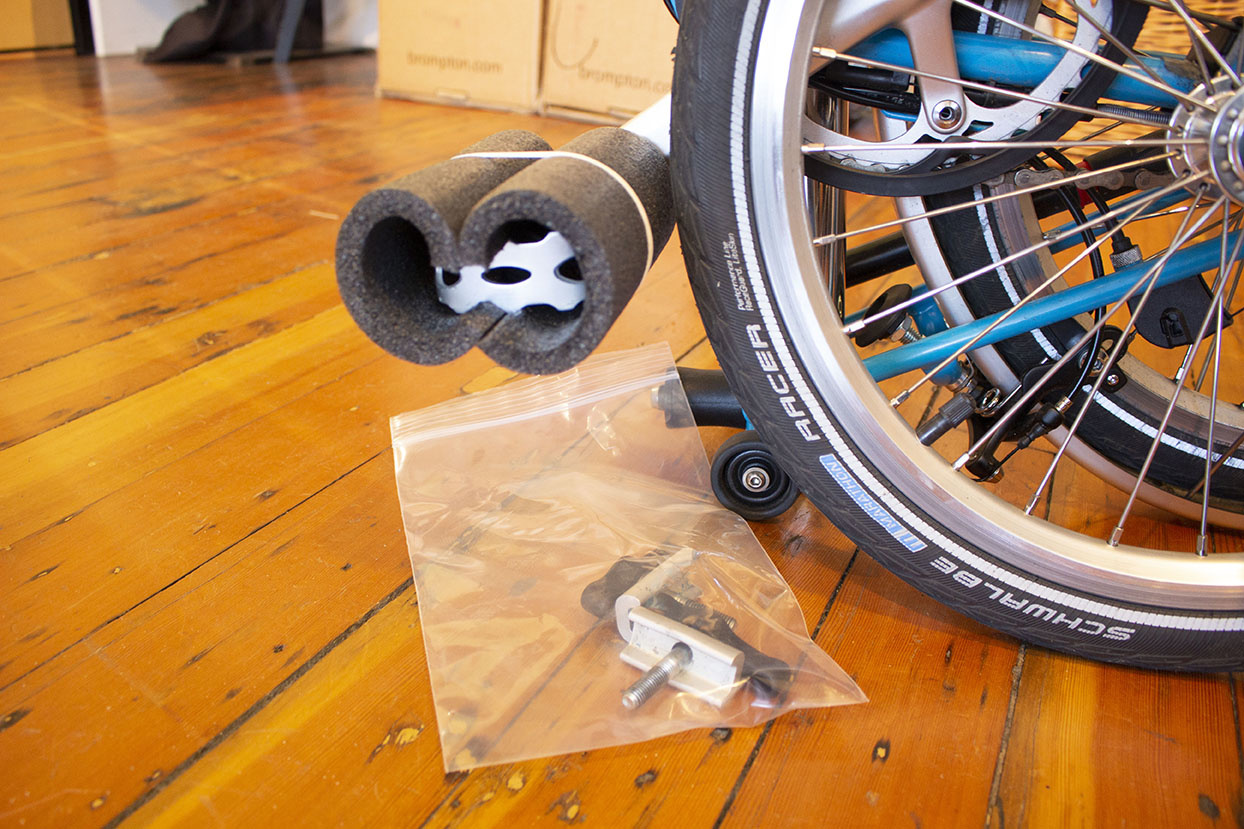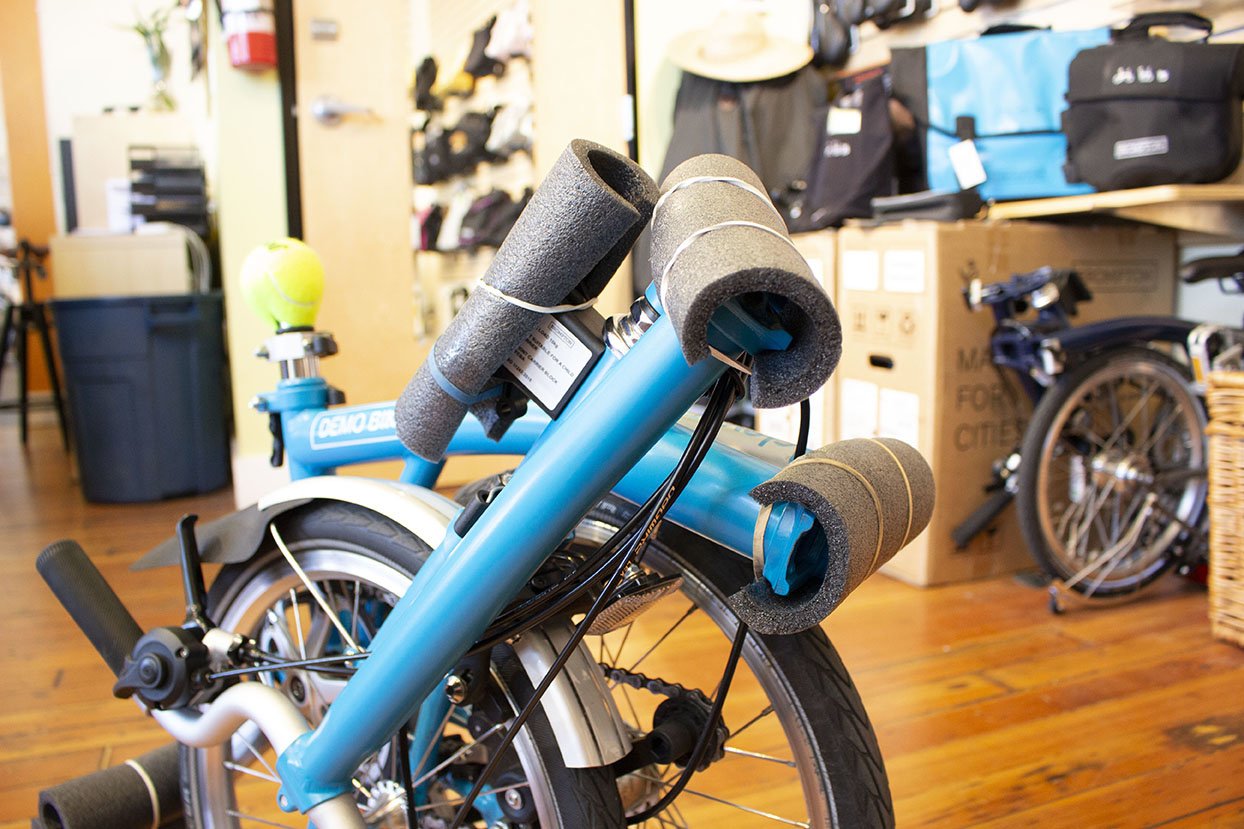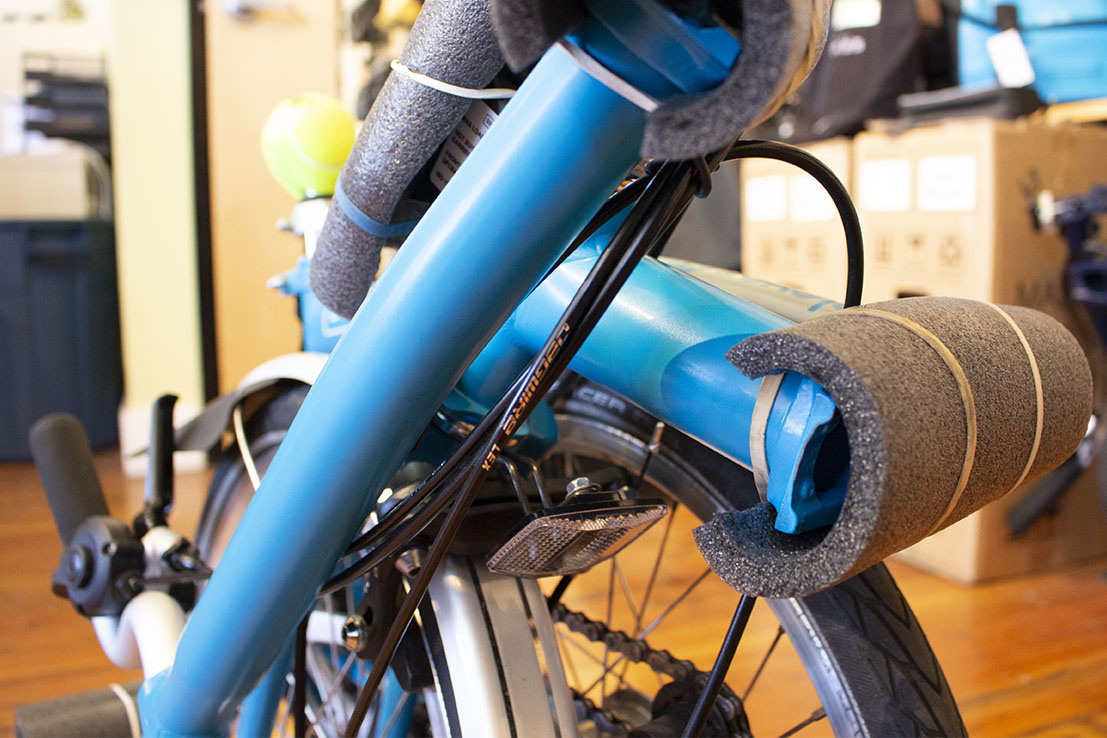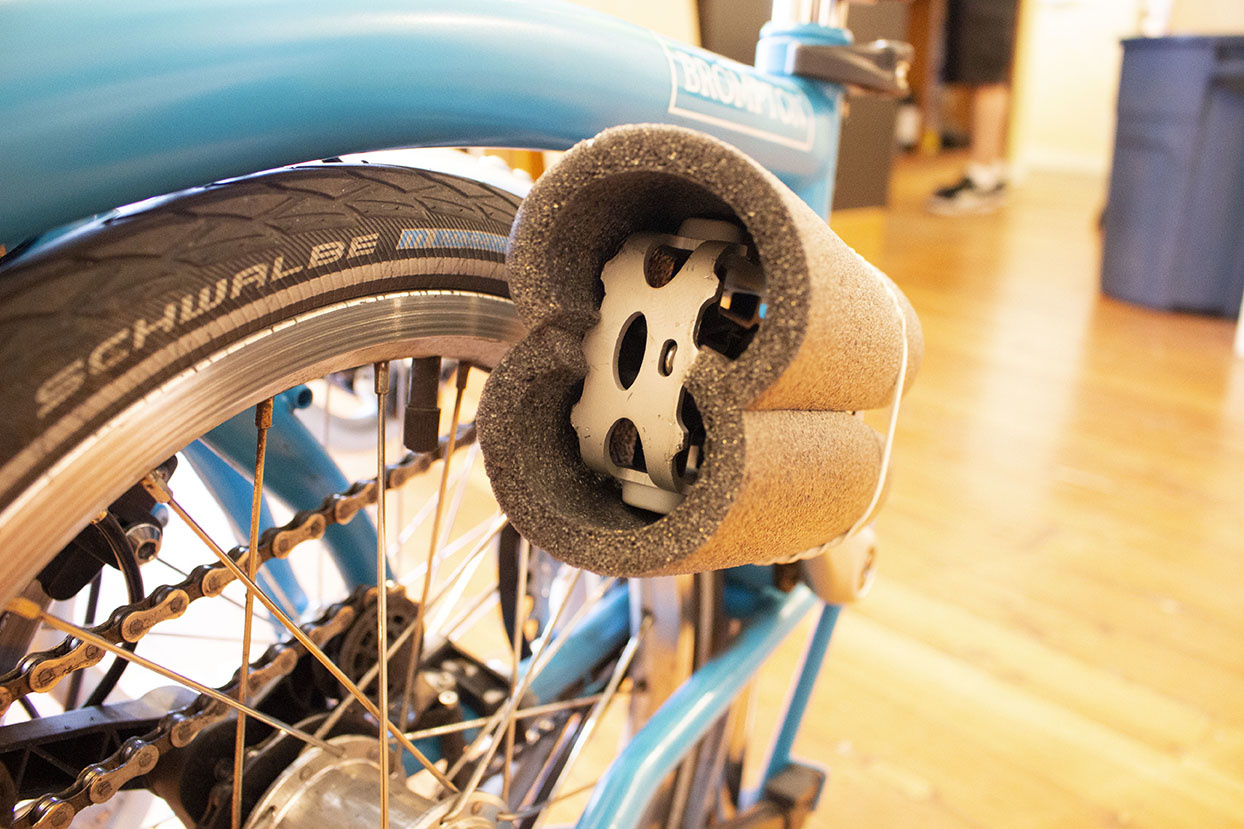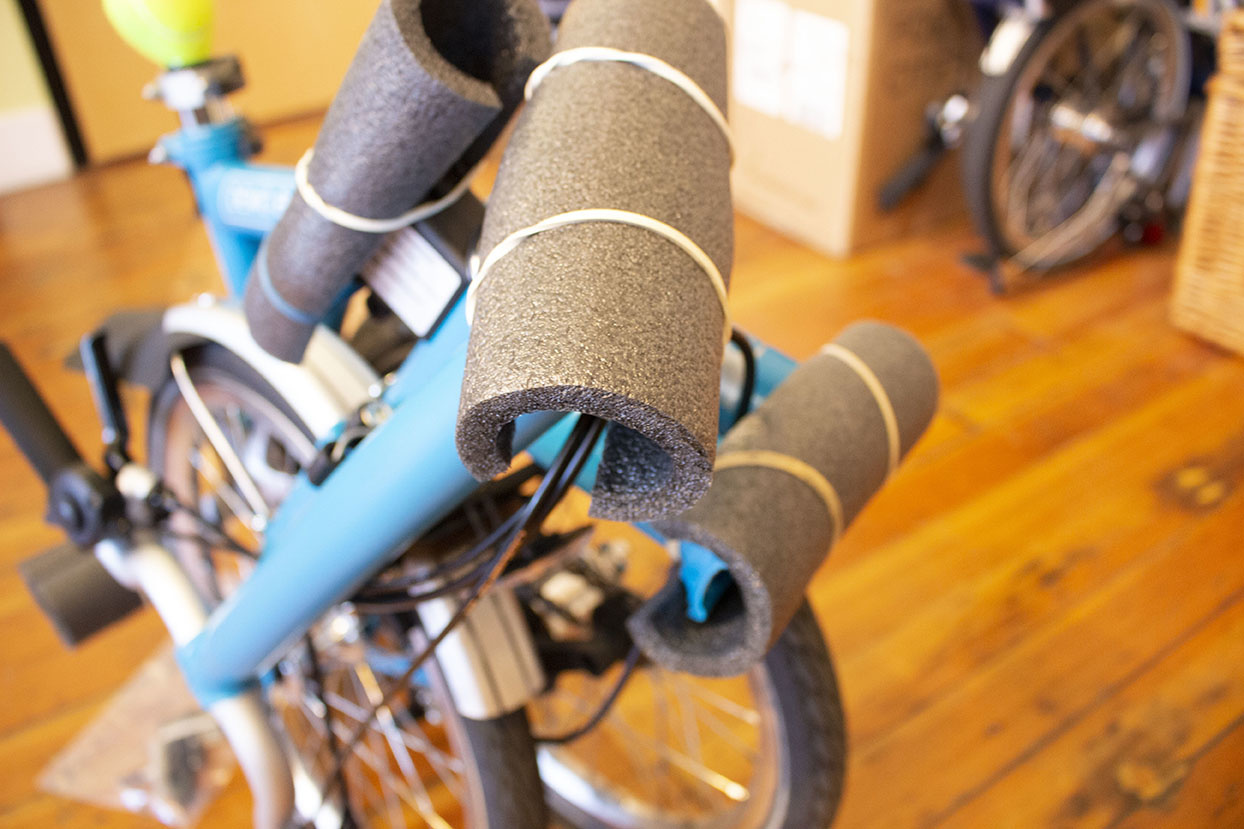 There are a few reasons why so many Brompton owners use the Dimpa storage bag. First, it's inexpensive. Second, the handles make it easy to hand off and easy for the baggage handlers to carry. Third, because it's transparent, baggage handlers will likely be more careful because they can see what's inside. You can even tape a handle-with-care sign to the interior wall of the bag.
How to Fit Your Brompton Into the Airplane Overhead Bin
Place your Brompton in the overhead bin pedal side down (the same orientation as before when you placed it on the conveyor belt of the x-ray machine). There are a few adjustments you can make ahead of time to reduce the size of the fold, making it even easier to put in the overhead bin. You can use a 6 mm hex wrench to loosen the handlebar clamp and tilt the bars inward, and you can use a hex wrench to loosen and tilt your grips (if your grips are aftermarket) along with the brake levers/shifters so they don't stick out.
When flying with a Brompton, you do not need to deflate your tires. Like the cabin, the cargo hold is pressurized. Even if the cargo hold wasn't pressurized, you would not need to deflate your tires. There is a 10psi difference between air pressure at sea level and air pressure at 35,000 ft, the altitude planes fly, and most tires can handle a 10psi change in the external pressure.
How to Check Your Brompton
If you're not planning to ride your Brompton to and from the airport, and you don't mind paying the checked bag fee, you might want to check your Brompton. There are advantages to this. For example, you don't have to walk your Brompton through the airport or take it through security, and you don't have to worry about overhead bin availability. To check your Brompton, follow the steps for preparing your Brompton for airport security and gate checking your Brompton (remove saddle and protect seatpost, hinges, front carrier block, and pedals) then place the bike inside a suitcase. You can use a large size suitcase you already have. We also recommend B&W's hard case. A lighter, less bulky option is the Brompton Travel Bag, a soft-sided travel bag that folds down to a fraction of its size and can be worn across the body when riding. The Travel Bag, which replaces the last generation Brompton B Bag, is made of durable, Cordura fabric and has a removable shoulder strap, two soft carrying handles, one rigid carrying handle, lockable zips, an internal pocket, a reflective strip for enhanced visibility in low light, and four roller wheels so the bag/bike can be rolled around the airport. When you reach your destination, it folds up neatly for storage, and you can sling it over your shoulder for easy transport to and from the airport. While it offers less protection than B&W's hard case, its ability to fold small might make it a better option for you. However, if you do decide to check your Brompton in a soft case, depending on the airline, you may have to sign a waiver releasing the airline from liability for damage. If you did not exceed the weight allowance, you should not incur any fees other than the regular checked bag fee.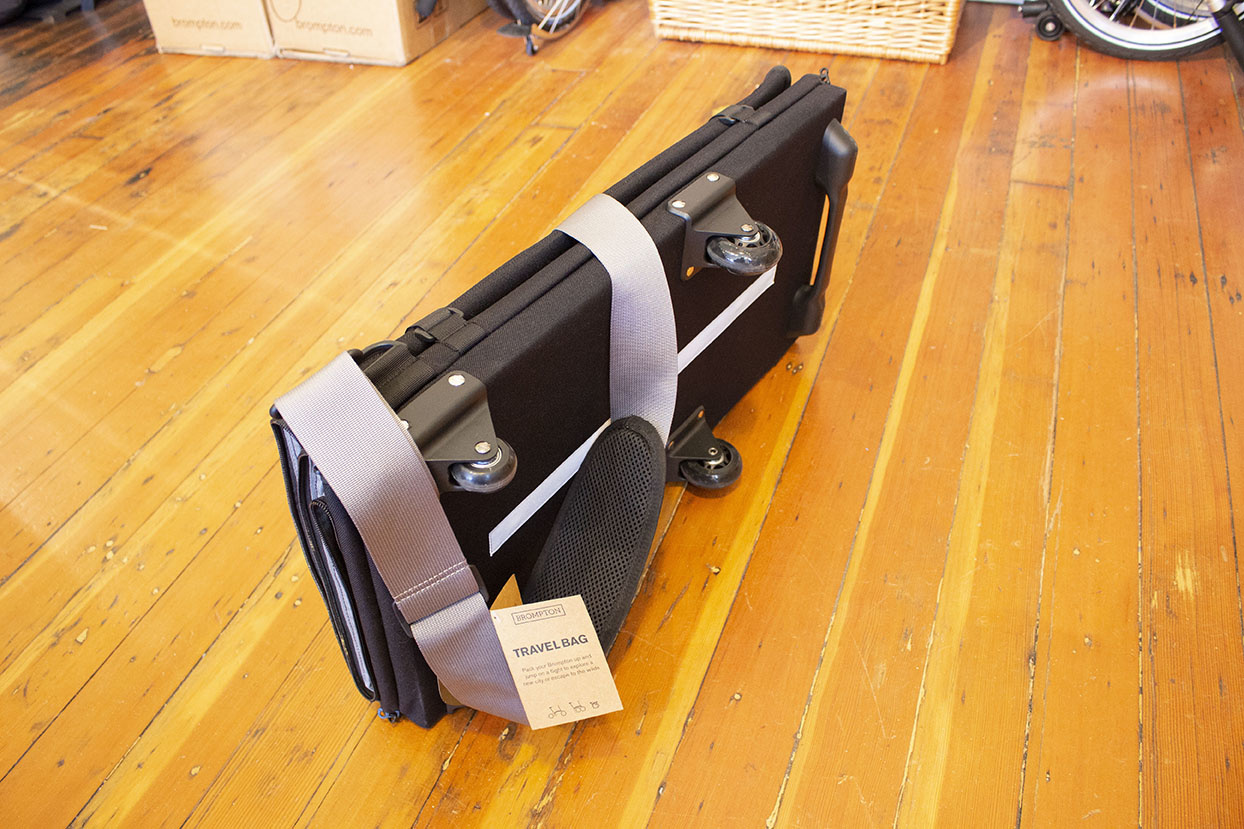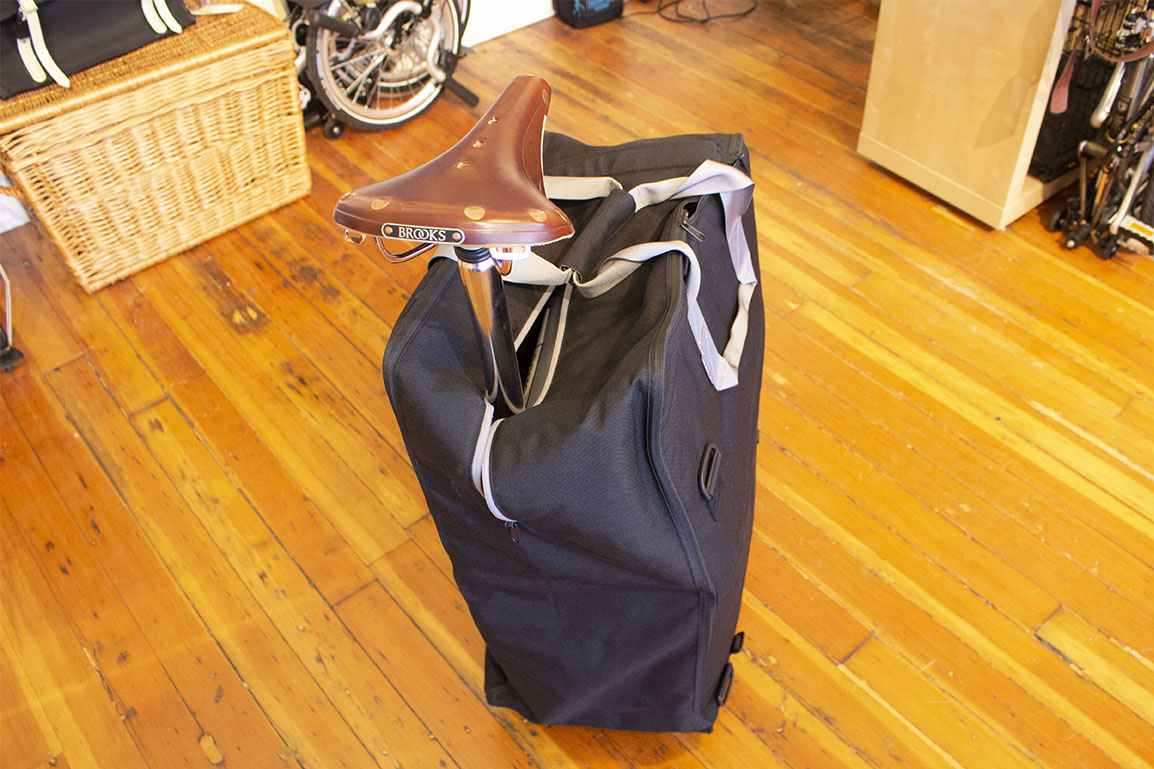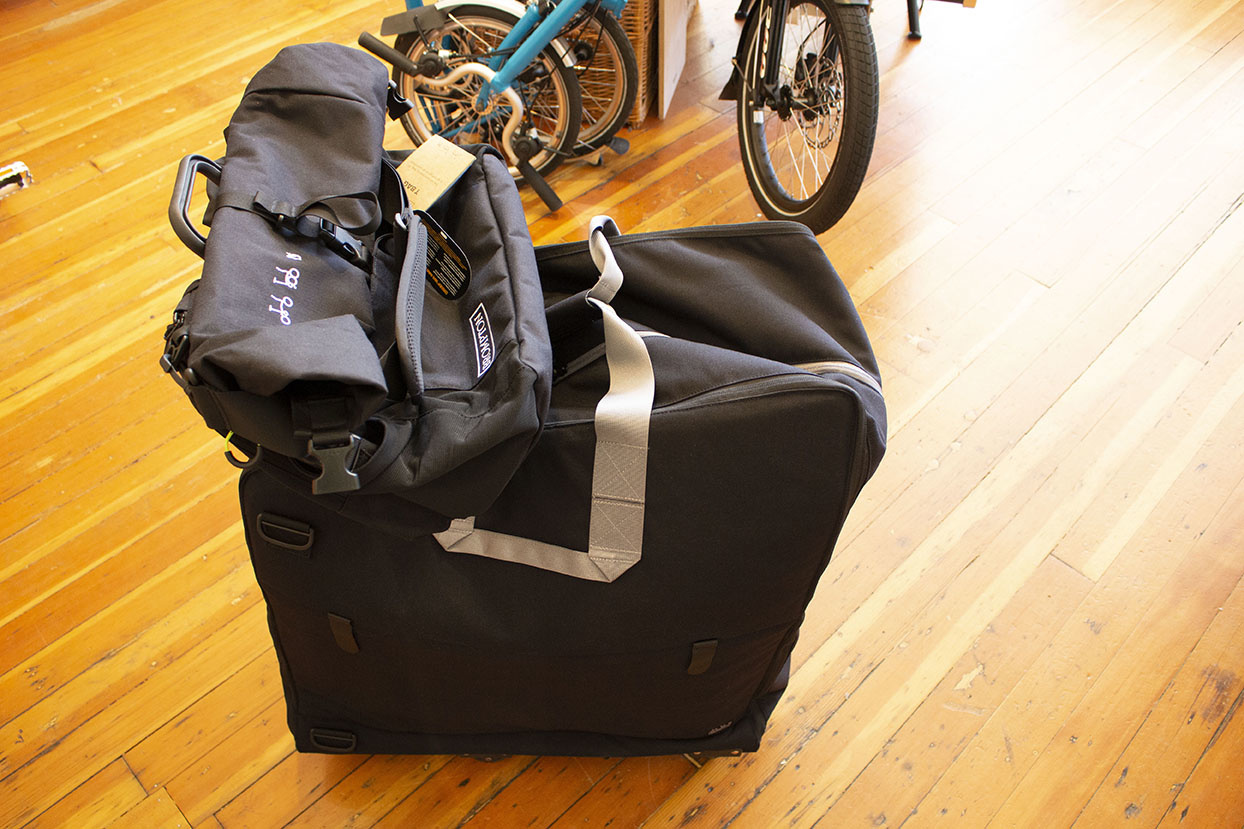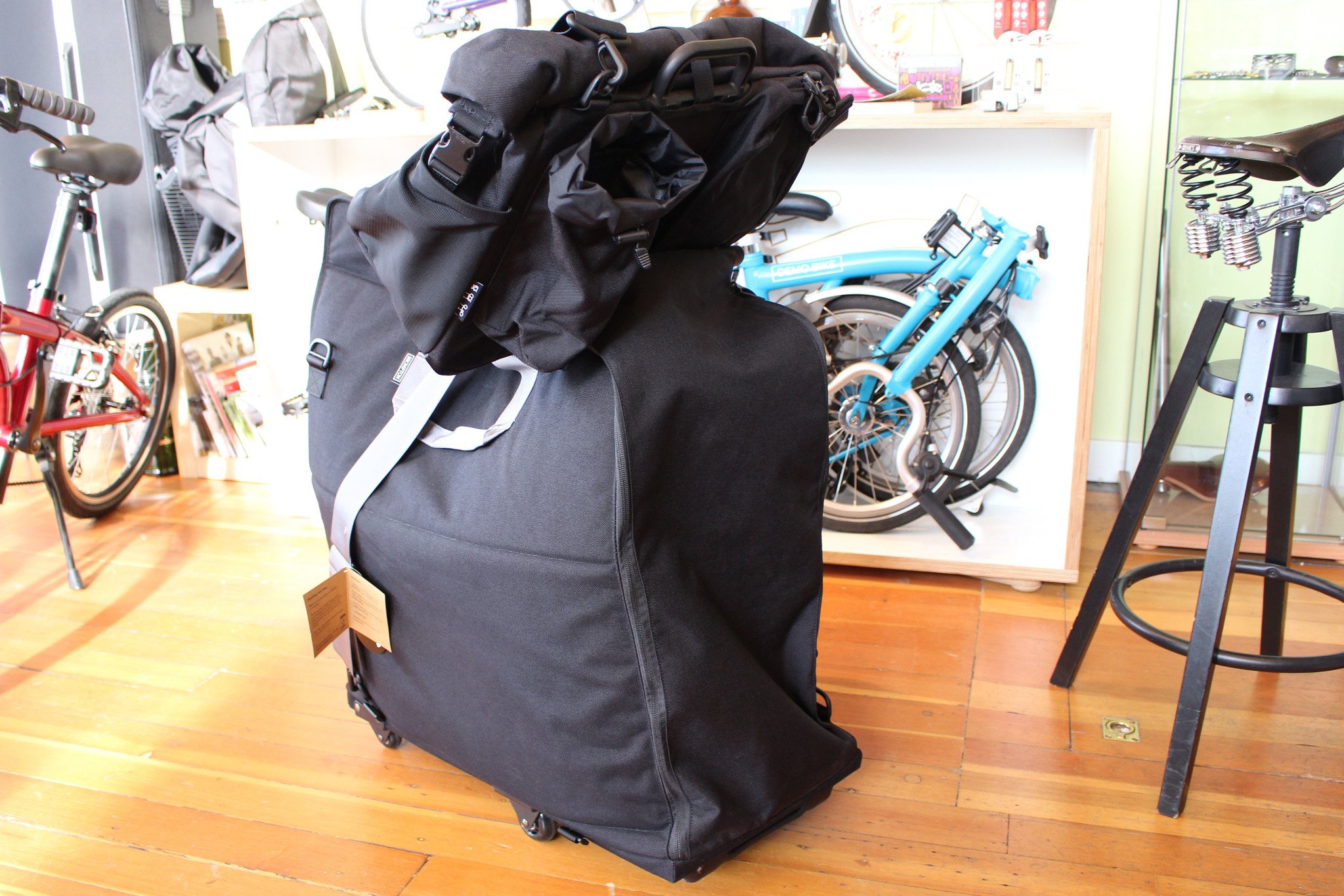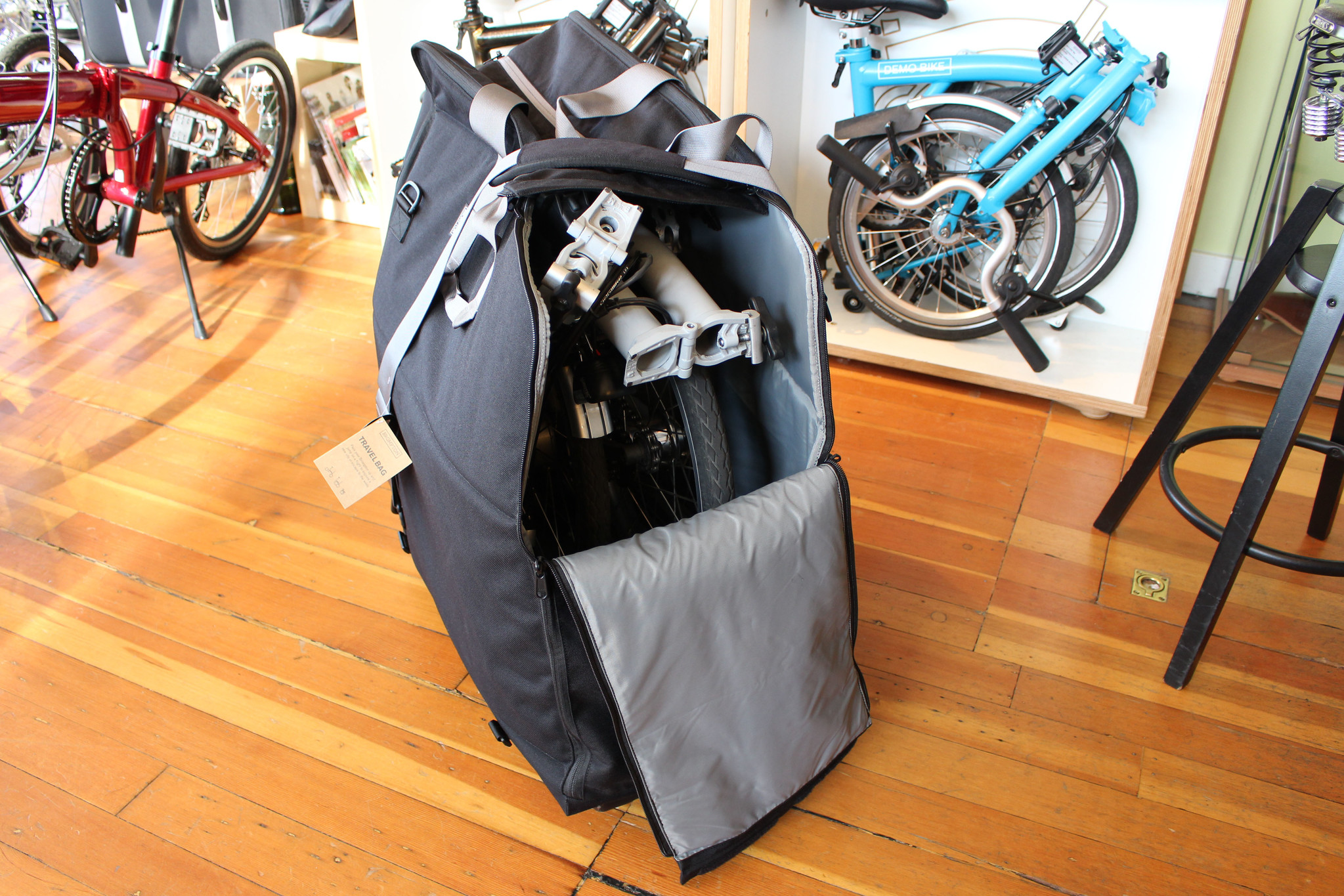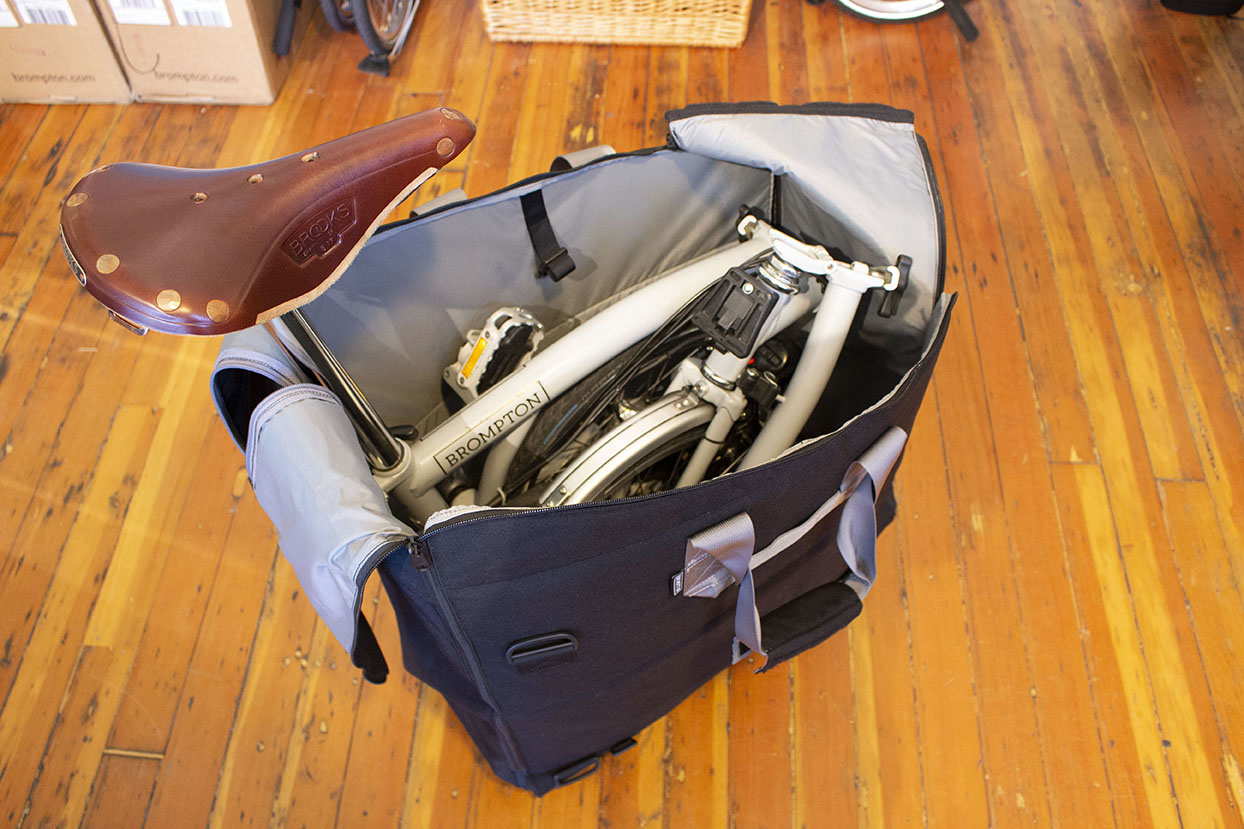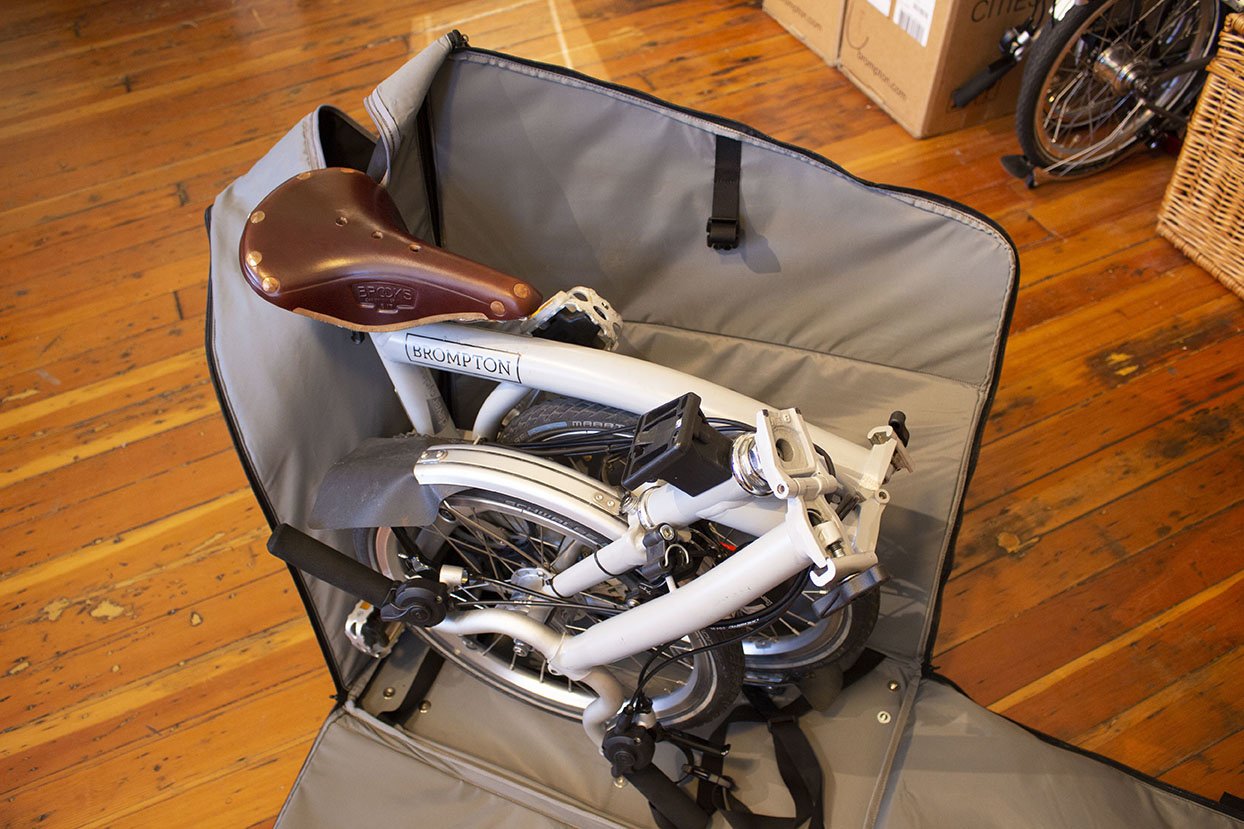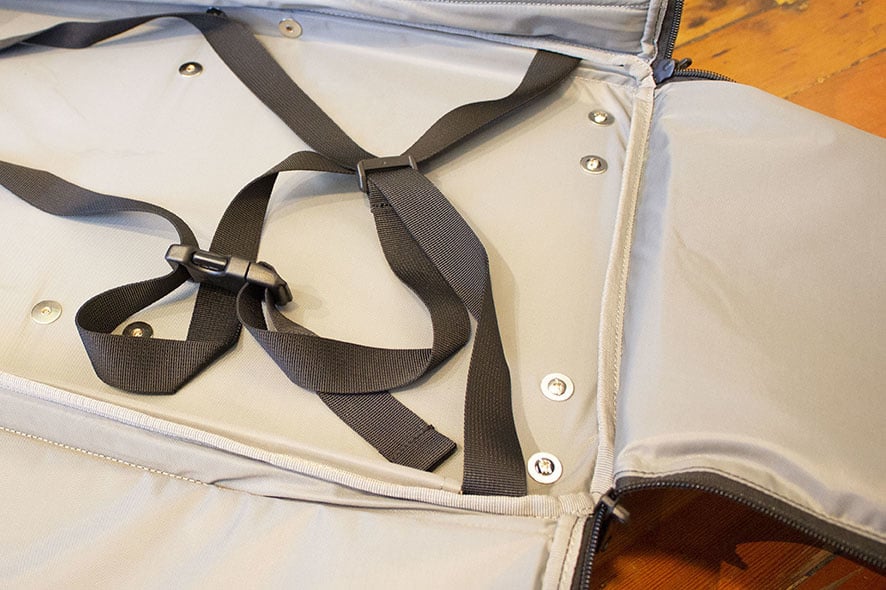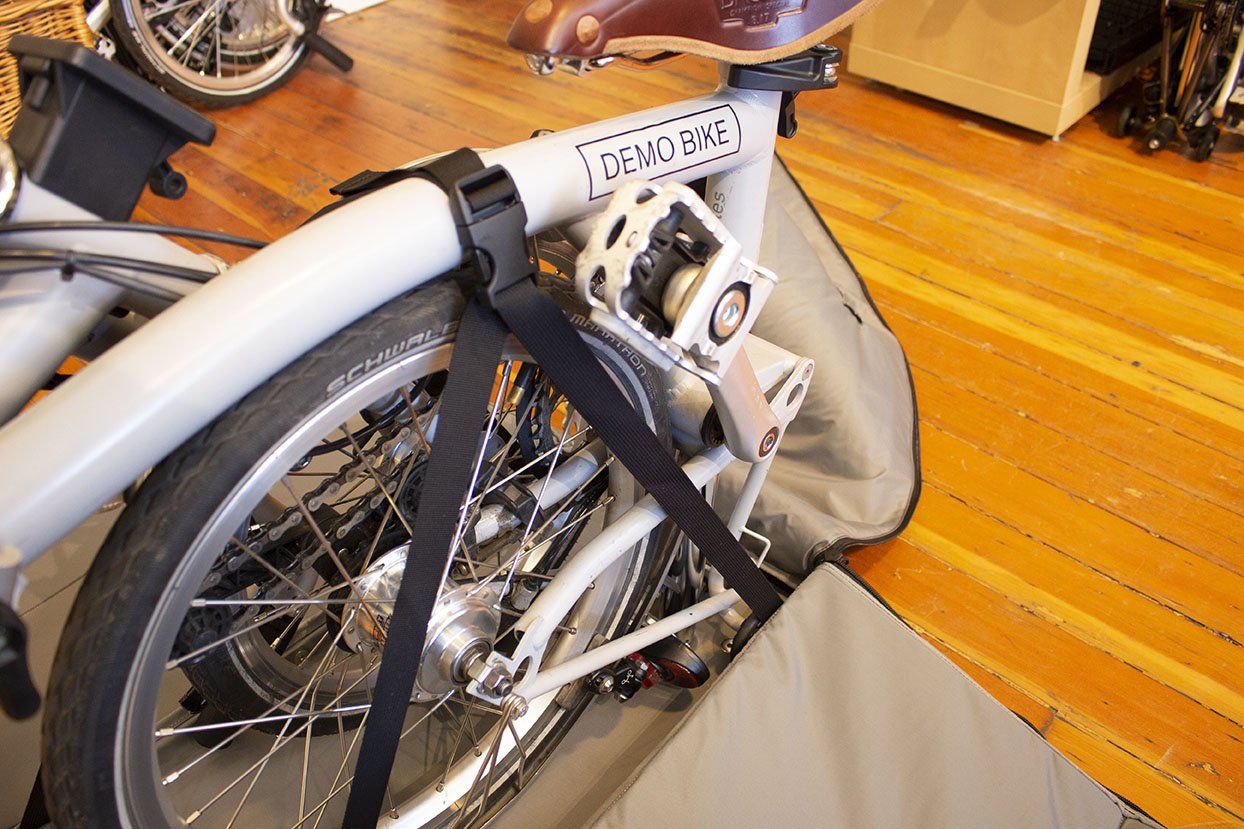 Air travel, with all the airline fees and restrictions, can be stressful and expensive for folks flying with full-sized bikes. If you want to travel by plane and explore by bike when you get to your destination, Brompton is the way to go. You'll eliminate many, if not all, of the inconveniences travelers experience when flying with regular bikes. Here is the best way to configure your Brompton if you want the ultimate Brompton for flying.
Best Brompton Model for Frequent Flyers: Explore With Rear Rack, Telescoping Seatpost, and Easy Wheels (Add Optional Brompton Saddle Bag and Bike Cover)
Six speeds will give you the gear range you want for longer rides and challenging hill climbs. Bromptons with rear racks roll better in the towing position. The telescopic seatpost offers the most compact fold. It also allows you to unbolt your saddle without tools. Brompton's aftermarket Easy Wheels are larger and slightly softer than the stock roller wheels, and upgrading to them will significantly improve the bike's rolling function. On versions without a rack, Easy Wheels are effective—but for a fully functional, smooth roll, nothing beats a full set with a rack. A small outdoor grill cover might work to cover your Brompton, but for a little extra you can get a perfectly Brompton sized cover that turns into a saddle bag. You'll spend less time fiddling with it at the airport, thanks to the open bottom design with zipper and drawstring, and it won't take up precious space in your bag because it attaches to the bike.
Buy the Brompton C Line Explore
Best Airlines for Flying With a Brompton: Southwest and Alaska
Based on feedback from Brompton owners, Southwest and Alaska are the most Brompton-friendly airlines in the U.S.

Brompton Electric
The Brompton Electric's 300 Wh lithium ion battery is prohibited as carry-on or checked baggage because it exceeds the 160 Wh limit allowed by the FAA. The same is true of most ebike batteries: they're not allowed on passenger planes.