You may also like: Brompton Grips Upgrade
Schwalbe Marathon
Brompton's stock tire is the Schwalbe Marathon Racer. It has a good balance of ride quality and puncture resistance and is what we recommend for the typical rider. There are three versions of Schwalbe Marathon tires, and all of them are a trade-off between ride quality and puncture resistance. The Marathon Racer is the fastest and lightest but is a softer compound that will wear faster and may not provide the puncture resistance you need. When durability and flat protection is more important, we recommend Marathon tires, especially for touring. The Marathon Plus will be more puncture resistant at the expense of ride quality. You could roll over a thumbtack and not get a flat.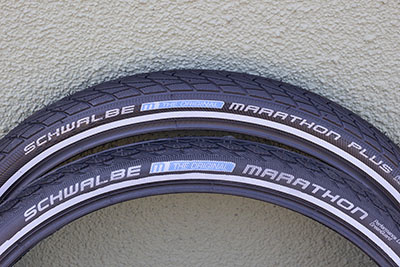 With the additional weight you will be carrying, we recommend the Marathon or Marathon Plus for touring.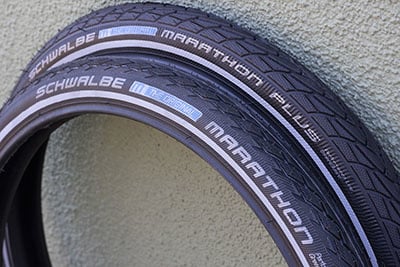 The Marathon is more puncture resistant than Brompton's default tire, the Marathon Plus even more so.
With tires, high puncture resistance comes at the expense of ride quality. For Brompton, the Marathon Racer is that sweet spot.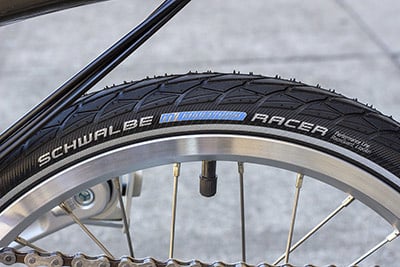 The Marathon Racer is what we recommend for typical city riding.
Another version of the Schwalbe Marathon Racer was released in 2019 on the Brompton Explore. The tan sidewall Schwalbe Marathon Racer is a folding bead tire vs a wire bead tire like the standard Marathon Racer. Where steel wire is used in Brompton's stock tire, this version uses flexible kevlar. This allows the tires to be folded. It's a lightweight tire that will fit in your saddle bag.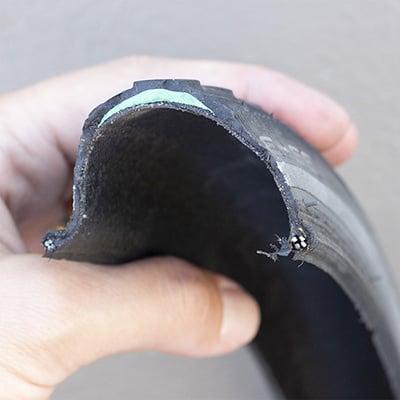 The Schwalbe Marathon tire has a wire bead and Schwalbe's "GreenGuard" puncture protection layer.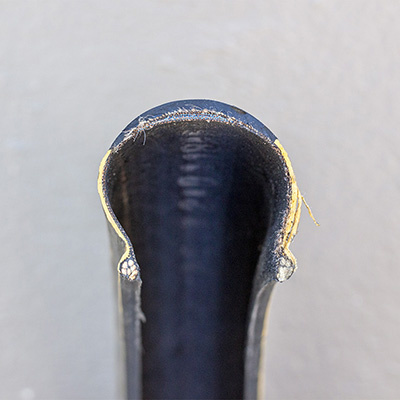 The Schwalbe One tire has a kevlar folding bead and Schwalbe's "V-Guard" puncture protection layer made from a high-tech cut-resistant fabric.
The Schwalbe Marathon Winter tire is designed to keep you rubber side down in icy conditions, with a special winter compound and little metal pins embedded in the tire that dig into the ice and give you traction that only a studded tire can. They grip the ice best when run at minimum pressure. When run at maximum pressure, they can be ridden on ice-free roads with minimal road noise and therefore left on all season.
Schwalbe Kojak
Another tire that is easy to pack is the Schwalbe Kojak folding tire. Like the tan sidewall Marathon Racer, it has a kevlar bead and can be folded. Though less puncture resistant than the Marathon tires, it is the lightest Brompton tire available. The Kojak is the choice for speed demons as it is a slick tire (tread-free, grippy, low rolling resistance). The Kojak also comes in a wire bead version. It's heavier and of course won't fit in your bag but costs less.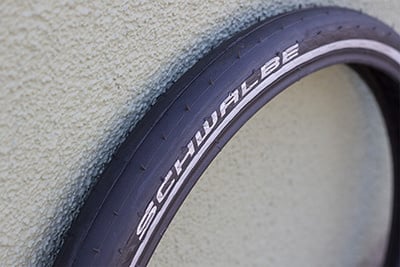 The folding Kojak is a light and fast tire, with a reflective strip to help with side visibility.
Schwalbe One
The Schwalbe One was made specifically for Brompton's limited-edition Chpt3 bikes and are now available to everyone. The fastest, lightest, and grippiest tire ever made for Brompton, the Schwalbe One is a more sporty option. Though not inexpensive, it has great ride quality, durability, and flat protection. It is slightly wider than the Kojak, with close-to-smooth tread. It has a folding bead, like the tan sidewall Marathon Racer.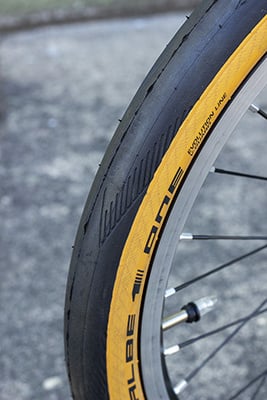 Characterized by low rolling resistance and high grip, the Schwalbe One is made for going fast.
Marathon Racer, Marathon Winter, Kojak
Level of Puncture Protection: 4
RaceGuard double layer of Nylon fabric under the tread
Marathon
Level of Puncture Protection: 5
3 mm thick GreenGuard puncture protection layer
One
Level of Puncture Protection: 5
V-Guard puncture protection layer made from cut-resistant fabric
Marathon Plus
Level of Puncture Protection: 7 (highest)
5 mm thick SmartGuard puncture protection layer
Continental Contact Urban
The Continental Contact Urban is a grippy and lightweight tire that'll fit any Brompton with ease. It's lighter and easier to install than the Schwalbe Marathon, though slightly less flat resistant. Choose the folding bead version for light weight or wire bead version for value.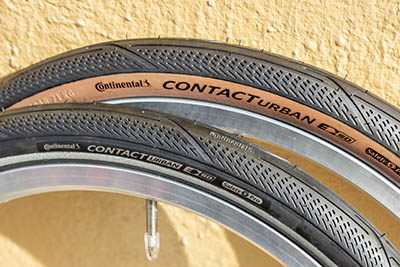 Brompton Electric
We recommend the Marathon and Marathon Plus for the Brompton Electric as they wear longer and are less prone to flats. The Marathon Racer comes standard on the Brompton Electric.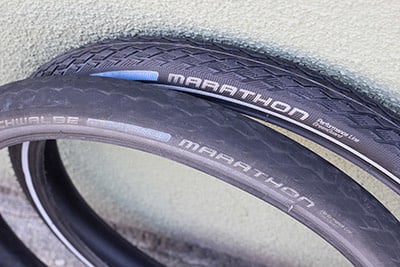 A Marathon tire will usually last between 6,000 and 12,000 kilometers, or 3,728 and 7,456 miles. Mileage is affected by a number of factors including tire pressure, load, road surface, temperature, and the rider.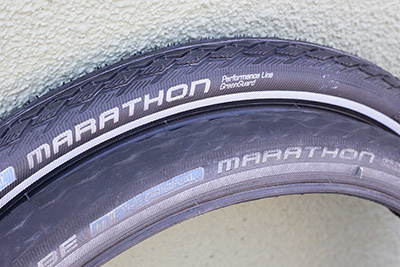 A professional mechanic will let you know when it's time to replace your tires. By keeping your tires properly inflated, you can increase their life.
Inner Tubes
All Bromptons use the Schwalbe AV4 or SV4 tube. AV and SV refer to the valve type. AV tubes have a schrader valve, and all the SV tubes have presta valves. Schrader drilled rims come standard on all Bromptons. If you have aftermarket rims, they might be drilled for presta. If they are, then they would not be compatible with the AV4 tube. Presta valves will fit into any rim, but they are a little skinnier than schrader valves. If you want to use a presta valve tube with Schrader drilled rim, it's a good idea to use a valve adapter (sometimes called rim saver) to fill the space and prevent premature failure of the tube where it attaches to the valve.
Pump
A bike pump comes with all C Line and Electric C Line Explore bikes. This high pressure (for road tires) hand pump is housed in the rear triangle part of the frame via a mounting bracket, and was made specially for Brompton by the experts at Lezyne. It weighs 100 grams (104 including the mount bracket), inflates to 160 psi,* and works with both Schrader and Presta valves. While it is no substitute for a floor pump, it's good enough for the unexpected flat.
*The recommended tire pressure for Brompton wheels is between 60 and 115 psi.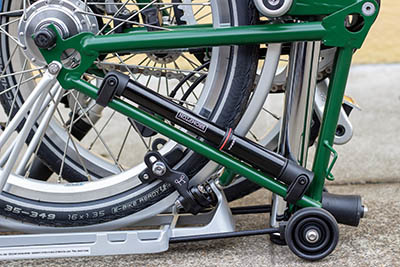 The Lezyne pump can be added to any Brompton model, using just a 3 and 4mm hex key.
Before the Lezyne pump, there was the Brompton Zefal pump—made specially for Brompton by the French company Zefal. The Zefal pump did not fit in the rear triangle of superlight titanium Bromptons or any pre-2003 Bromptons, only bikes that had a built-in cradle for holding the head of the pump. The Zefal pump is no longer available.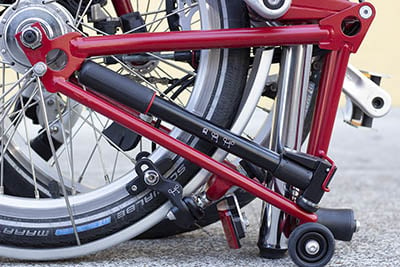 The discontinued Brompton Zefal pump.