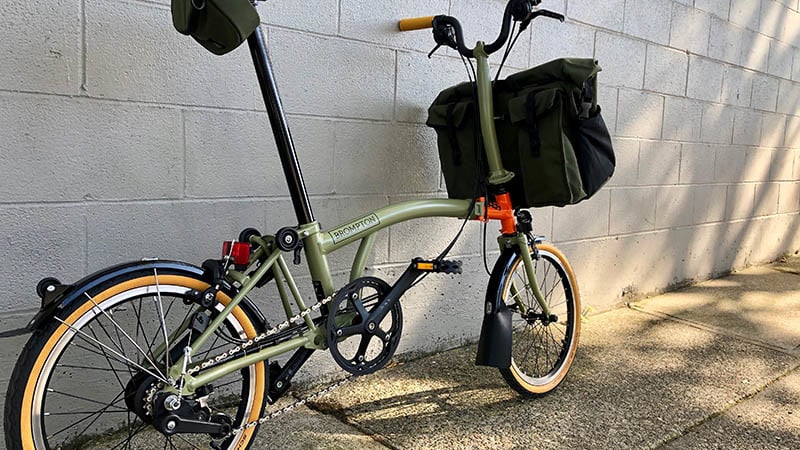 There isn't a single best folding bike for everyone, which is why we carry folding bikes from several brands, including Brompton and Tern. Read our guide to find out why you'd want a folding bike and which one is right for you.
5 Reasons Why You Should Buy a Folding Bike
1. You can bring it inside buildings, shops, and restaurants.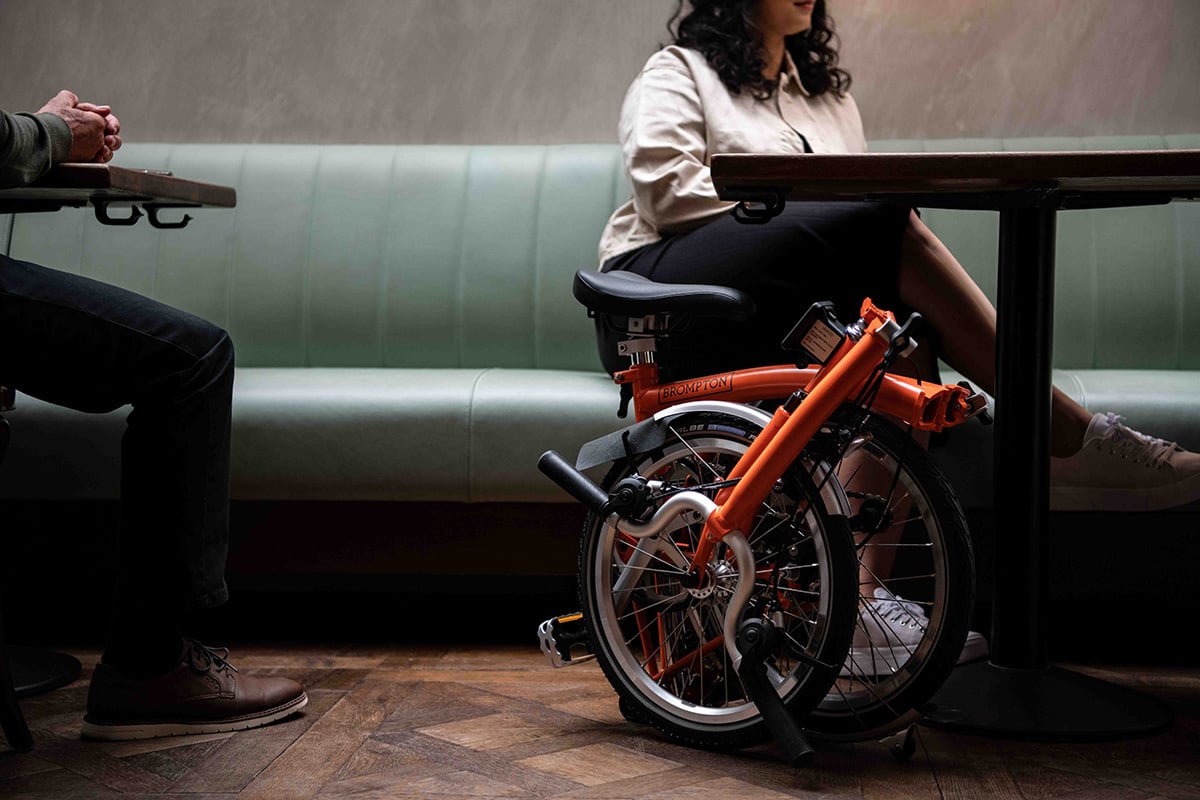 Leave the heavy u-lock at home.
2. It's the perfect travel companion.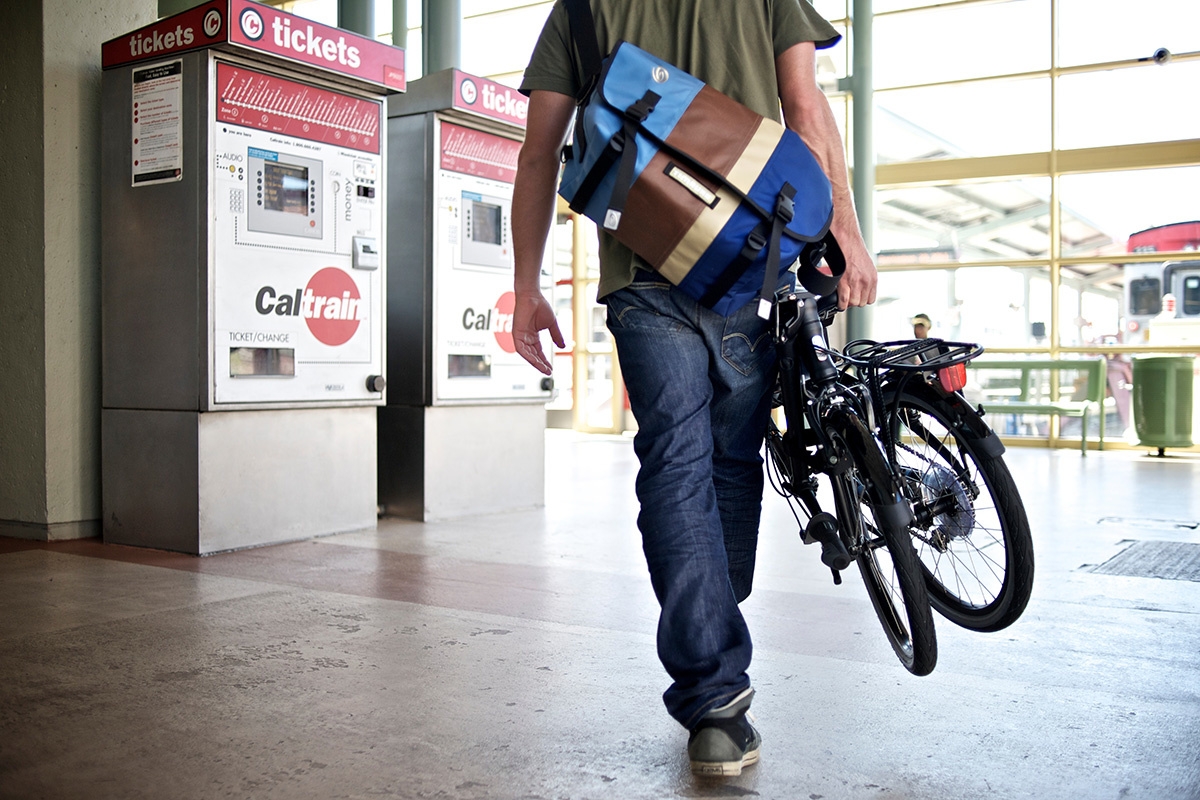 Whether you're traveling by plane, train, automobile, bus, or boat, a folding bike is easy to take along and expands the area that you can explore once you're at your destination.
3. It will fit in the trunk or back seat of your friend's car.
Need to catch a ride? No car rack, no problem.
4. It can help declutter your home.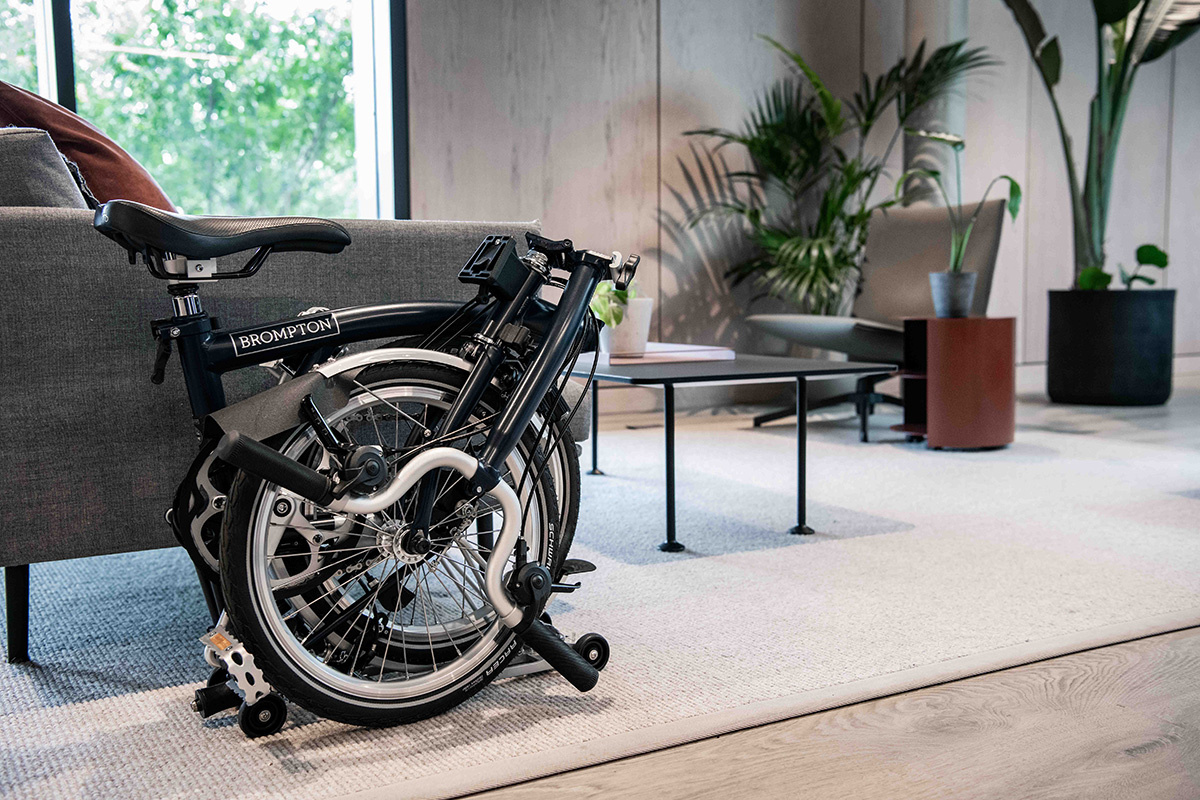 Folding bikes fit in the smallest places. Store it under your bed, next to the couch, or in a closet.
5. You'll ride your bike more.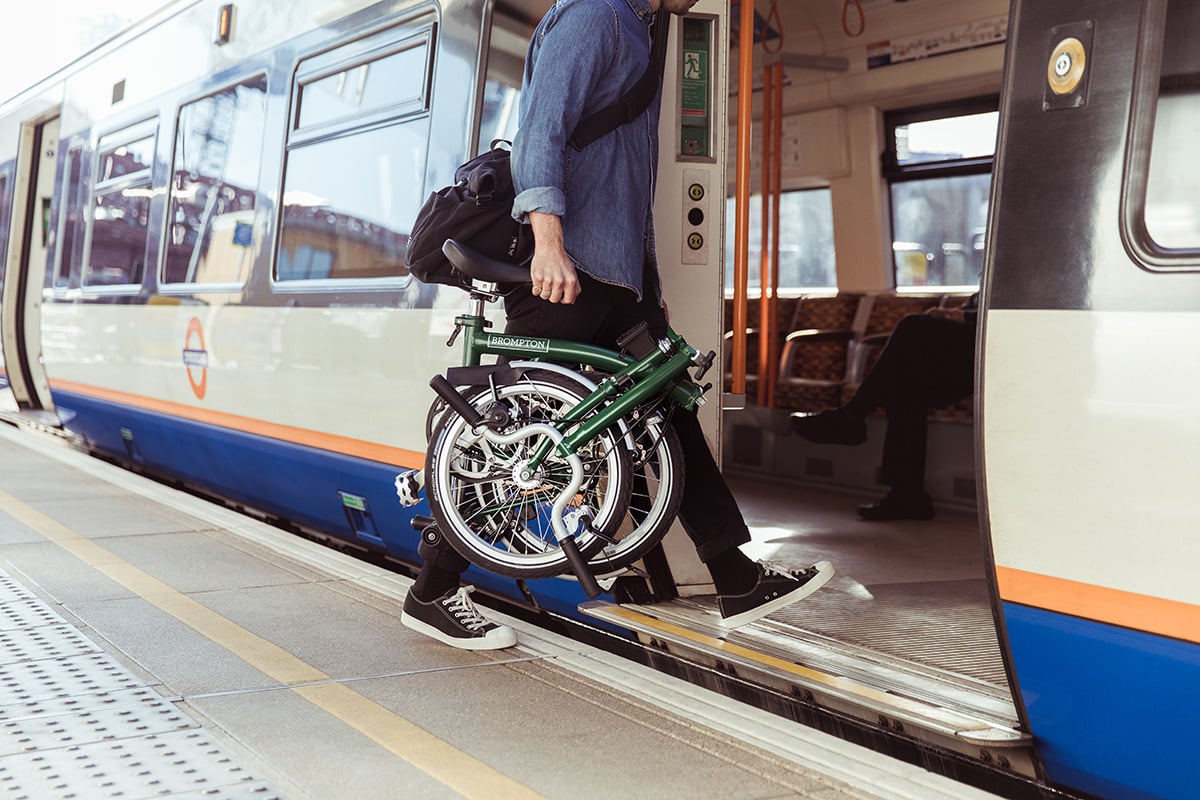 The fact is you can ride more often when you're able to combine biking with other transportation.
Wheel Size
A folding bike's folded size has a lot to do with the size of the wheels. A compact folding bike (a folding bike with 16" or 20" wheels) will fold smaller than a full-size folding bike with 700c or 26" wheels. (We exclusively stock the compact type.) One benefit of small wheels, apart from allowing you to take your folding bike almost anywhere, is that they accelerate quicker/climb easier than a traditional bike's much heavier wheels. While it's true that larger wheels have an advantage when it comes to rolling over obstacles, folding bikes are spec'd with wider tires and suspension to compensate for this. Ergonomic grips and a saddle that supports you in the right places will maximize your comfort. With smaller wheels, tire pressure is more important. Making sure your tires are properly inflated is key to good performance.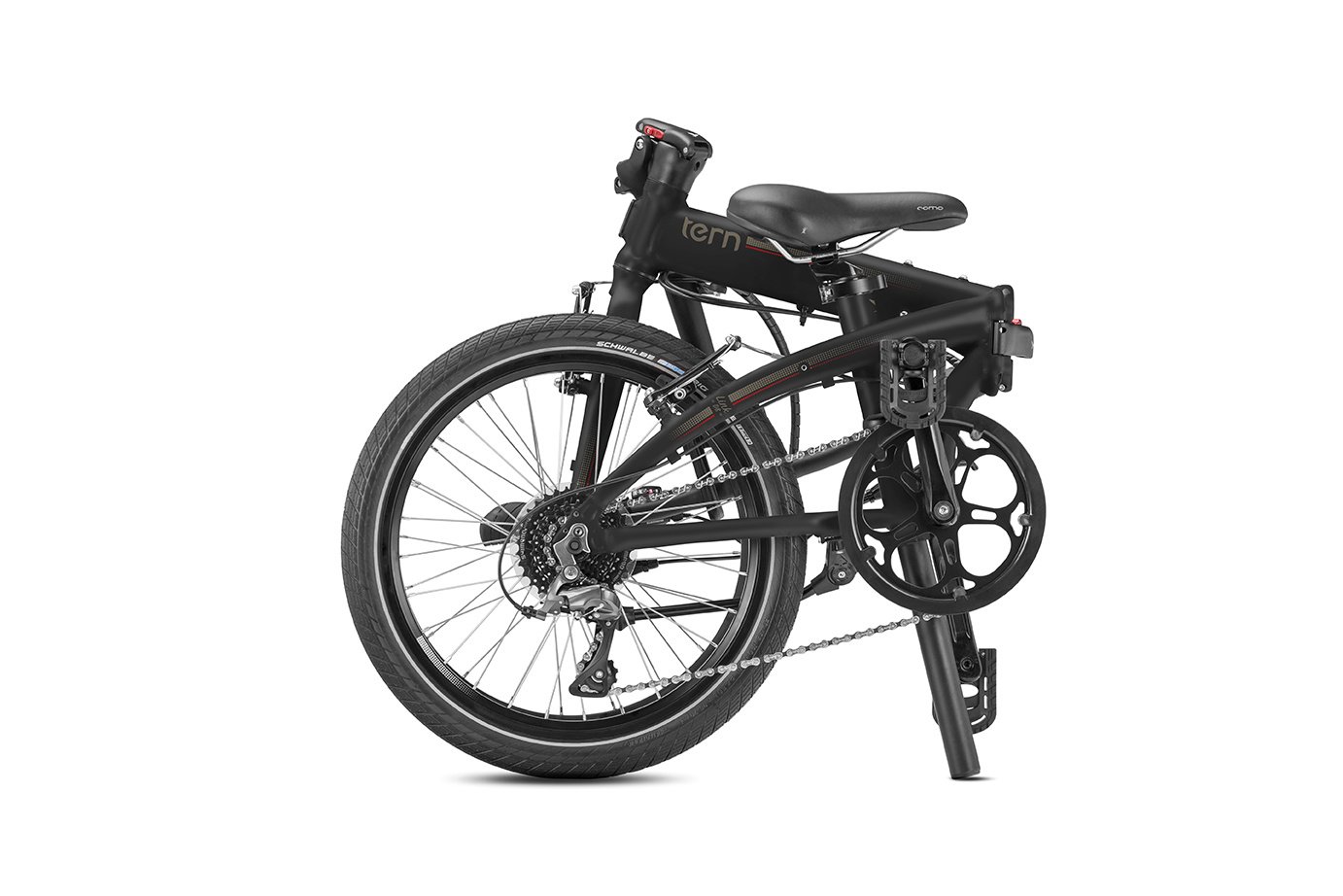 The Fold
The combination of wheel size and fold largely determines the folded size. A lot of folding bikes, including Tern bikes, fold in half horizontally. This is the most common folding method, known as the half fold (or mid fold). Vertical folding bikes or bikes that fold vertically rather than horizontally, such as Bromptons, tend to fold up smaller than bikes that fold horizontally. A triangle hinge fold is a type of vertical fold that allows the rear triangle and wheel to be flipped under the main tube. You can see this type of folding method in action when you fold up a Brompton.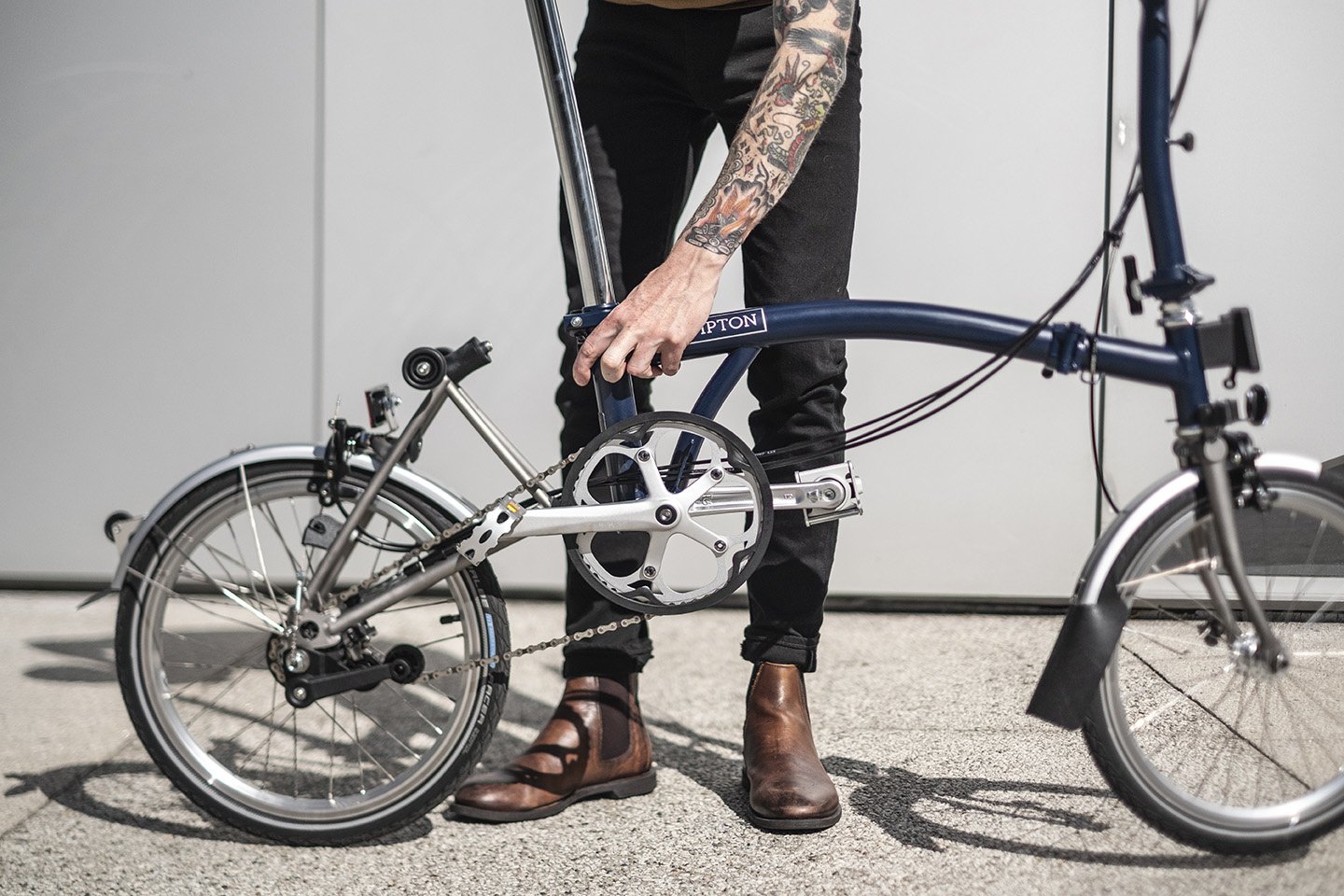 Swinging the rear wheel under is the first step to folding a Brompton. It's also how you park a Brompton or put it in "kickstand mode."
Transportability
If you want a folding bike you can fly with or take on public transit, Brompton is the way to go. Brompton folding bikes fold in thirds, not just in half. The combination of the three part fold and the smaller wheel size makes Brompton one of the smallest folding bikes made. There are trade-offs with all folding bikes, but if you want a bike that can fit in the overhead bin on your next flight, go with the most compact and portable folding bike we sell, Brompton. While both are easy enough to carry up to your apartment, there's only one we'd take on a New York City subway during rush hour, and that's Brompton.
Weight is important when choosing a folding bike, since you'll be lifting and carrying it when folded. The lightest bike Tern makes, the Verge X10, weighs about 21 pounds. Bromptons can weigh anywhere between 20 and 28 pounds, depending on the model and configuration. The S2EX (has S-Type handlebars, two gears, no mudguards or rack, and Superlight frame materials) is Brompton's lightest model. It weighs about 22 pounds and can be made even lighter with upgrades from Ti Parts Workshop. Electric folding bikes will weigh more because of the battery and motor.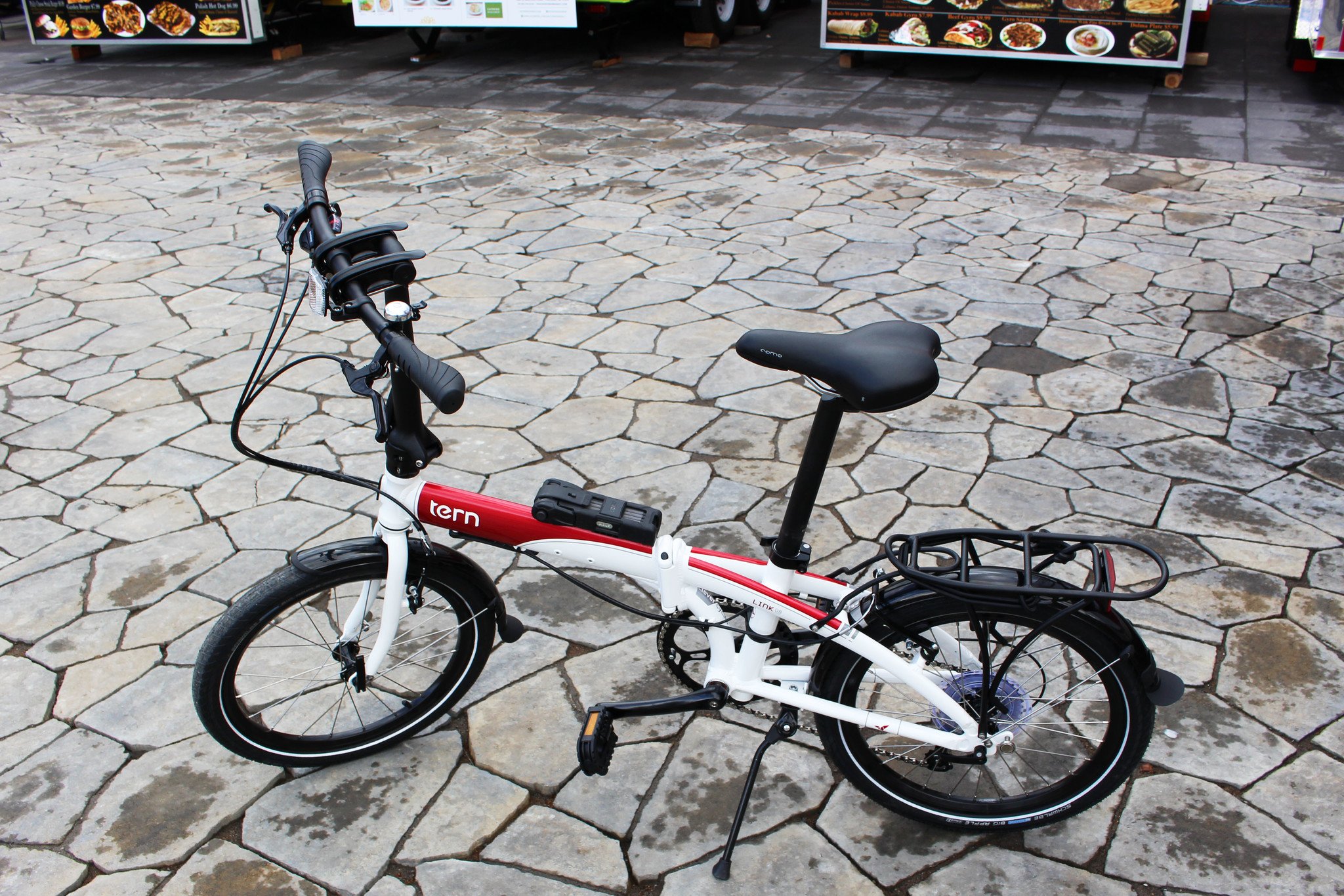 The Tern Link D8 is your ride to class, your takeout getter, and your way of exploring the city.
Ride Quality
Though they can accelerate quicker from a stopped position, most folding bikes will never be as fast as a full-size road bike (upright riding position, they tend to be heavier/have fewer gears). Tern makes a line of performance folding bikes that will satisfy your need for speed. Because they have hinges, folding bikes are subject to frame flex. While good design can circumvent this, generally speaking, a folding bike will never be as stiff as a bike without a frame hinge.
If you were going to base your decision solely on ride quality, or how closely the bike feels to riding a full-size road bike, we feel that the award goes to Tern. While the larger wheels negatively impact the bike's fold, the ride quality is better because of them. Tern frames are made out of aluminum which means they are a little stiffer and more responsive. Tern tends to put wider tires on most of their bikes to help with ride quality as well.
Bromptons have a light front end feel as there is not much weight from the rider on the handlebars. Test riders will comment on this, but after riders get used to the steering, there are no complaints.
Riding Long Distances/Touring
A common misconception is that folding bikes don't perform well for long distances or that small wheels make you work harder. The truth is, a high-quality folding bike with a good range of gears and properly inflated tires can perform just as well as any full-size bike. Gearing is very important when it comes to riding long distances on a folding bike. Folding bikes tend to have fewer gears than regular bikes. The number of gears is not as important as the range. You want a good gear range. That is, a low enough gear for hills and a high enough gear for flats, with the in-between gears being steps in the range. Bicycle gears are measured in gear inches. For folding bikes, a bottom gear of around 25 inches is low enough for most riding needs. While a top gear of 70 inches is fine for city riding, most high performance folding bikes will have top gears upwards of 100 inches. With -12% reduced gearing, a 6-speed Brompton has a gear range of 29 to 88 gear inches, as opposed to the standard gearing, which is 33 to 100 gear inches. Both the low and high gear drop, which makes for easier climbing but less speed on flats. This can be done simply by swapping the chainring from the standard 50T chainring to a 44T chainring. This is the recommended gearing setup for hilly unsupported touring or anyone who would benefit from lower hill climbing gears.
For touring on a Brompton, we recommend a 6 speed with -12% reduced gearing, either an M or H type, with Schwalbe Marathon tires. Upgrading the suspension can improve the ride quality. A rack (models ending with R) gives you a platform to bungee gear to, but it does add weight and you will need to remove whatever is on the rack if you want to fold your Brompton or park it in kickstand mode.
Cost
Tern folding bikes start at about half the price of Brompton folding bikes, and models range from value priced to high end skinny tire low spoke count rockets. Folding bikes like the Tern Link A7 and D8 are easy on the wallet and perfect for college students and recent graduates. As with any bike, you pay more for better features, less weight, and better durability and reliability, but if price is the main concern, we think you'll be happy with an entry level Tern model. If you plan to use your folding bike as part of your commute, any folding bike will pay for itself in a matter of months.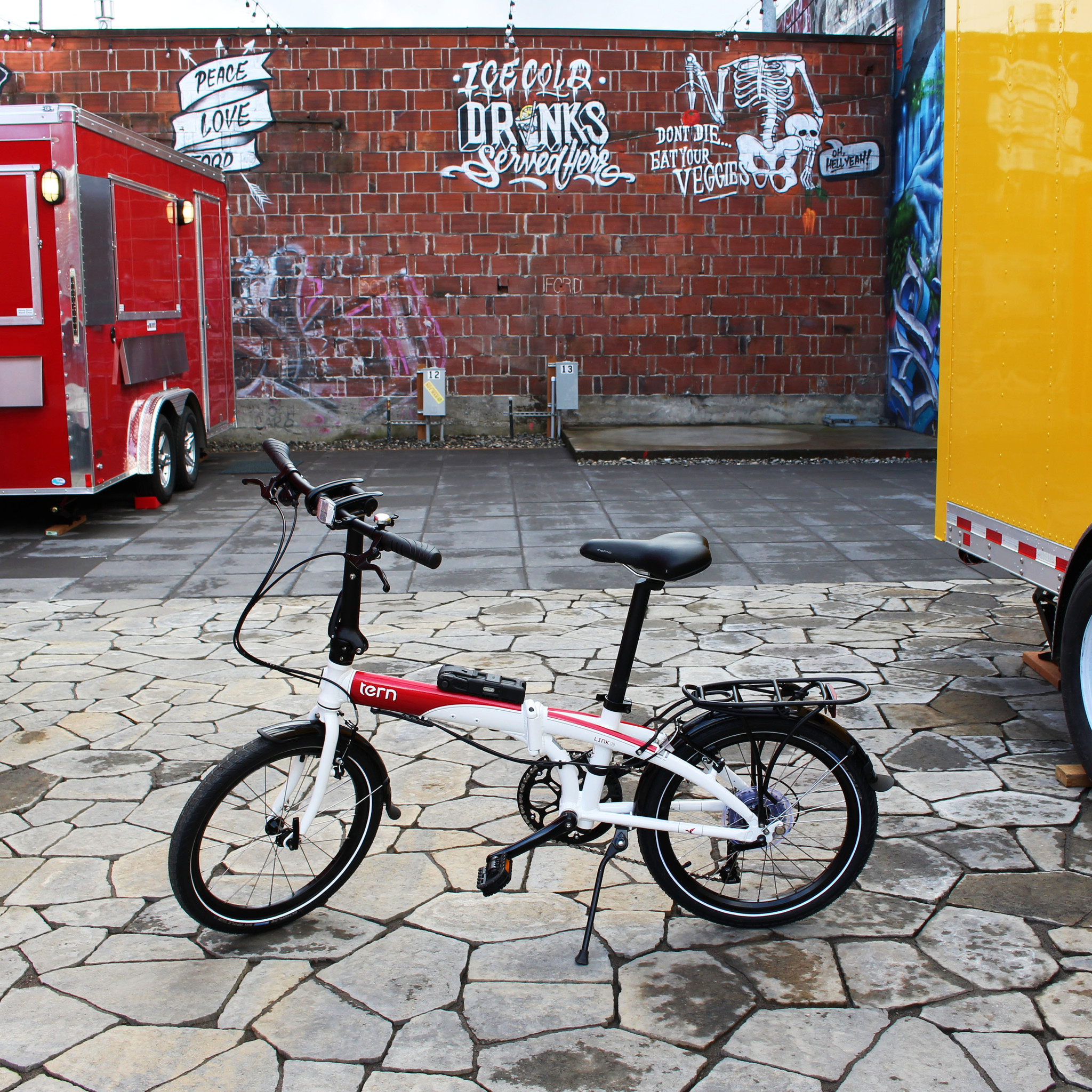 The Link D8 folds differently than the entry-level Link A7 and includes a rear rack and the Andros handlebar stem for tool-free riding position adjustments.
Customization
Bromptons are highly customizable, more so than Tern bikes. When you order a Brompton, you choose your handlebar type, gearing, rack or no rack, seatpost, tires, lighting, and color, and there are hundreds of aftermarket accessories, so you can dial in your ride.
Electric vs Non-Electric
Electric folding bikes are great if you have a longer commute and want a compact, portable bike you can store inside where there's less chance of theft. Assistance from an electric motor makes it easier to travel further, reach higher speeds, maintain a higher average speed, and climb challenging hills, all without breaking a sweat unless you want to. The Tern Vektron takes everything great about folding bikes and accelerates it with a Bosch motor. These bikes ride just as fast as a bike with 700c wheels, but you'll have the advantage of 20-inch wheels (compactness, quick acceleration, better maneuverability). Gocycle's GX Fast Fold is probably the most thoughtful electric bike we've found. The wheels don't need to be removed to repair a flat, the sturdy-yet-lightweight double kickstand stealthily tucks away, a fully-enclosed chaincase keeps everything clean, and you can wheel it around when it's folded. If you want the most compact electric folding bike available, there's the Brompton Electric. The Brompton Electric is bike you can take everywhere, with an e-assist system that flattens hills, fights headwinds, and picks up the slack for you at the end of the day when you're tired. Folding bikes with pedal assist cost more, but we think it's worth it. Customers report back that they cycle further and more often. As one test rider put it, "It's like having a tailwind all the time."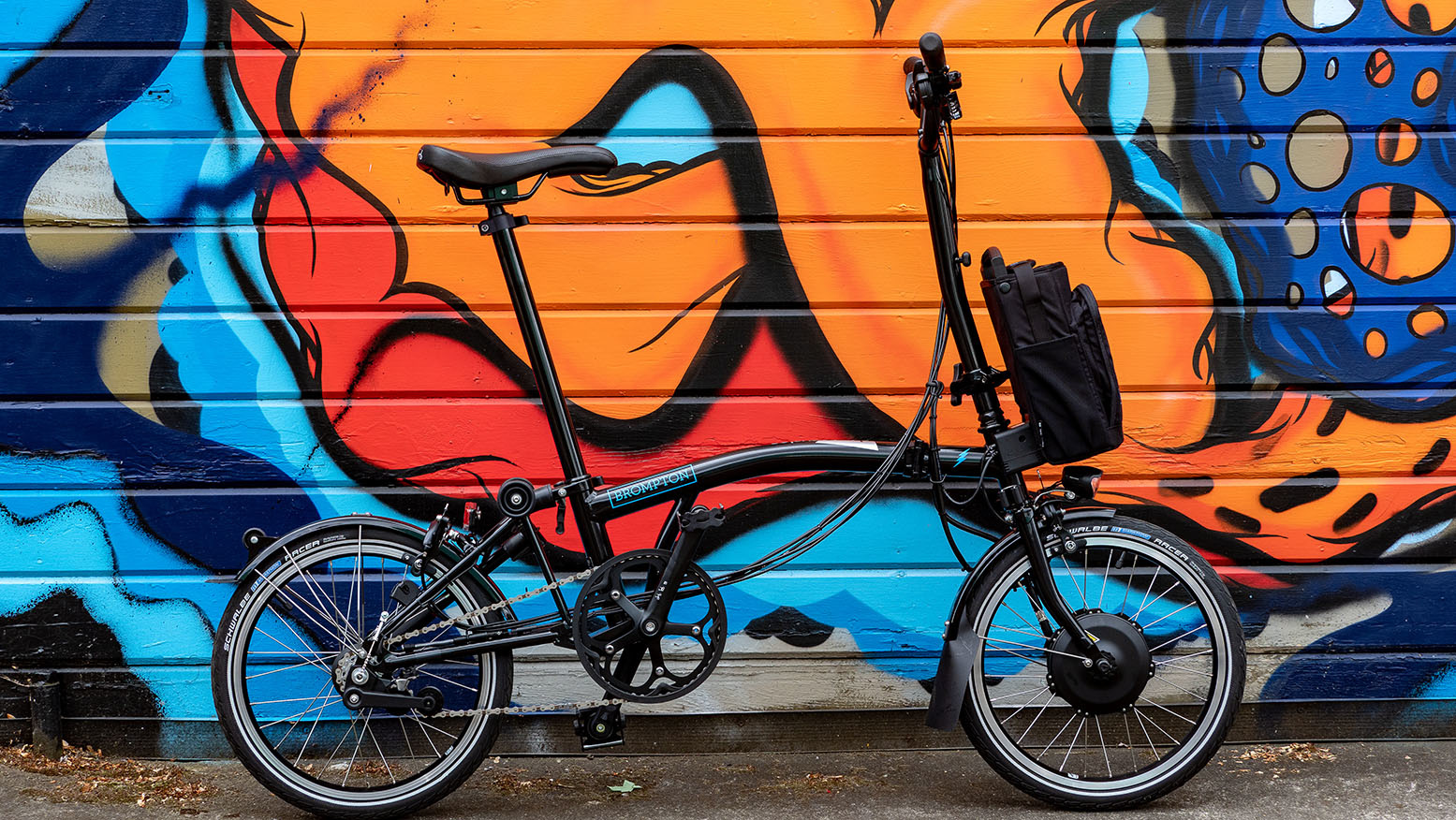 Brompton was able to achieve a lightweight electric bike without increasing the folded size it's famous for.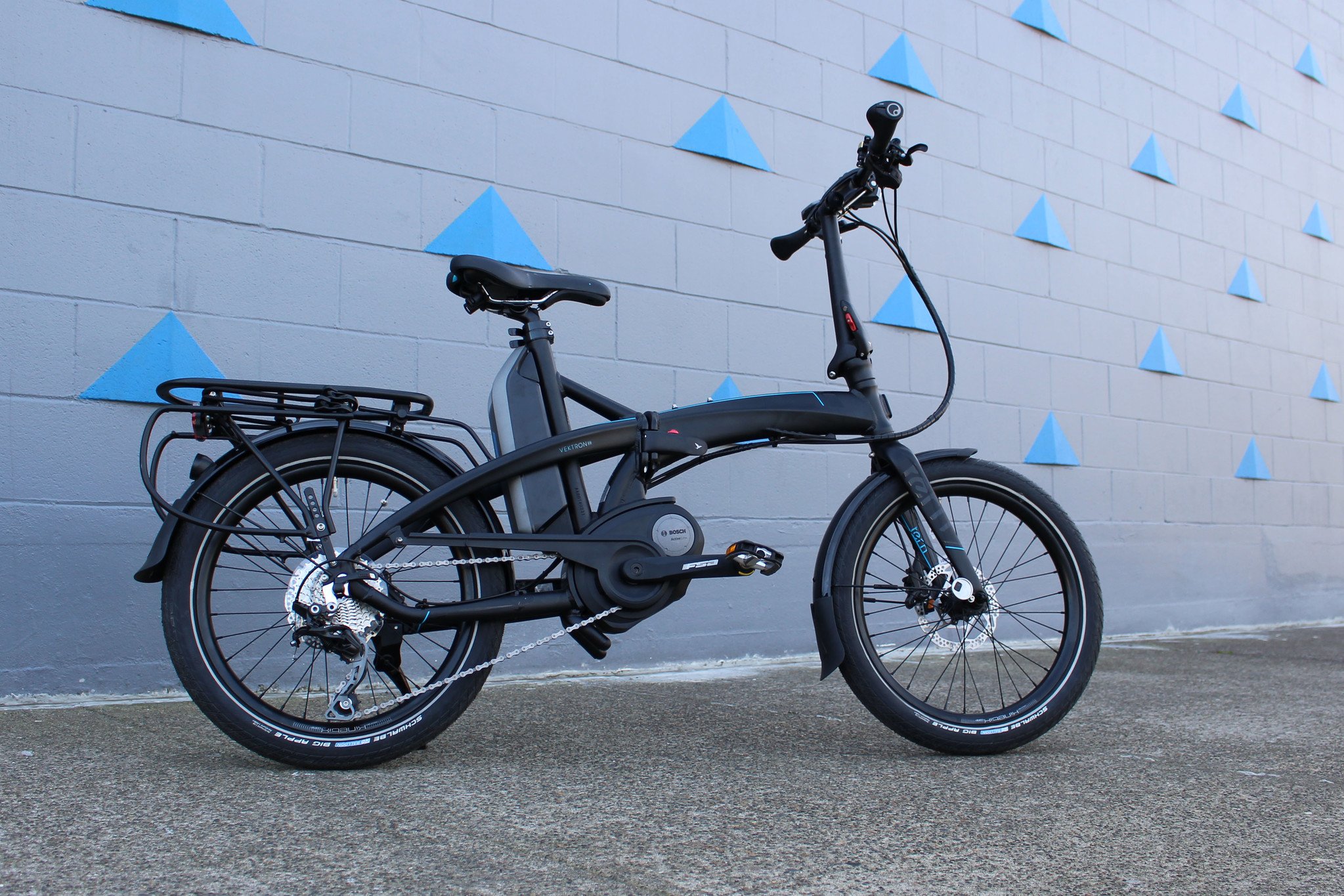 Gen 1 Tern Vektron S10 folding ebike
A Thule Yepp Maxi child seat on a Tern Vektron S10 folding ebike
Bag Options
All of our folding bikes can be loaded up with whatever you need to carry. Whether it be books, snacks, workout clothes, a laptop—all of the brands we carry have options. Brompton currently has the widest range of luggage options, with Gocycle only offering one front bag and a rear rack and Tern just a little bit more.
There is no perfect folding bike for everyone, but there is a perfect folding bike for you. If you're a commuter or frequent flyer, we recommend Brompton. Bromptons are unbeatably compact, and you can choose from a range of colors, gearing options, riding styles, and accessories. They're hand built, with each frame stamped by the person who made it. If you're a recent college grad on a budget, we recommend Tern. You'll be able to store it inside your new apartment, get to and from work while getting to know your new city, and load it in your car for a weekend getaway. If you have a long or hilly commute, then you might want to consider a folding ebike, like the Brompton Electric, or the GX Fast Fold. If you need help choosing a Brompton, check out our Brompton Folding Bike Buying Guide. If you're not sure which Tern model is right for you, send us an email or give us a call.