You may also like: Folding Bike Buying Guide, Electric Bike Buying Guide, and Brompton Buying Guide
We regularly field this question: Which folding ebike should I get? It can seem overwhelming to choose from all the options. Luckily, it's pretty easy to figure out exactly which one is the best for your situation. There are a few major differences that can help point you toward the perfect folding electric bike.
It's best to start with why you want a folding ebike. In addition, it's good to think about how you might use the bike. Is the range of the battery and weight important to your choice? How about durability and ease of folding? Folding electric bikes can solve many of the limitations that may have kept you from buying a standard sized ebike. Folding bikes can fit in small storage spaces, theft risk is lower with indoor storage, and they allow you to jump from bike to bus to train to car to RV (multi-modal transportation). Usually we would mention airline travel too, but with regulations around ebike batteries, flying with an ebike on commercial jets is not an option.
Need lightweight with the tightest and smallest fold for the trunk of your car or under your desk? Then the Brompton ebike is the best choice. In about 10 seconds, it folds down to less than 2 feet tall and wide. In folded form, the electric Brompton can fit nearly anywhere and all the greasy bits are tucked away on the inside of the fold.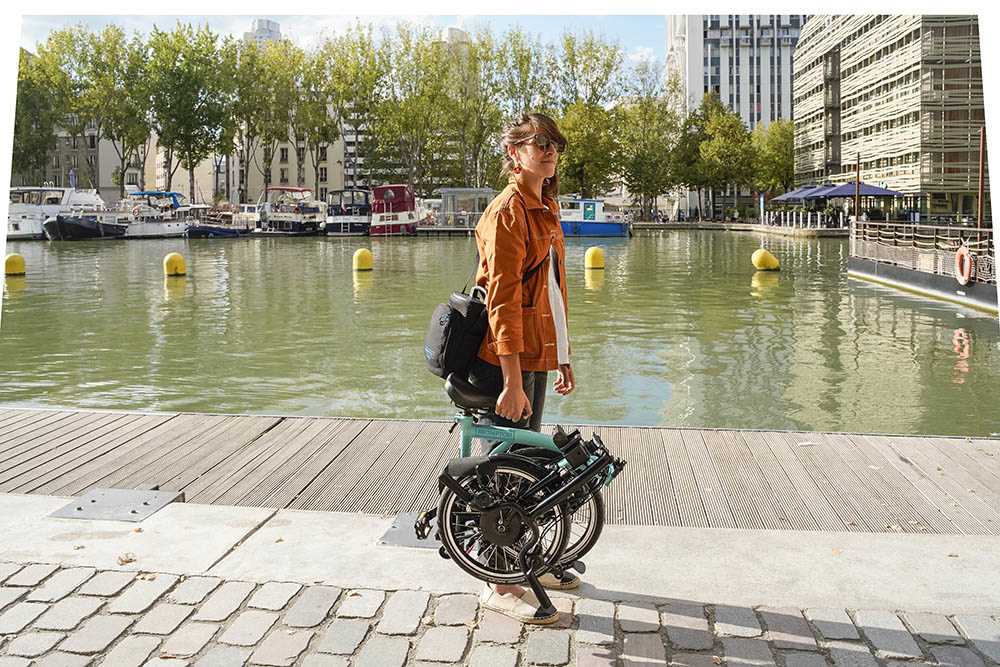 Maneuverable and ZIPPY
Brompton C Line Explore Electric: 41 pounds with battery. Range 20-45 miles.
Brompton P Line Electric: 34.7 pounds with battery. Range 20-45 miles. 
Class 1 ebike. Assists up to 15 mph. 6 speed with fenders and lights. Available in two handlebar heights. Fits 4'7" to 6'8"
---
Need the most power and carrying capacity? Then the Tern Vektron is for you. Sporting a Bosch mid-drive and 400wh battery, the Tern Vektron can carry you and all your groceries across town with juice to spare. You can even mount a Yepp EZ fit child seat on the back to carry your toddler, nibling, or grandchild. A highly adjustable quick release seatpost and handlepost allows easy sharing between riders. The Vektron rides the most like a "normal" bike and can be serviced anywhere that works on Bosch ebikes.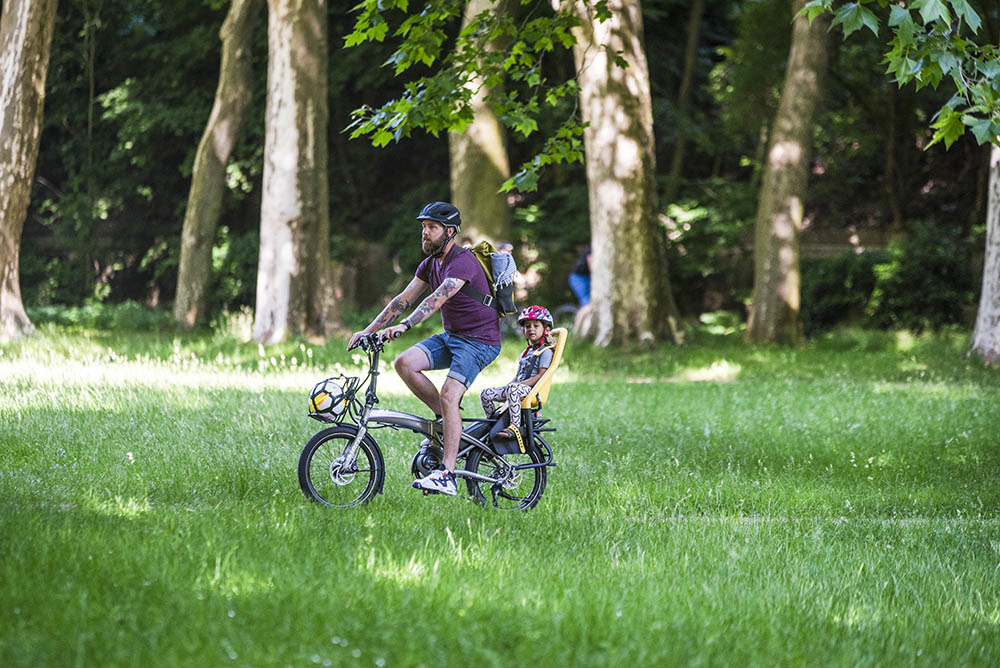 Practical and FAST
Tern Vektron Q9: 49 pounds with battery. Range of 35-70 miles.
Tern Vektron S10: 49 pounds with battery. Range of 34-68 miles.
Class 1 ebike. Assists up to 20 mph. 10 speed with fenders, lights, and sturdy rear rack. One size fits 4'10"-6'5"
---
Need the cushiest ride with a little throttle boost? Then the Gocycle G4 (or G4i or G4i+) is a fantastic solution. Not only does the Gocycle ride like a dream, the hidden cables and battery make it quite stealthy. Add lights and fenders to make it a little more practical for daily riding, or keep it clean for the lightest weight package.
Plush and FUN
Gocycle G4: 39 pounds with battery. Range of up to 40 miles.
Gocycle G4i: 38 pounds with battery. Range of up to 50 miles.
Gocycle G4i+: 37 pounds with battery. Range of up to 50 miles.
Class 2 ebike. Assists up to 20 mph. 3 speed. Option to add fenders, lights, and front bag.
One size fits 5'1" - 6'6", optional compact seatpost fits riders down to 4'10"