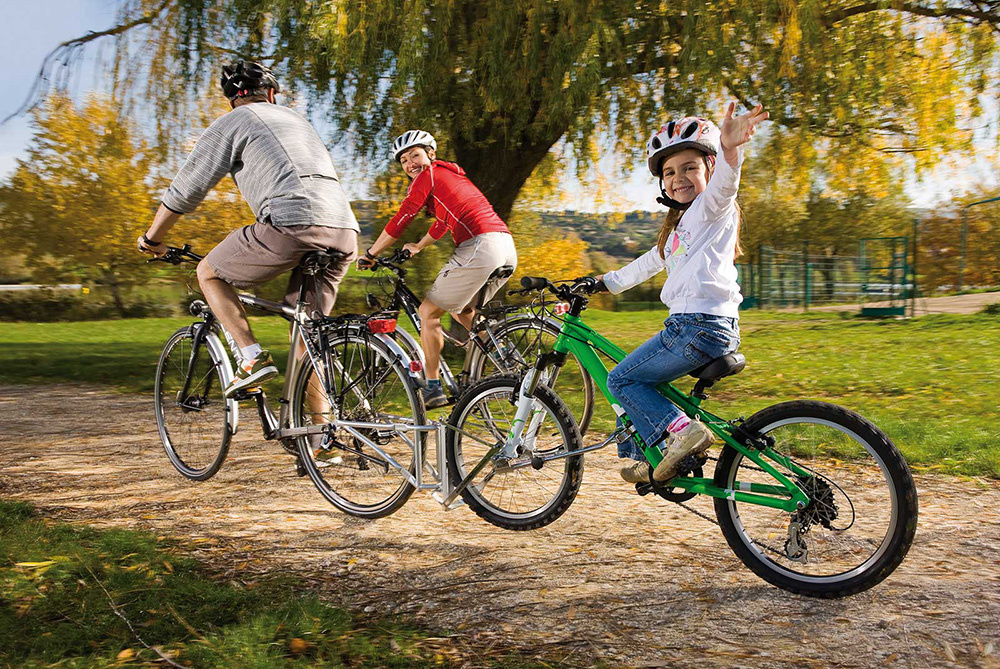 The FollowMe tandem is immensely useful for a specific niche of time when you have a small child that can ride a bike without training wheels, but maybe isn't confident or strong enough to ride the distances that their parents can. The FollowMe tandem is a coupling device that joins parent and child bikes together to create a 3-wheeled tandem. The child continues to pedal their bike, but is tethered behind their parent. The two bikes can be coupled and uncoupled as terrain and distance dictates. It's perfect for school drop-offs, family outings to the city park, or even long distance touring.
The Mechanics:
The parent's bike gets a special set of rear axle nuts, or quick release skewer. This is the attachment point for the adult bike.
The child's bike gets a special set of front axle nuts or skewer. The child bike also gets a bracket which is attached around the downtube of the bike. The coupling will clamp at both the front axle and downtube pulling the front wheel of the child's bike off the ground and tethering the child bike to the adult bike.
It takes a handy person about an hour to do the initial setup. After that, it's just a few minutes to attach and detach.
Which parts do I need???
The kit comes with a quick release skewer for the adult bike. If your bike uses axle nuts (needs 15mm wrench to remove the rear wheel), then you'll need special axle nuts. M10 for Enviolo or Nuvinci hubs, ⅜ for Shimano Nexus internal gear hubs. If your bike uses a thru axle, check Robert Axle Project's website for the proper part.
The kit comes with 3 sizes of axle nuts for the child's bike. Pick the one that threads on easily without needing to be forced or feeling loose. You can also measure thread pitch and dimension using a thread pitch gauge or set of calipers, or by going to a quality hardware store or bike shop for help (the dimensions are not usually listed on product websites). If the child bike has a hollow front axle with a skewer, or if the interior of the axle is threaded, then you will need an adapter to fit your bike. Many higher performance bikes like Islabike, Woom, or Frog will need one of these adapters. You can find adapters here. 
Will it fit???
Fits most child bikes with 12"-20" wheels
Fits most adult bikes. (Will not fit some longtail cargo bikes, or Brompton folding bikes)
If in doubt, please email pictures of the bikes you'll be using including close ups of the rear wheel of the adult bike and front wheel of the child's bike.