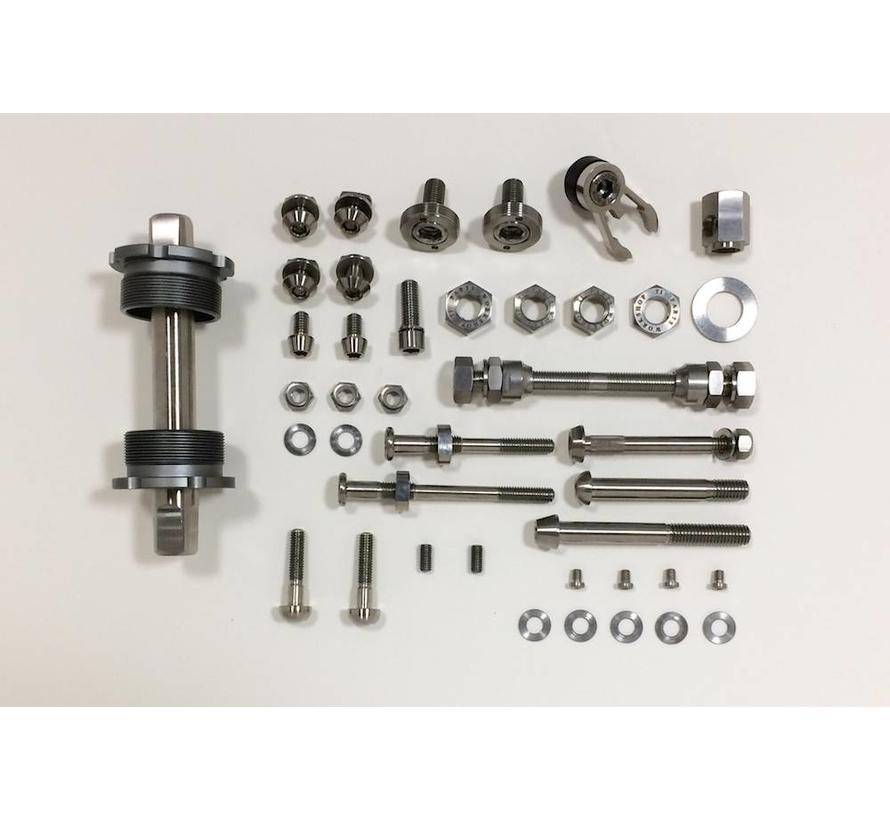 So you want a Superlight Brompton? Introducing Ti Parts Workshop
We despise most in others what we most fear in ourselves. I might be becoming a weight weenie.
As a lifelong user and decade-long purveyor of utilitarian bicycles many consider too heavy to be desirable, I admit to long having taken unseemly pleasure in (silently) mocking those who know or care what their bicycles weigh, at least with any precision below a certain reasonable threshold. Some well-worn lines of attack are that they should consider losing a few pounds themselves, say by riding a "too heavy" bike more, or better yet: ditch the 4,000-lb car that they use to haul their sub-20-lb bicycle around! I know: smug.
Anyway, I'm coming clean: I do care about how much my Brompton folding bike weighs. I still don't actually know the number, because pride/shame and no gram scale in this here utility bike shop, but I have now firmly embraced the idea that lighter is better, even important. Maybe I'm having a mid-life crisis, or gravity is getting heavier for me at 50. But really, why shouldn't all Brompton owners care, at least if they save enough money riding to afford to care? Because we carry them up flights of stairs, sometimes several times a day, and into most establishments we visit, like a briefcase. Also, their small (=light) wheels give them a pleasurable zip that's only enhanced through weight reduction in the other parts.
Bromptons have always been respectably light in relation to their toughness and carrying capacity, but at around 25 lb for a well-geared model not otherwise stripped down, that's more than most can carry comfortably past a short while. The cheapest way to save weight is to jettison valuable features like speeds, lighting systems, tough tires, Brooks leather saddles, etc. We think this is most often false economy. Some people even leave off the fenders! In Portland especially, this is nuts.
Since 2004, Brompton has offered a Superlight option, substituting several normally steel parts for titanium or aluminum. In addition to being lighter, these bikes are more corrosion resistant in salt environments, and offer subtly smoother rides on poor surfaces. Any other bike company would omit fenders from a lightweight option, but not Brompton: no, they offer fenders with titanium stays, because muddy soaked clothing is a lot heavier and more annoying. Bravo!
Titanium being costly, this comes at a price: $900 extra takes away less than 2 pounds. Still with me? Brompton's lightweight offering is a good start, but it stops far short of all the titanium upgrade parts we now offer, to take more than another pound off, while significantly improving function, looks, and corrosion resistance. If you're already sold on a Superlight, these upgrades finish the job at similar cost per gram saved.
We are the US dealer for Ti Parts Workshop. Based in Hong Kong, TPW is one of easily a dozen Brompton enthusiast machine shops turning out upgrade parts on the Pacific Rim from Korea to Singapore. It's testament to the core brilliance of Brompton that there's such a rich aftermarket for Brompton upgrades and bling. We've long admired various of these shops' offerings, but been frustrated that no one shop seemed to offer a comprehensive selection. Meanwhile mixing upgrades from different shops was both logistically daunting and aesthetically discordant.
That was before we discovered, after knocking three times on an obscure panel of a Brompton internet speakeasy, that TPW had leapt far ahead of the rest, with many dozens of thoughtfully designed and masterfully machined parts. Unlike others, obsessed largely with replacing Brompton's many plastic parts with laboriously machined metal or carbon fiber (fancy plastic) ones, TPW focuses on replacing steel parts with titanium, targeting plastic only when superior function can be had in the bargain, as more practical and cost-effective. We admire this approach and the resulting cohesive functional aesthetic.
We'll introduce TPW's most widely appealing parts separately, but start with with the weight-weenie's delight, the Clever Cycles TPW Brompton Diet Package.
This kit replaces nearly all the steel fasteners and other key parts of a Brompton with titanium. Installation by us or other Brompton dealer strongly advised. Includes:
Titanium square-taper bottom bracket, hollow spindle, with aluminum cups and ultra-smooth Japanese cartridge bearings. Includes self-extracting ti crank bolts.
Ti caliper brake nut/bolt replacement sets, complete
Ti rear axle nuts, inner and outer, whether 1/2 or 3/6 speed
Ti front axle, whether solid or skewer type
Ti chain tensioner nut
Ti Pentaclip, handlebar pinch, suspension block, stem wedge, and handlebar catch (with sexy aluminum catch) bolts.
This kit runs $450 as I write this; this may change over time as parts change and currency fluctuates. Our rule is to keep the net cost per gram saved within 20% of Brompton's offering. We might blink if you ask us precise weight savings: no gram scale here, packages vary depending what's on your bike to start with, and not all cited weights of steel originals are reliable or available. Just remember that titanium is 56% as dense as steel, so when replacing a part of the same form, there you go. But because ti is stronger than steel, less can be used for equivalent strength, so further savings are possible. More aggressive weight savings (at higher cost — diminishing returns — may be available by special order.) Installation is free at time of purchase of a Superlight Brompton from us; $70 in other cases.
If nuts and bolts (and bottom brackets) aren't sexy enough, our next post will introduce TPW parts likely to appeal even to owners of non-Superlight Bromptons: titanium seatposts, quick-release pedals, hinge clamp assemblies and easy wheels that, apart from saving weight, offer significant functional and aesthetic benefits.
What questions do you have about Ti Parts Workshop's upgrade components or Brompton aftermarket parts in general? Are you thinking about customizing your Brompton folding bike with aftermarket components? Feel free to reach out to us at [email protected]. We have years of experience doing Brompton mods and upgrades, and we're happy to help guide you through the process.