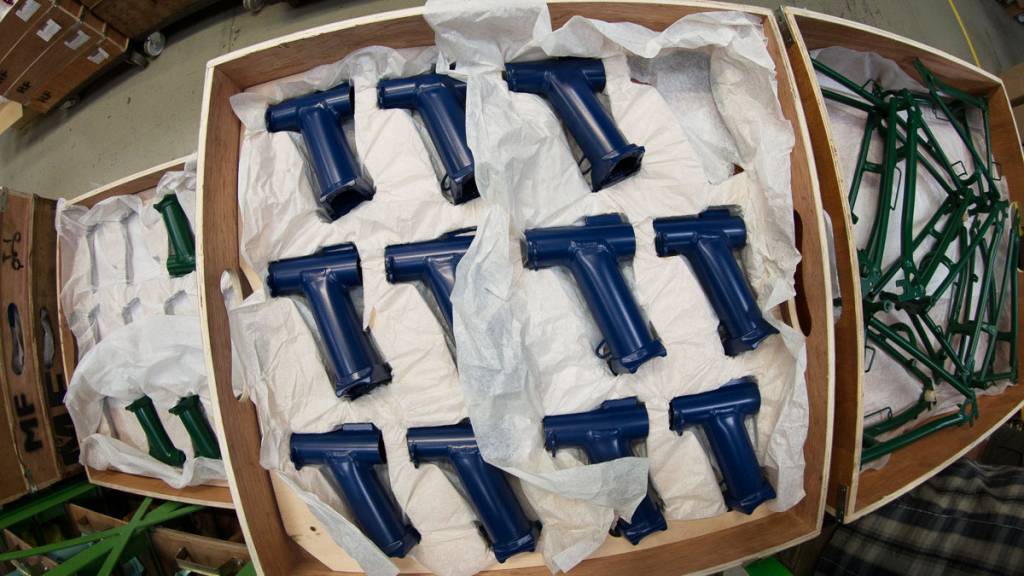 From Start to Finish: How a Brompton Folding Bike Is Painted
Brompton offers a rainbow of color options with the ability to combine two colors on different sections of the bike for extra personalization. After a brazer stamps their initials onto your new bike, they hand it off to the paint plant. Over the years the process has changed, but the quality has stayed the same. Still handmade. Still tough enough for decades of riding. But the bikes weren't always painted in London.
In 2016, Brompton moved its factory from Brentford, West London, to an 84,000 square foot facility in Greenford, West London, a defunct storage warehouse just a short pedal away from the factory it had outgrown. It took three months to turn the building into a factory, and relocating was expensive. (Brompton paid double rent for six months to minimize the loss of production time.) Moving into a bigger factory allowed Brompton to shift production into high gear—the company aimed to double their output to around 100,000 folding bikes per year to meet growing international demand—and staying in West London meant Brompton could retain its skilled workforce, 200+ staff including brazers the company trained for 18 months. The production line was down for less than three days when they moved, and for the first time ever, every one of Brompton's employees and processes were under one roof.
Building a new factory gave Brompton the space to bring painting in house, saving the company time, fuel, and money. Before the Greenford factory was built, freshly brazed and buffed frame components were trucked to Wales each day for powder coating, just over 200 miles or the distance between Washington D.C. and New York. Now, with a powder coating system in their factory in West London, Brompton could pretreat and powder coat the frame components on site. Powder coating the steel frame parts (as opposed to using liquid paint) produces a thick, dense, even finish that's more durable and longer lasting. Powder coating is, like all of Brompton's production processes are, part of what makes the bikes so special.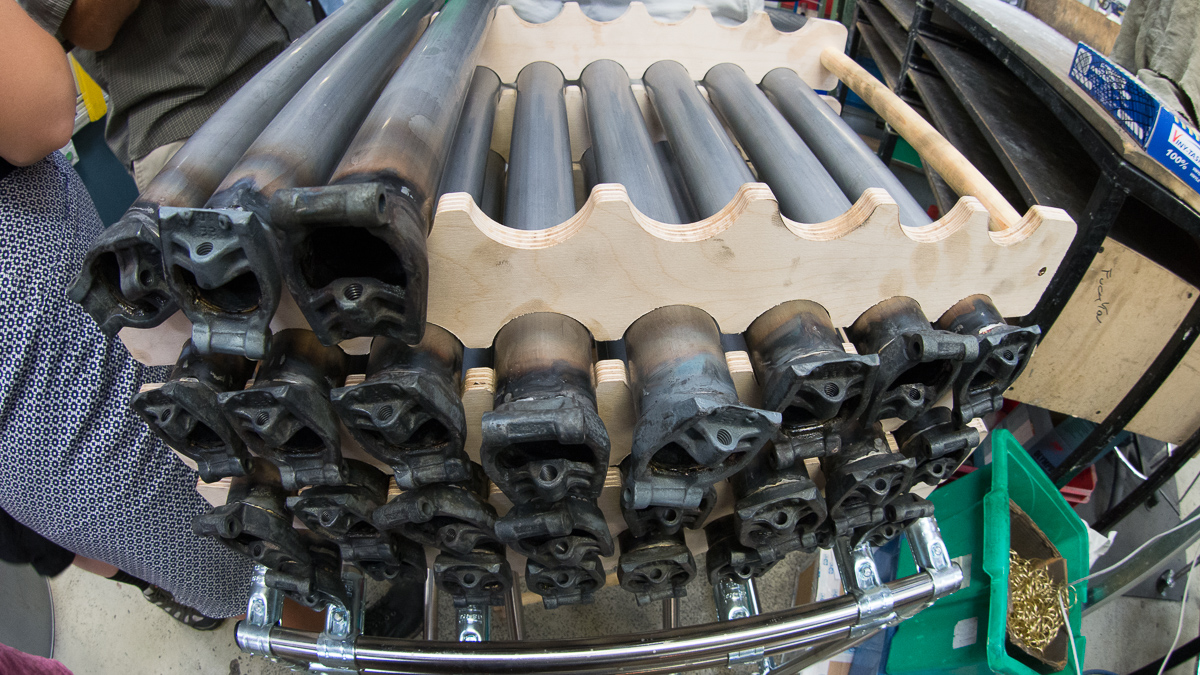 In a nutshell, a plastic powder is sprayed at the frame part and attached with an electrostatic discharge—then it's baked in an oven to melt and adhere to the frame. Brompton's lacquer finishes undergo the same powder coating process as the other color options, the plastic powder just doesn't have any pigment.
The powder coating process includes pretreatment before painting to prevent surface corrosion from penetrating through the metal. Brompton's pretreatment plant utilizes the Chemetall Oxsilan process, an eco-friendly pretreatment that provides corrosion resistance and paint adhesion to the steel frame parts. This technology allows Brompton to have high corrosion standards while adhering to strict Thames Water water discharge limits. The pretreatment plant is made from stainless steel and features high efficiency gas burners, quick change spray nozzle assemblies, stainless steel pumps, and a reverse osmosis water treatment unit.
After pretreatment, the components enter a gas fired drying oven for seven minutes at an air temperature of 302 degrees. Once the components exit the drying oven, they remain in a pressurized, ventilated enclosure to avoid contamination. Within the ventilated enclosure is a Swiss-manufactured, automatic, color change powder coating booth with manual touch in stations at both the entry and the exit to assist in fully coating the most difficult components. After powder application, the components enter a curing oven for 25 minutes at 392 degrees. When the powder curing is complete, the components exit the oven and cool before going through rigorous inspection. In other words—they have to be perfect. Any part that's not is recycled.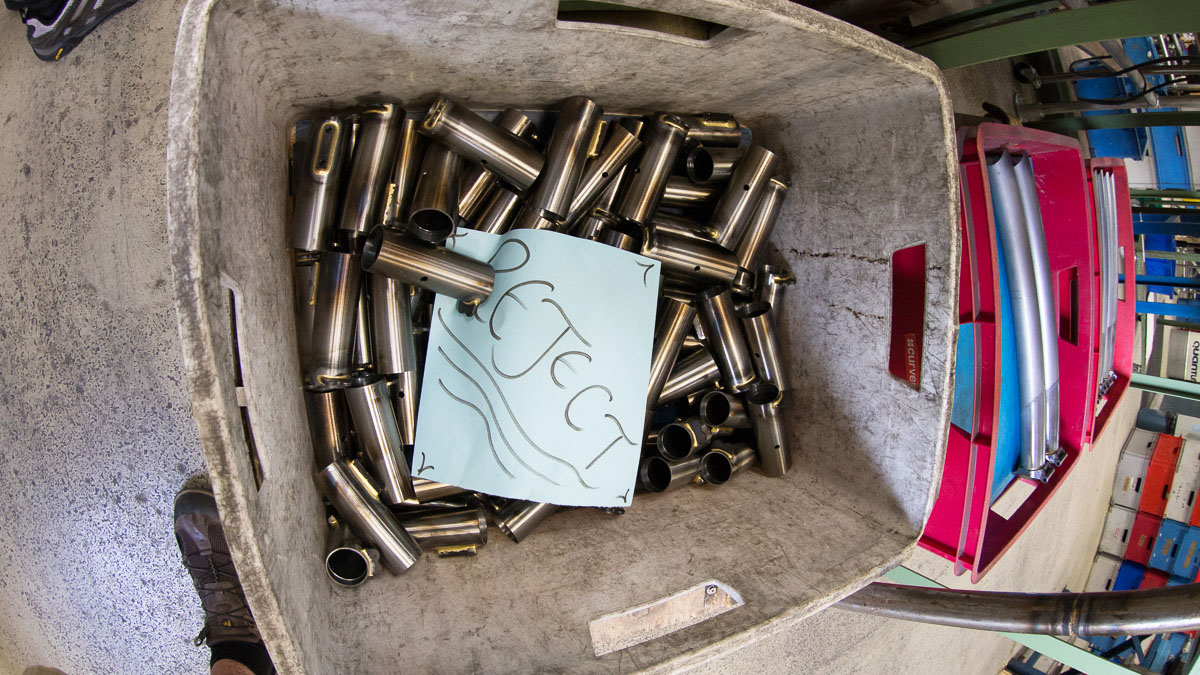 The electrostatic spraying of powder paint means the powder cannot enter the inside of the tubes easily—there's no paint on the inside of the tubes beyond the first three to ten millimeters. The unpainted steelwork is still protected from corrosion, however, because of the pretreatment. Today, a Brompton goes from raw tubing to finished product in 24 hours, and a new one is completed every three minutes. This year Brompton released several new colors: Hot Pink, Papyrus White, Flame Lacquer (Brompton's second lacquer finish), and Purple Metallic, a glossy purple featuring tiny metallic flakes that catch light and create a sparkling effect.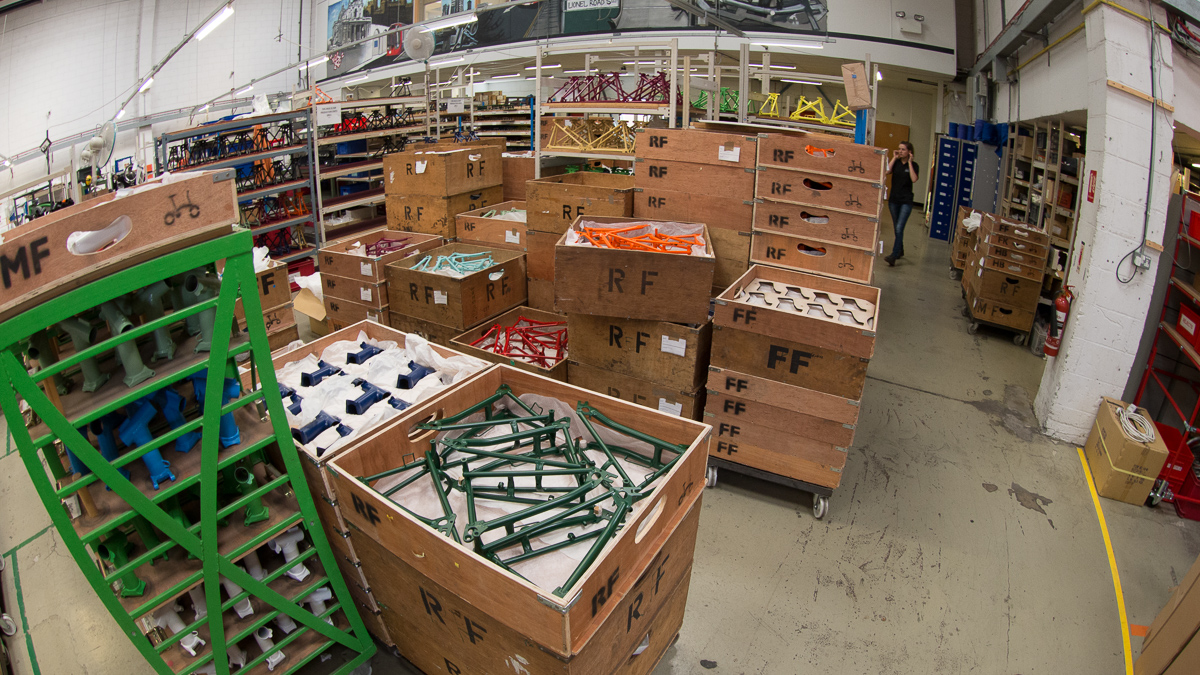 If you want to see a Brompton going through the paint plant, check out this video of the Nine Streets Edition getting its special fade finish, a two tone fusion of red and blue lacquer. If you'd like to see the process in person, you can book a factory tour. In addition to touring the paint plant, you'll view the assembly lines, visit Brompton's test laboratory, see a brazing demo, and more. If you want to see the current color line up in person without traveling to London, stop by our store. We usually have a frame in every color. You can also view them on our website.