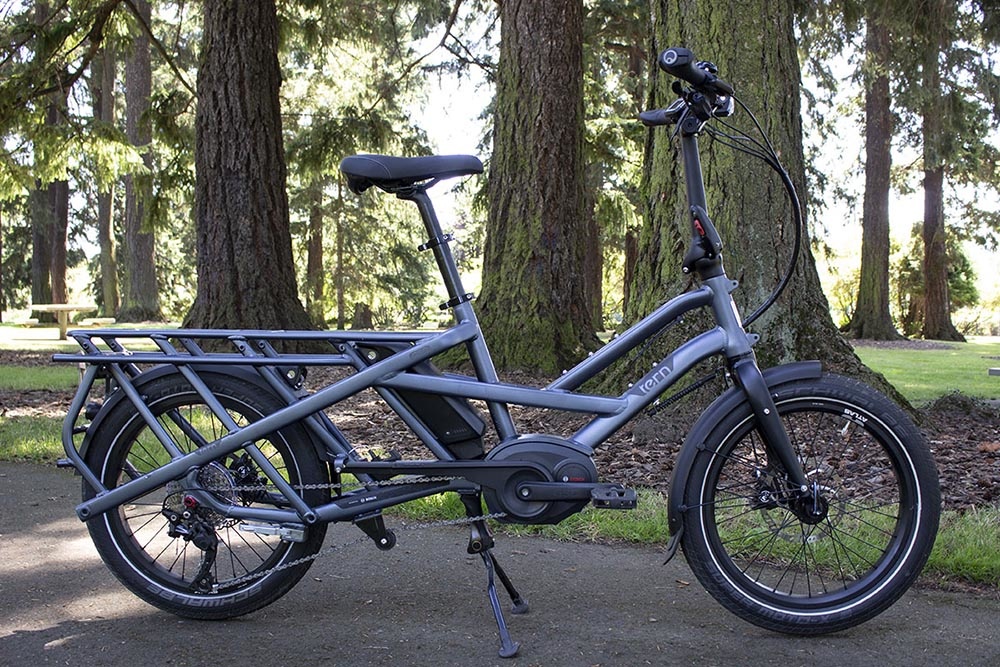 Staff Fave! The Tern GSD Electric Cargo Bike
Before the Tern GSD existed, if you lived in an upper floor apartment and owned a cargo bike, you probably had to find another place to store your bike. It's no surprise that Tern made the cargo bike that changed everything—they've always been focused on urban transportation and mobility, and they're experts in bikes that fold.
The Tern GSD makes it possible for more people, including apartment renters, to cargo bike. It's the same length as a regular bike, and you can store it vertically because the rack doubles as a sturdy stand. When standing on its end, it takes up about as much space as a person. The handlebar folds neatly out of the way. 
Great for carrying up to two kids or as a single occupancy bike, the GSD can be used to carry groceries, camping gear, kitty litter, potting soil...you name it. Here at Clever Cycles, we use the Tern GSD to haul things to and from events, take packages to the post office, and carry cases of seltzer water for our breakroom fridge. You can carry a 400 pound load, uphill, easily, thanks to the Bosch motor that assists you as you pedal. An optional second battery will double the range to around 100 miles between charges.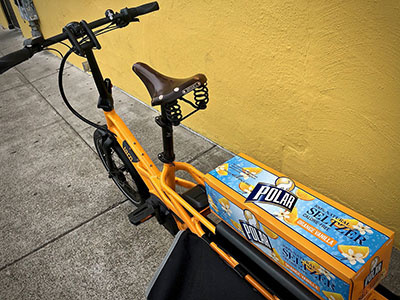 The Tern GSD has a comfy seat with a built-in handle for your passenger and extra comfy Ergon grips for you to hold on to. There's room on the swept back handlebars to mount a GPS, and that upright riding position you get with swept back bars will allow you to see better in traffic. The pedals are designed for regular shoes, with a sandpaper-like surface that helps your feet stick to the pedals. There are optional magnetic, flip-out footrests for an adult passenger. 
The GSD offers four levels of assist from the Bosch system. The drive unit, the heart of any e-bike, is Bosch's highest torque model. Three sensors measure the rider's pedal power, cadence and speed over 1,000 times per second. You get a natural-feeling ride with the right support at the right time. The motor stops assisting when you get going faster than 20 miles per hour. The smooth-shifting Continuously Variable Transmission means there are an infinite number of gear ratios between low and high. By twisting the grip shifter you can continually adjust the ratio, even when you're stopped at a stop light. Disc brakes with quad piston calipers spread out the surface area for braking and give you better grab. Like the seat and handlebar stem, the brake levers are adjustable. One Tern GSD can be shared by many.
There's an onboard computer that activates the built-in lights, controls the level of assist, and displays charging status, speed, distance, and more. The GSD comes with a 4-amp charger for the battery, which you can recharge on the bike or off. If you have two batteries, you only have to plug in one place and it charges both.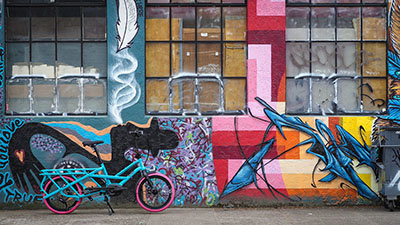 The low step-through frame makes it easy to get on and off, the rear rack is designed to fit two Yepp Maxi child seats, and the optional cargo hold panniers are like a trunk for the bike. 20-inch wheels keep the cargo close to the ground, which is good for handling. Small wheels also accelerate faster and take up less space. Features like heavy-duty, BMX-style rims and boost thru-axle hubs provide a rock solid foundation for hauling cargo. The beefy tires offer comfort and a smooth ride with the reliability of reinforced sidewalls and Schwalbe's GreenGuard puncture protection. The reflective sidewall strip on the tires helps keep you visible at night. A chain guard keeps everything clean.
To say the Tern GSD is useful is an understatement. The GSD could easily replace several bikes and a car. This do-it-all utility bike opens up cargo biking to a whole lot of city dwellers who don't have the space for a cargo bike. It fits anywhere a regular sized bike can—and can pack down smaller! Two of our employees loved our demo bike so much they got one for themselves. Come in and try it for yourself!