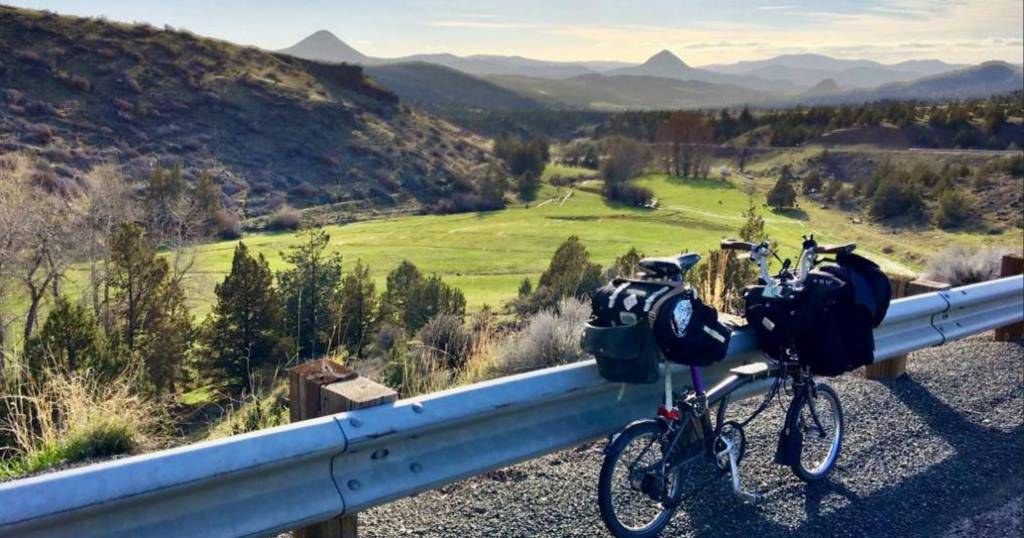 My Desert Island Bike: Brompton
Through most of my 30s and 40s, I (Todd) owned and rode many bikes, up to a dozen any given month. Every morning I would pick a bike like other people pick shoes or a tie. I found that when I rode the same bike every day, it became invisible: I stopped noticing much of what made it great. I loved constantly mixing it up, feeling like I had a "new" bike every few days. Most of what I know about bikes comes from these decades, buying, building, tweaking, maintaining, and of course riding them.
I bought my first folding bike in Spring 2001, a Brompton. I was being sent on business to Manhattan for three weeks, and the idea of no bike for that long was intolerable. Hearing that Bromptons were best, I deliberated a whole two hours, maybe. Since I already owned bikes with legendary ride quality, I had very low expectations. I was prepared to forgive almost anything as long as I could bring it into my hotel room. It turns out there was very little to forgive. Sure it had limitations and quirks, but I was thrilled with how much fun it was, how lovingly made, how practical, and how very clever was its fold. I rode it that trip on the Five-Boro Tour, and had no trouble keeping toward the head of the pack of non-clown bikers, even passing many tired roadies up the Verrazano–Narrows toward the end.
Fast forward fifteen years. I'd become a father. Bought and sold homes, and over a dozen more bikes. Moved to Portland after unfolding my Brompton and riding straight out of the airport to check out housing. Opened a bike shop dedicated to transportation, now the largest North American Brompton dealer outside of Manhattan. I'm now 50, on my fourth Brompton, and I've still never owned a car (so please no eye-rolling at my conspicuous bicycle consumption). The third I rode in epic manner on an ecstatic life-changing adventure I despair to this day ever of equaling. The second I rode my little son around on through ages and stages. I keep getting better and better Bromptons as my appreciation grows, and they never stop improving. Bikes one, two, and three? Are still being ridden around Portland in new hands. Number four has been my daily rider for three years. Even now, almost every time I throw a leg over it, I beam for a few moments at how it feels like a new bike and old friend at the same time, even when I've let some maintenance slip. In fact, at this point I have only one other bike in ready-to-ride condition, and it hasn't seen much love for years. So my Brompton is pretty much my only bike.
In Brompton-speak, this is an M6L-X. M refers to the handlebar/stem style, one of four available. It puts me at 5'10" in a moderately upright position ideal for longer rides at medium intensity. 6 is for six speeds, over a 305% range comparable to an 11-34t cassette. L refers to the absence of a rear carrier, and X means I splurged for the superlight package with titanium bits. When Brompton makes a superlight bike, do they leave off the fenders like any other company would, so it leaves you a mess in the rain? Of course not: they use fenders with titanium stays! That and superlight variant of the floor-protector/parking brake seatpost bung.
Its finish is Raw Lacquer, clear, to show off the handsome brass brazing. I use my bikes hard, so scratches are inevitable. With a clear finish, wear registers as patina, where scratches to a color would read as damage. Frames chosen for the Raw finish can't have even cosmetic brazing flaws that would show. I think this means generally that these frames come from the most skilled artisans in Brompton's London factory, who subject the steel to the least torch time, for the most resilient and truest joints.
I've personalized the bike quite a bit:
The seatpost is titanium too. Brompton used to supply ti posts: this is one of them, which used to be on my last Brompton. It saves a little weight, but is also appreciably flexier than the stock steel post, for extra comfort. The saddle is Brooks B17 Select, Brooks' "Classic Coke" marketing move where they offer the good old tough leather from older cows as in days before 2005, when they seem to have switched to softer but less durable leather in the main lines.
On the main tube is StandupforBrompton's BBBR Platform, made in Brompton hotbed Barcelona. In the last few months I've hauled on it two favorite humans, a boxed pie, potted plants just balancing there, a 9-gallon tank of liquid propane, a large rolled wool rug, a produce box, a 6-pack, another Brompton, and probably other things I'm forgetting. I like it better than Brompton's rear carrier option because you needn't remove stuff to park or fold the bike, and it's lighter and cheaper and smaller, with weight borne between the axles rather than right over one, for smoothest carriage: no damage to delicate pie. [Full disclosure: one of the favorite humans sustained facial bruise after I ditched into bioswale, but no grudges. I'm told.]
When the huge front T Bag [sic] and BBBR Platform are not enough: a Burley cargo trailer hitch. See, it's a cargo bike in disguise. I flipped the hitch to connect above instead of below the axle, to raise the nose of the trailer to near normal height.
Ergon Gp3 grips? Of course! Everybody who tries, wants. Allows a naturally comfortable slack-hands grip even on the native straight grip area, not unlike riding on the hoods of a drop-bar bike. Softens the front end ride quite a bit, which can be a little harsh on rough pavement otherwise.
Brompfication hinge clamps and more: because I like metal more than plastic most times, especially on a raw-metal finished bike. A stylish indulgence, sure, but these clamps incorporate three functional improvements over the stock clamps, too.
MKS Promenade quick-release pedals: lighter and smoother and prettier than stock, and all metal. I pocket one when I leave the bike locked outside as a soft security aid: can't be ridden away even if lock defeated.
Brompton Toolkit: fits inside the frame. Nifty micro-ratcheting bit driver, tire levers, box wrenches including a 15mm, all barely bigger than a roll of quarters. And there's a Lezyne pump stashed in the seat post, too, because the titanium rear triangles lack a pump holder like the steel ones.
Magnic Lights: this is the lightest and most efficient battery-less lighting system, period. They work by magnetic induction, just by being in proximity to the unaltered aluminum rims moving past: no contact, no wires, no switches. I've never been obsessed with minimizing bicycle weight, but I do like magic. I don't even know what my or any other bike in the shop weighs, exactly, but obviously low weight does matter in a bike often carried by hand, as folding implies. And once you make one low-weight choice at some cost, it feels wrong not to follow through on other choices. For example, when I wear out this heavy Brooks saddle in another few decades, I'll surely replace it with a titanium-railed version, probably to be buried with it.
As a small child, a favorite toy was, improbably, a model car. It was James Bond's Aston Martin, scaled to about cigarette-pack size. It was complete with bad-guy passenger eject seat, rotating license-plate obfuscation, pop-up bullet shield, various pop-out cannons, oil-slick dumper, and I think a caltrop launcher! My Brompton is even cooler than that, handmade in London, and it's my real car, fun but no toy. Thank you, Q!