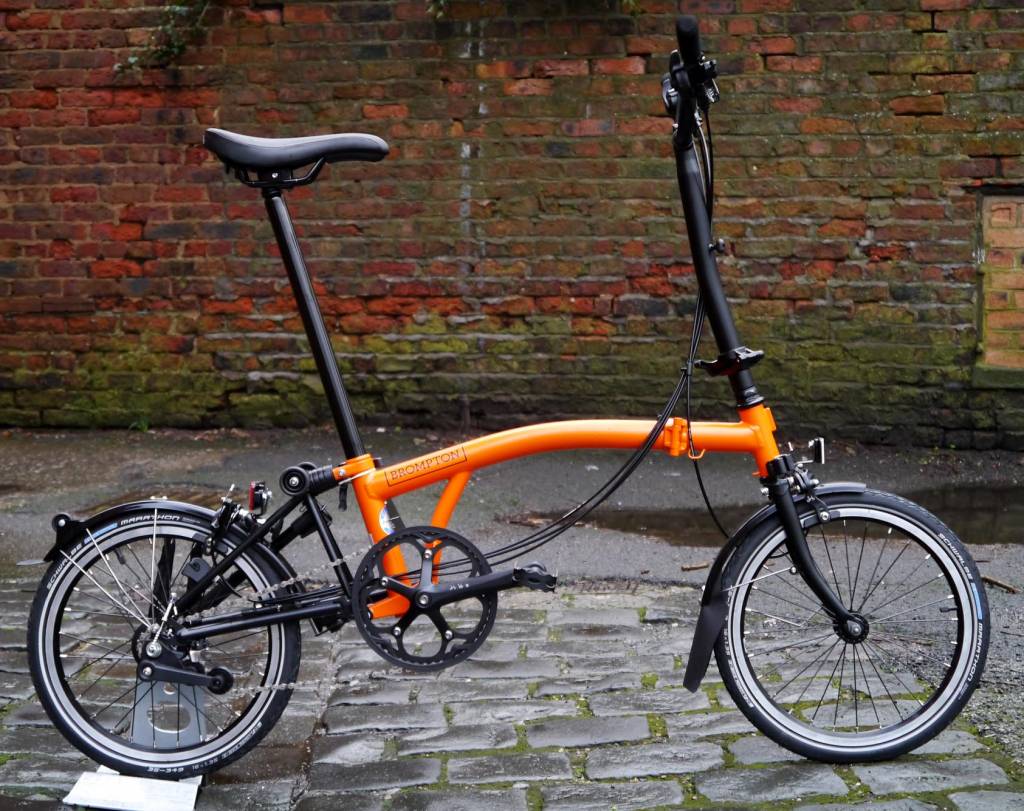 Who Rides a Brompton?
We are proud to have introduced Brompton folding bikes to Portland on the day we opened, having used them ourselves for nearly a decade. They are the single most common riding choice of our shop's four partners, even when no folding will be necessary. We've since carried two other folding bike brands, but stopped after a time because they didn't sell well alongside Bromptons. We think this is because Bromptons are simply the best, at least for the kinds of people our shop attracts. That's all kinds of people.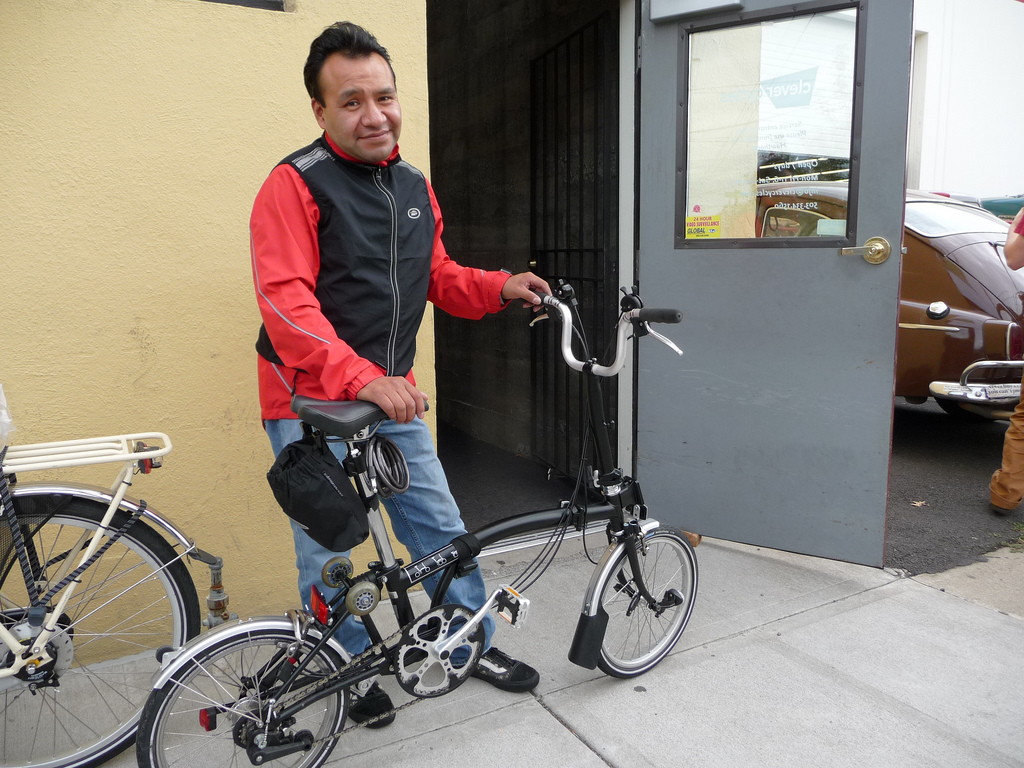 This is Daniel. He's from Mexico City and a janitor by trade. He works nights on the west end of the Portland metropolitan area, and lives on the east end. He needed a way to travel the distance between the nearest public transit stops and his destinations, carrying his stuff clean and safe. This is precisely what Bromptons were invented for 30 years ago: to solve the "last mile" problem. They've since grown well beyond that niche into all-purpose machines, but they're still unbeatable multi-modal commuters.
I greeted Daniel in his work clothes, near a display of merino wool brassieres and sun dresses, with a folded Brompton on display near his feet. He asked how much? I told him, and his lips puckered to a sharp quizzical point of disapproval. He asked again, and repeated the price with difficulty, finally gesturing for me to write it down. "Es de lo mejor!" I offered tentatively. I proceeded to unfold the bike, and his face brightened. And then, when I inserted his bulging backpack into a large front bag, and showed him some lighting options, he chirped "I take it!" without even a test ride. Of course, I insisted that he try it; he came back completely certain.
As I fit him and installed his accessories — the touring pannier, Reelights, a cover, skate wheels — explaining various points and answering his questions, I began to feel foolish that I had doubted he'd see the value after his reaction to the price, and then elated that he did, without any of the geeky posturing that plagues so many sales conversations. We parted with a hearty handshake, and as he rode off he shouted "Amigo!" with such a smile it made my day.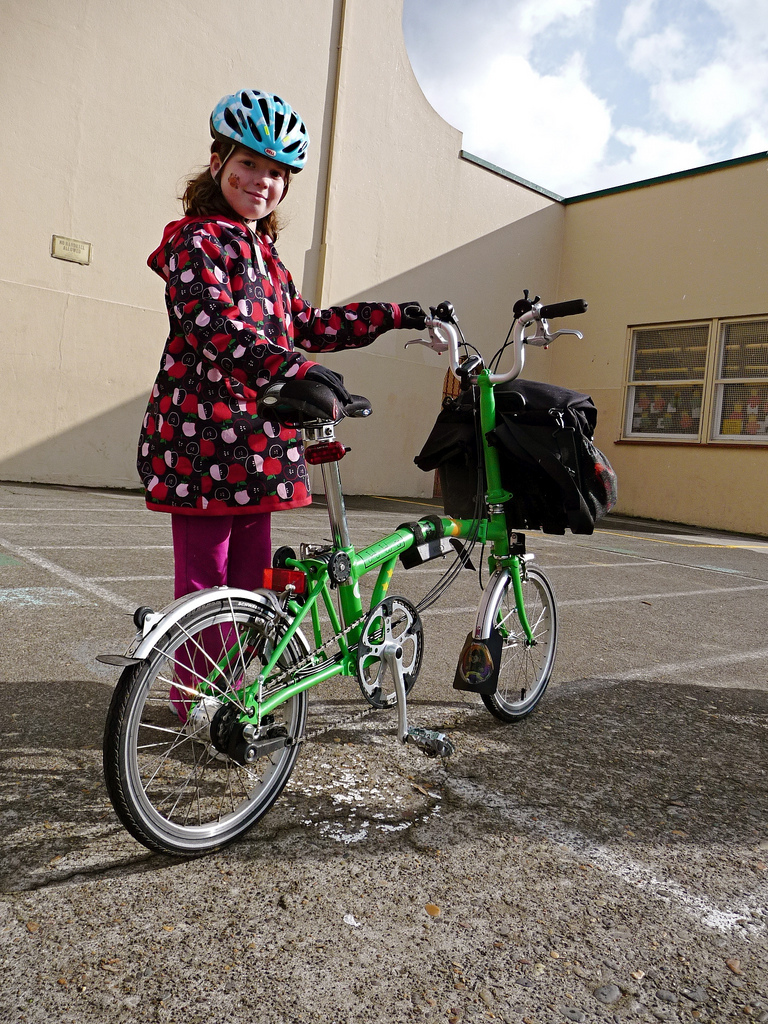 This is Kate. She's in the second grade. This is her third bike, and with reasonable care, she will be riding it well into adulthood.
Kate's parents have done the math: no more disposable kid bikes. In fact, Kate shares the bike with both of her parents, even her father at 6'2″. While Bromptons are made in only one frame size, they adjust readily to accommodate people from Kate's size all the way up to about 6'6″! This extreme adjustability, together with toughness and amazing portability are what make Bromptons a mainstay of our bike rental program.
Kate rides her Brompton to school with her mother, who herself rides a longtail with little brother Jack aboard. In the front touring pannier, fixed to the frame instead of the steering column for easy handling, go her books, lunch, and extra clothes with room to spare. She folds and unfolds her bike with expert pride, to the tireless delight of her classmates. Her mom says the Brompton has made her "appallingly popular" with boys two grades ahead, and that she rides it much further and faster than the 20″-wheel kid bike it replaced.
We adapted the bike with Avid Speed Dial brake levers for the short reach they offer her small hands, as well as an ABUS Bordo folding lock.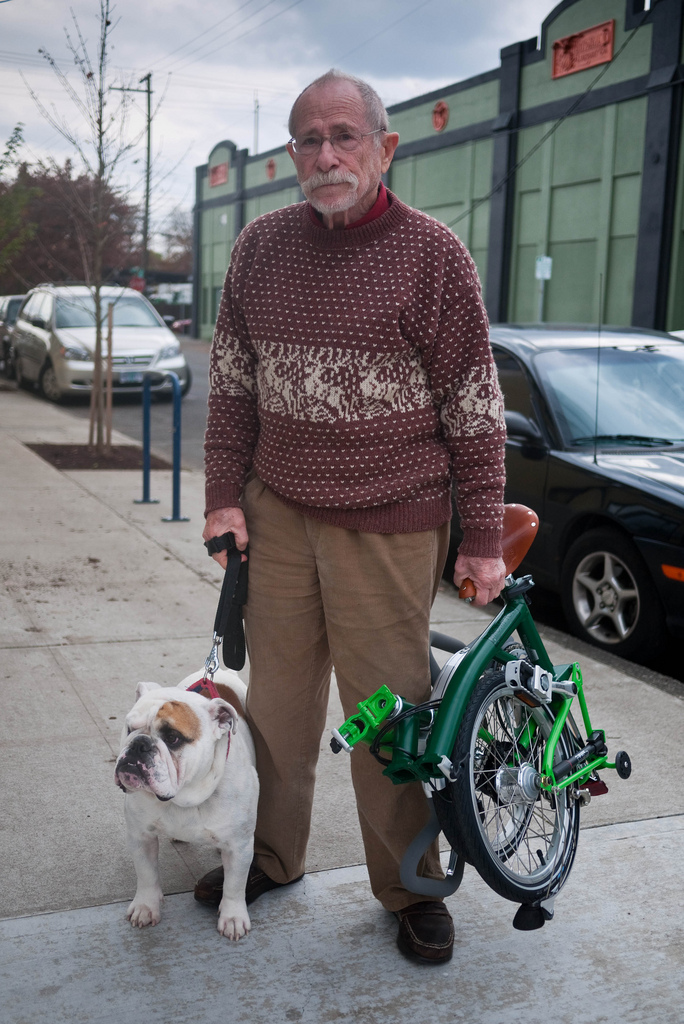 This is Max. He is 82. Max is a retired college sociology instructor, specializing in Deviant Behavior. Now he keeps bees, well-behaved social insects. Max's deadpan humor is too salty to be represented safely on the internet. He always leaves us repeating his wisecracks after his visits. He also leaves us jars of his honey, dark and delicious.
Once an avid tennis player, Max has had two hip replacements. He has a stationary bike to help preserve his joint function, but finds it no fun at all. Besides, he figures if he falls on his Brompton, somebody will stop to help him get up faster than if he falls at home. Max likes the low step-over of the Brompton, how portable it is, and how upright he can sit on it, a P-type with the bars tipped back. He notes its British manufacture matches his bulldog Ziggy.
Inquiring about the Brompton's warranty ("5 years on the frame, 2 on…"), Max interrupted "…right, right, so lifetime warranty." In retort I told him how, riding down the Pacific coast a decade ago, I encountered a 93-year-old gentleman riding a 4-day loop out of Eugene over the mountains, carrying full camping gear on his old Raleigh 3-speed. It's important to have models!
There are thousands more photos of Bromptons and their diverse riders in all sorts of adventures up for browsing in the Flickr Brompton folding bicycles pool.