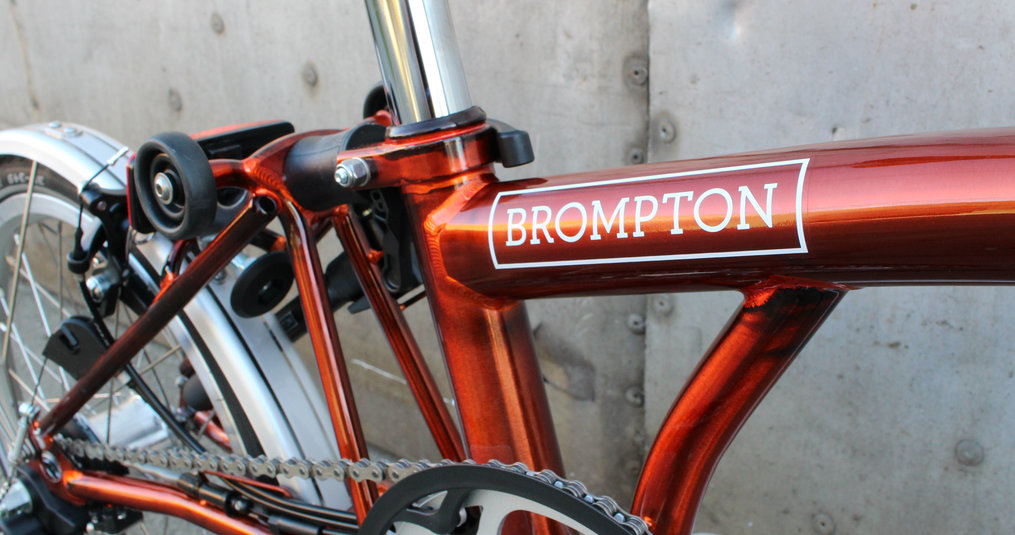 The Brompton M6L
The M6L is the most popular configuration we sell for a reason—it's the most versatile. With six gears to choose from, it has a wide enough range to feel right for most types of roads, and the actual gear range can be altered up or down to allow for better hill climbing or faster riding. The M6L's medium-rise, M Type handlebar is 2.32 inches lower than the H Type and 3.5 inches higher than the S Type, designed for relaxed, upright riding, and suitable for anyone over 5' tall. It wouldn't be our best selling bike if it didn't come with fenders—the M6L is ready to ride, whatever the weather. Here's what it's best for.
Commuting
Many people use Bromptons to speed up their commute. If you'll be riding to work, then you'll want to consider the M6L's commuter friendly features. The M Type riding position allows you to see and be seen more easily, which is especially useful when you're commuting. In a flatter city, you could probably get away with a 3 or 2 speed Brompton. But in a hilly city like Portland, a 6 speed is the most practical. Because the small wheels of a Brompton spin faster than larger wheeled bikes, they tend to kick up more spray from the road. Fenders help keep your clothing clean. Remember even if you don't plan to ride in the rain, you may find yourself riding through a puddle from time to time.
RVs
Folding bikes and RVs work perfectly together. Traveling in an RV is a great way to see the country and having bikes in tow gives you more freedom to explore. Even the biggest RV storage compartments will not fit a bike without disassembly. Racks are costly and can damage your bike or vehicle if not installed properly or loaded correctly. They also do little or nothing to protect your bike from the elements. Folding bikes eliminate the need for expensive racks because they stow inside your RV, where theft is less likely. Bromptons are the easiest folding bikes to find storage space for because they're the most compact. Others fold in half. Bromptons fold in thirds. The M6L is our recommended setup for RVers for three reasons: Mid-height handlebars make the bike very shareable, it gives you enough gear range to do some distance or hilly riding, and the fenders will save you trips to the laundromat.
Bikepacking or Touring
A Brompton M6L can be used for touring, whether that's riding down the Pacific Coast, bikepacking Central Oregon mountains in Spring, or Bromptoneering the Blue and Wallowa Mountains. Maybe it's the challenge of packing lightly. Maybe it's the freedom to switch modes of transportation without having to pay surcharges, find bike boxes, etc. Whatever the reason, people love them for touring. If you want to do self-supported travel, we recommend the M6L. Laura from The Path Less Pedaled said it best, a 6-speed Brompton "may only have six gears, but it turns out that they're the right six." Six speeds is the recommended gearing setup if you'd like to do longer rides. The M Type lends itself to touring because it puts the rider in a comfortable, relaxed, upright position. Fenders are essential for touring—roads are often wet from drizzle or snowmelt, and changes of clothing are limited.
Travel
People who travel love Bromptons. A Brompton is the size of a carry on suitcase when folded. Small enough to fit in cars and most airplane overhead bins. Easy to store in hotel rooms. If you're looking for the ultimate travel companion for business travel or vacation, you can't go wrong with the M6L. Take it on a plane, train, or bus to explore further and see more. Taste your way through local cuisines without ever having to leave it locked up outside. Travelers prefer the leisurely upright ride they get with the M bars, and with six speeds, you can cover more ground. The M6L gives you enough gear range for long rides and challenging inclines, plus fenders for the unexpected rain shower.
Video Transcription
Hi, it's Jillian from Clever Cycles. I'm here to share with you our best selling Brompton, the M6L. Looking through a Brompton catalog and seeing all the options can get really overwhelming. Should you get M bars or H bars? Three speeds or six speeds? Standard or reduced gearing? To help you navigate the options, we want to share with you our best selling Brompton, the M6L. The M6L is a Swiss Army knife of Bromptons. It fits most people and can be used for all of your daily riding needs. Let's take a closer look. "M" means it uses the M bars. The M bars fit a wide range of people and can be adjusted forward and aft to fine-tune your fit. The M bars allow you to use all of the Brompton bags, from the smallest to the largest. The "6" means that it has 6 speeds. It gives you enough gearing if you have a hilly commute. You can also get even lower gears with the reduced gearing option. The "L" means that it has no rear rack. This saves on weight, cost and makes the Brompton easier to fold. If you're interested in a Brompton but are overwhelmed by the choices, the M6L is a great place to start. It's our most popular model because it works with many kinds of riders. To test ride an M6L or for more Brompton advice, give us a call or stop by the shop. You can also check out our video on how to set up a Brompton.