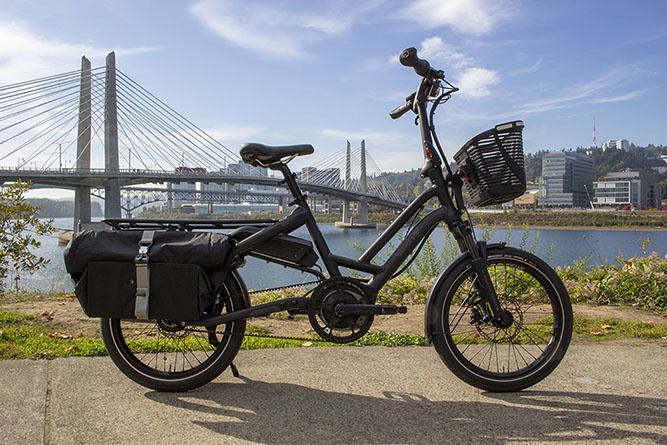 Tern's New Electric Cargo Bike Is Smaller Than a City Ebike
If anyone knows how to make a bike with 20-inch wheels that handles and rides like a regular bike for riders of all sizes it's Tern. They're 20-inch wheel experts, and they're changing cargo bikes as we know them.
Take the GSD for example. It's the same length as a regular bike, and you can store it vertically because the rack doubles as a sturdy stand. When standing on its end, it takes up about as much space as a coat rack. The handlebar folds neatly out of the way. Those features make it possible for more people, including apartment renters and condo owners, to cargo bike.
Tern took everything that's good about the GSD and shrunk it when they designed their newest family of bikes called the HSD. The HSD and the GSD have some of the same features, like the ability to store vertically and a handlebar that folds. Tern calls it GSDna. Other features, like front suspension, are new.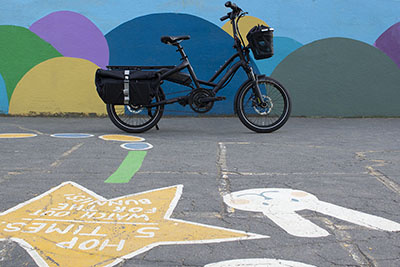 Compared to a standard bike with a rear rack, the HSD is a more capable hauler. The heavy duty, extra long, double decker rear rack can accommodate both a child seat and panniers—most standard bike racks can't. Not only that but it's smaller. The HSD S8i is shorter in length than a standard size bicycle.
We've been testing out the model with internal gearing and a belt drive, the HSD S8i. That means hauling weight, including a couple of pumpkins in the Cargo Hold 37 Panniers. HSD stands for Haul Stuff Daily, or, if you're at the pumpkin patch, Haul Squash Daily. When a full size cargo bike is more than you need, but you want to haul stuff daily, there's the Tern HSD.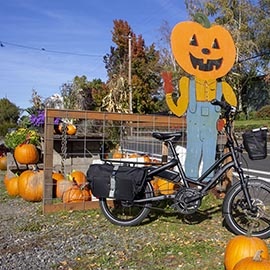 20-inch wheels keep the cargo close to the ground, which is good for handling. The bike's wide rims and thru-axle hubs provide a rock solid foundation for hauling up to 374 pounds. The suspension fork combined with cushioning balloon tires offers a smooth ride over road cracks and potholes.
There's no bike rack at the roadside farm stand where we picked up our pumpkins, not one anywhere near it. The HSD has a frame lock, keyed the same as the battery, and it's times like these you'll be glad you have one. The panniers gobbled up our pumpkins, and with the snap of a couple of magnetic buckles we were off and away.
Thanks to pedal assist, the additional weight of our pumpkins did not increase the amount of effort required. The blustery headwind was no match for the Bosch motor. When it comes to hauling heavy cargo, the added power can mean the difference between using your car or enjoying all the benefits biking has to offer.
A 15-pound pumpkin is just a fraction of what one pannier can hold. And, you can have panniers and still use the top platform. The panniers fold flat when not in use. Another add on, the quick-release Hold 'Em Basket, doubles as a shopping basket. It cinches closed and clips onto the frame in seconds. It holds 12 liters of gourds, or groceries.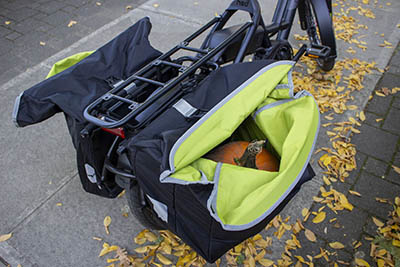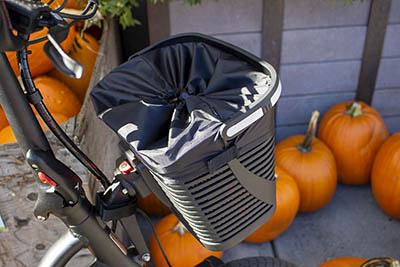 The HSD is ideal for sharing all thanks to the step through style frame and adjustable stem and seatpost. It fits all our staff, and because it has a slack seat tube angle, the cockpit is just as roomy for our tallest employee as it is for a rider who's four-foot-eleven. The model we tested comes in two colors, a dusty blue called Tundra and the color Tern sent us, Matte Black. The 9-speed derailleur version comes in Red and a sand color aptly named Dune. The fully-automatic S+ comes in Shake Polish. The P9 and the S8i will be available in early 2020. The S+ will be available in mid 2020. You can preorder the model of your choice by contacting us and putting a $500 deposit down today.