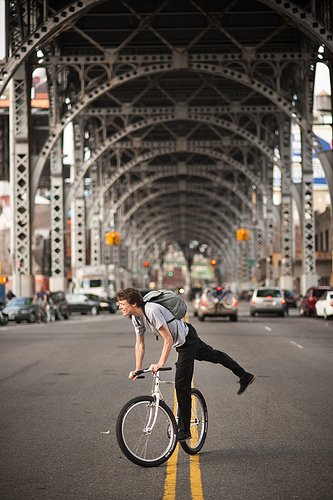 Sshhh! Introducing Belmont Stealth Pantaloons
I've barely changed my pants for five months. Rain and shine, cold and not, I've been testing revisions of a new trouser design we've developed with Richard Risemberg at Bicycle Fixation, whose excellent wool knickers, together with Rivendell's MUSA pants, were primary inspiration. We're introducing them for sale today: Belmont stealth pantaloons.
They're ideal for year-round daily bicycling in temperate climates like Portland's. But don't call them bicycling pants, please! They don't have reflective anything, or padding, or U-lock holsters, or clingy fit. Most of all, they aren't knickers. In fact, we've called this "the Not Knicker Project" among ourselves. Not that there's anything wrong with knickers, except that many people won't commit to matching knee-high socks, nor to arriving everywhere everyday looking like a period clothing enthusiast, mythical humanoid species, or fashion-forward bicyclist. Belmonts are stealth, as in discreet. Pantaloons as in baggy and not too serious, though these are some seriously fine pantalones.
They are made of the very best wool we could source, in a black gabardine and a slightly lighter-weight charcoal square weave. Think fine business wear material. They are light enough for summer plain, and for Portland's three cooler seasons with long merino underwear underneath. It's not scratchy because it's worsted. This means that all the fibers are straightened and aligned smooth when the thread is spun, unlike the naturally kinky/pokey woolen wool that usually gets knit into sweaters or woven into tweed or flannel. Hard-wearing, it has a smooth, dense hand, just heavy enough for wrinkles to hang out. Your natural perspiration cycles act like steam almost in maintaining an elegant drape. Waves flutter through it as you move.
Black and charcoal, the sum or absence of all color, go with everything, and hide the inevitable bit of grime that may escape from your bike, especially if you're one of those edge-seeking minimalists who rides with an exposed drivetrain. Unlike cotton blacks, the black stays black. Unlike synthetics, it's hard to make it stink, it's silent, it drapes better, it isn't particularly prone to snagging or ripping, and it won't melt too close to a campfire. Dirt, lint, and so on just brush off. Expect weeks of wear between washings.
We're certainly not onto anything new with the idea of riding in wool. But until now, choices for wool pants have tended toward too-heavy, scratchy surplus stuff from the siege of Stalingrad or some frozen hunting fantasy, or maybe XTreme golfing, or business wear, either new or thrifted. We won't mention tights. All but the army stuff is cut and sewn inappropriately for active use, with restrictive seams, dry-clean-only, fussy linings and fly closure systems, and floppy lower parts that must be strapped to stay clean and whole on most bikes. Not these.
Belmonts are cut loose in the upper parts, with forgiving elastic in the rear waist. The crotch won't blow out even if you do splits. Below the knee, they taper to a small opening, meaning that you won't need a strap or to abuse your socks. They are hemmed on the long side, so your ankle remains covered even when your knee is sharply bent, but the small opening means you can't step on the fabric at the heel even if it's way too long. Easy to take up if necessary, or to let out another inch.
They're $109, this time. We have reason to believe that the price will go up for future production runs!
Many thanks to Ezra "fast boy" Caldwell for the excellent photos from our once-was NYC home.