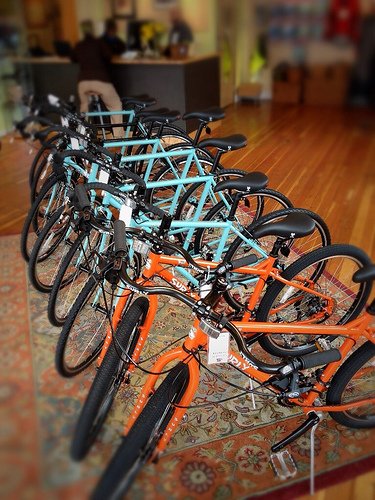 Long, Wide, Wet, Surly
Happy Spring! Did you know that we're now open until 8 on Thursdays? Starting today? This is the "long" part of the title. We tried this once before and nobody came. Now it feels different; good people who've scratched at the glass after we close at the normal hour of 6: let's try this again!
As noted pathetically above, the product listing functionality of our site has been broken for some time, so until we finish the fix in a permanent way (basically an all-new site), we're simply going to tell you about new and upcoming products, long form.
This post mostly reproduces the contents of our most recent email newsletter. Are you on it?
Surly
We've been a fan of Surly bikes for a long time, but until now we've stocked only their Big Dummy longtail. Over the last years, we've found ourselves constantly sending customers elsewhere for other Surly models when we realized that they would best meet their needs. We are proud to announce that Clever Cycles is now a top tier Intergalactic Surly dealer with all the bikes listed here in stock, ready to test ride.
We think a Surly may the perfect bike for Portlanders who enjoy a sportier ride than supported by most of our upright, purpose-built city bikes. They don't break the bank, but they don't cut important corners, either. Their designs are simultaneously very conservative in not fixing what was never broken (fat tires instead of mechanical suspension? friction shifters? steel steel and more steel? yes!), but innovative where meaningful; there's a lot more bold engineering in many models than coming from larger companies that would never use the F-word on their websites.
Unlike most of what we've stocked in the past, Surly bikes ship with drop or straight bars, exposed everything, and no kickstands, racks or fenders. Some people actually ride them this way, and it's all good, but we can civilize your feral factory-built Surly by substituting swept bars, Brooks saddles, and adding fenders, racks, kickstands and dynamo lighting to make a beautifully functional, durable and comfortable town bike. Further domestication services include chain guards and a bell, or even a built-in ring lock! At this fangless extremity all parties might prefer that the Surly decals come off; be proud of your headbadge.
Surly Cross Check as a Daily Commuter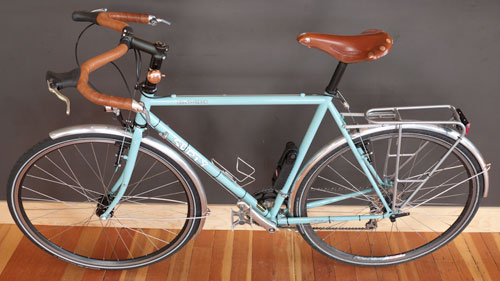 The Cross Check frame can be built up with gears internal or external, or as a singlespeed or fixed-gear. You can ride it on road or off. It's got lots of space for fat tires and for fenders. It does as good a job getting you across the country as across town.
Moonlander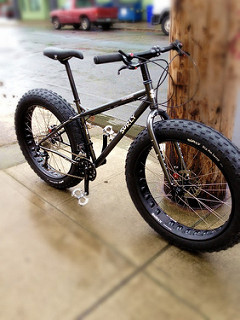 Big tires, run at low pressures, get you over terrain that is difficult or impossible to ride on a 'regular' bike, such as deep snow, sand, or the powdery, meteor-pocked surface of the moon. While not exactly the perfect city bike, it makes a great window display and is a blast to ride. The Surly crew lives what they sell. Check out this 135 mile race in the most extreme temperatures. We have one of these in stock right now.
The Troll: Most Versatile Ever?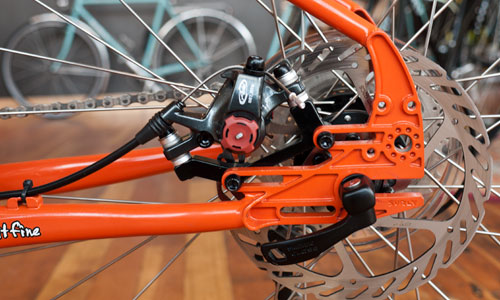 The Troll frame features Surly-engineered horizontal rear-entry dropouts with a derailleur hanger, disc caliper mounting slots, plus rack and fender bosses. There's a dedicated area for anchoring a Rohloff hub OEM2 axle plate, and includes threaded M10 x 1mm holes for installing Surly trailer-mounting nuts or B.O.B. Nutz. The dropout design allows the simultaneous use of a rack, fender and disc brake. Canti pivots, too. Options, options, options. All dropout geekery aside, the Troll's huge fun to ride.
Big Dummy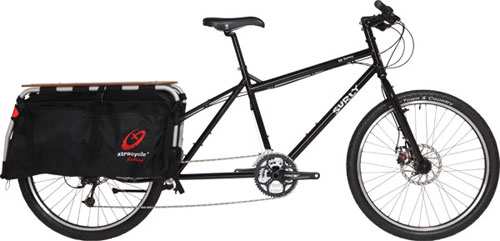 We've stocked the Big Dummy longtail for as long as it's existed, and tested a prototype before that. Based on Xtracycle's seminal hitchless trailer concept, capable of bearing 2 children and 6 bags of groceries at the same time, light enough to carry up steps without hernia risk, finely made and fit with quality components throughout, Big Dummy still sets the longtail standard.
Long Haul Trucker, Now With Disc Brakes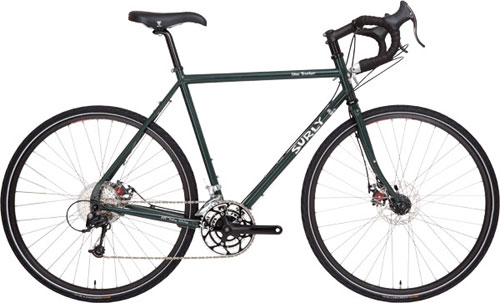 It's a tool designed to help you get lost and find yourself. The Long Haul Trucker enjoys a reputation as one of the best riding and most value-packed touring bikes out there. Of course, you can commute on it, too: one bike for every week of the year, work and play. Now available with disc brakes!
The Wet and Wide Part: Dutchtub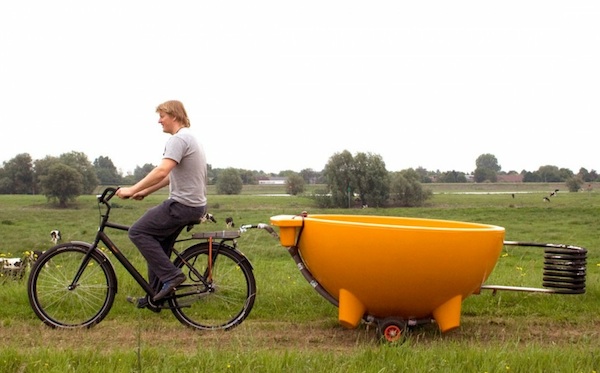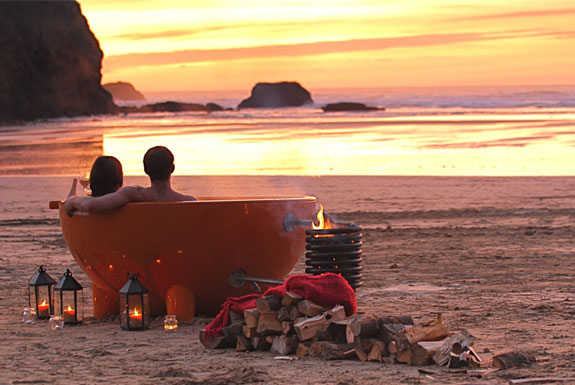 Our next container from the Netherlands will include (along with more Bakfiets.nl Cargobikes!) a couple Dutchtubs, which we will make available for rent. These are portable wood-fired spas with seating for four. Why? Because they can be towed by bike! We think water, fire and bikes are already key parts of living well in Portland; we love how the Dutchtub ties together all three in a virtuous spiral, "sober and decadent at the same time." As its creators say "it's a way of engaging in your environment (wherever you are) and upgrading your possibilities within public or private space." Sounds like a bike! Go ahead, book one for your next bike-based water birth. O, and there's a wok for the top of the fire ring.
They weigh a bit over 150 pounds empty. We'll have a trailer and accessories to allow a Dutchtub to get under most any downspout in Portland by bike within an hour. You pedal. Give us a couple months to get all this ready, but start dreaming now.
Join us for the Bicycle Transportation Alliance Alice Awards

Come with your friends and enjoy an evening of cocktails and dinner while you bid on a wide array of fun and exciting auction items. Together, we will honor the 2012 Alice Award winners for outstanding bicycle achievements in Oregon. We invite you to help us envision the future of bicycling in Oregon by attending the event on May 5. Purchase tickets online.