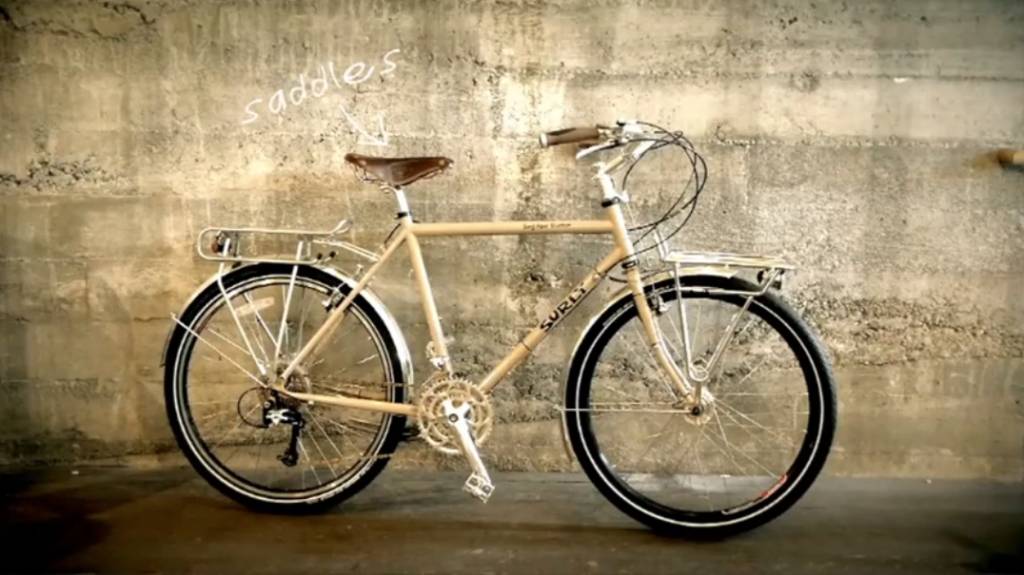 Pimp Your Surly
We think Russ of Path Less Pedaled's video skills are pretty great, so we asked him to help us tell the story of turning Amanda's feral factory-built Surly Long Haul Trucker into the far foofier sort of city bike we ride ourselves.
What did we do, exactly? What didn't we?
Replaced the front hub with a Shimano dynamo powering the super-bright LED lights wired fore and aft. These are Busch & Müller models Cyo and Toplight Line Plus. Modern hub dynamos and LED lighting are efficient and durable enough to leave on 24-7 without noticeable drag, and bright enough to add even daytime conspicuity.
Replaced the drop handlebars with North Road-ish town bars, this time from Linus, swept back and wide for a more upright ride, easier access to brakes and shifters, and great control.
Converted the bar-end shifters to thumb type, a Velo Orange widget.
Substituted classic slim four-finger brake levers from Tektro.
Added Ergon grips in fake cork, for comfort.
Swapped in a Brooks B17 Special saddle, antique brown, with copper-plate undercarriage and large hand-hammered rivets. Don't hate it because it's pretty: there's nothing more comfortable, most of the time.
Swapped in supple, efficient Schwalbe Big Apple tires, 2" width. These are among the lightest tires that won't fall into streetcar rail tracks.
Mounted Velo Orange polished aluminum fenders, full coverage.
Added a double-leg kickstand, Pletscher.
Mounted a brass bell on one of the headset spacers, Crane.
Added front and rear racks from Soma and Racktime, respectively, for her existing Ortlieb panniers, together with top-mount baskets, including a Wald 139.
Switched to MKS Sylvan touring pedals with Power Grips for plain-shoe foot retention.
We didn't remove the Surly decals. These bikes are worth this much intervention because they have great bones; it's not their fault that most bikes in this country are still sold as "sport and leisure" goods rather than transportation, so they come stripped down. The total cost brings the bike into the range of one of our premium WorkCycles town bikes, which have similar functionality but are a) much heavier and heavier duty and b) near-zero maintenance. Given the magnitude of the changes undertaken, we had to remove relatively few original high-value parts, all of which will find good homes at one of Portland's nonprofit bike rehabilitation and skill-building centers.
Amanda has returned wanting less front rack. We thought that might happen, given that the steering geometry isn't ideal for large front loads borne high, but some things require trial. We'll keep at it.
Amanda bought her Long Haul Trucker elsewhere, before we stocked many Surly bikes. She hadn't ridden it much at all in the year she'd owned it, because she felt too stretched out on it, the saddle was torture, and it wasn't equipped practically for her dark-rainy-trip-to-the-market needs. We did cut her a deal in exchange for appearing in this video, but normally we don't charge anything for labor on component and accessory installation at time of purchase on bikes we sell.