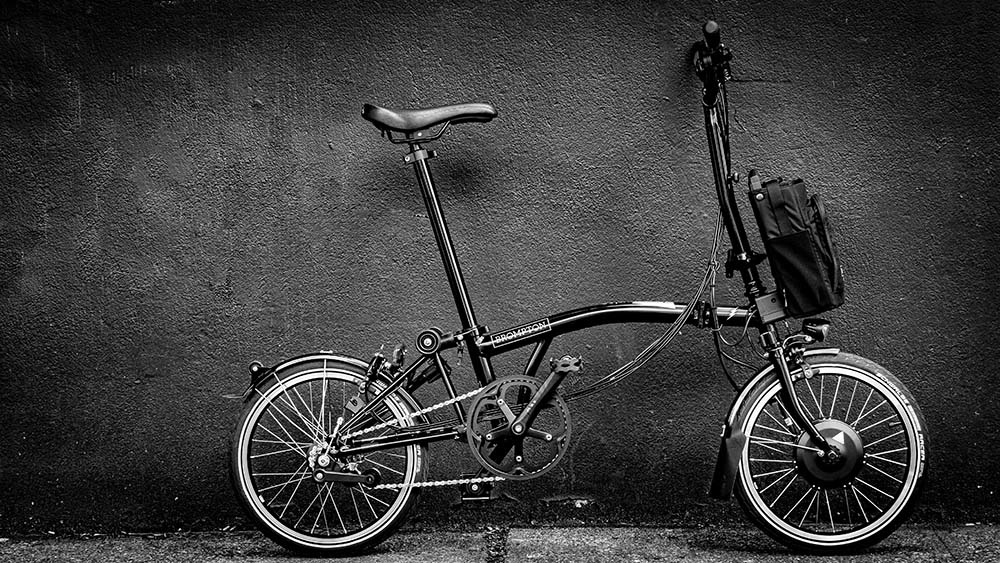 Finally, the Brompton Electric
The long-awaited, highly-anticipated Brompton Electric is now available in the U.S. After years of research and development, Brompton achieved a lightweight electric bike without sacrificing durability or increasing the folded size. The electric Brompton folds to two thirds the size of other folding e-bikes, and at 36 pounds, it also weighs less.
The Brompton Electric is a game-changer for multi-modal commuters. It rides and folds like a traditional Brompton, the most compact, practical folding bike on the planet. It goes where other bikes can't. You can take it inside or store it in your car. When you combine portability with hill-flattening electric power, it's hard to imagine a better bike for city living.
Because a Brompton is no ordinary bike, an electric version couldn't be built with existing parts. Brompton had to develop it themselves with the help of partners like the Williams Advanced Engineering Team, who combined their technical Formula One and Formula E knowledge to develop an electric bike motor that meets the complex demands of a Brompton. The bike weighs 30.2 pounds and the battery weighs 6.3 pounds, as light as possible without sacrificing durability, and, like its non-electric counterpart, it's extremely compact.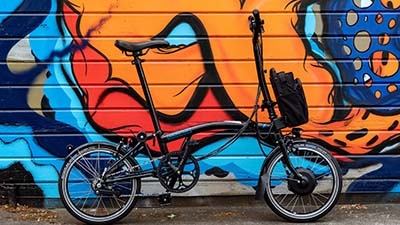 All Brompton Electric folding bikes come with the standard 1.5 liter battery bag that clicks onto the front of the bike and stores the 300Wh, 36V battery. (Standard front luggage is not compatible.) There's a front, zippered storage pocket for personal items or the charger. When unclipped from the bike, the standard battery bag can be worn over the shoulder. A larger, 20-liter bag, Brompton's briefcase-style City Bag, can be purchased to carry more. It has a laptop compartment, a front pocket for papers, two large rider-facing pockets, and a hi-vis, reflective rain cover that fits in its own special pocket. This practical and spacious bag makes it easy to tote a day's worth of stuff on the Brompton Electric—from home to the office to the gym and beyond. Like the standard battery bag, the City Bag has a carry strap and can be worn over the shoulder. The battery pack, which fits snugly inside the specially-designed bags, has a battery level indicator (5 blue lights) plus two buttons, one that controls the lighting and one that controls the level of assistance. There are four modes: no motor assistance (off), 1, 2, and 3. The motor stops assisting at speeds higher than 15 mph.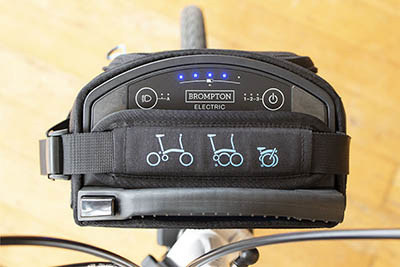 Brompton's smart sensor technology knows when you're cruising and when you need a boost. A sensor in the bottom bracket measures pedal torque and cadence, or the number of revolutions of the pedals per minute. A sensor in the bottom bracket measures the bike's speed. The electric assist system uses these measurements to determine how much assistance the motor gives and is constantly checking and adjusting accordingly. Although it's small and light, the 250W front hub motor is more powerful and energy efficient than most of its rivals. It's like having a tailwind all the time.
The battery range off a single charge is between 25 to 50 miles and is affected by a number of factors including assistance mode, tire pressure, starting and stopping, wind conditions, cadence, temperature, hills, and weight. The bike comes with the standard 2A (2-amp) charger. Charge time is approximately 4.5 hours to get to full charge. An optional 4A (4-amp) charger reduces the charge time to approximately 2.5 hours. You can charge the battery in the battery bag, on or off the front carrier block, or you can charge it when it's removed from the bag.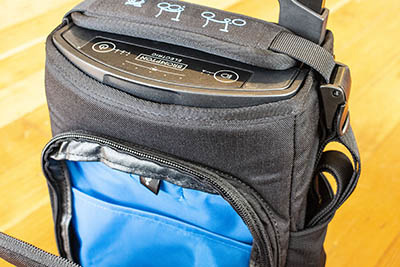 Brompton's electric bike has features every commuter needs, like automatic, built-in lighting and the ability to charge your devices on the go by connecting to the USB port on the battery, which can be done on or off the bike and even while riding. The not-yet-released Brompton Electric iPhone app will display and record data such as speed, trip and total distance, and service history and reminders and will allow you to change riding modes with your iPhone. Brompton plans to release the app at the end of this year.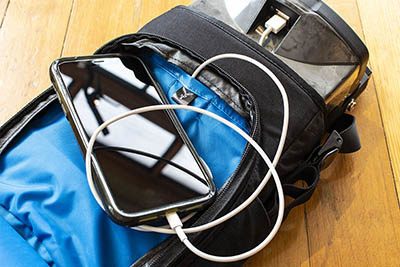 The Brompton Electric comes in 2-speed or 6-speed, in gloss white or gloss black, and with your choice of either M bars (suitable for riders over 5') or H bars (for taller riders or anyone who prefers a more upright ride) and one of three seatpost options also depending on rider height. Want to beat morning fatigue with fresh air on a bike you can take anywhere? The Brompton Electric flattens hill, fights headwinds, and makes long distances sweat-free. If you want to get a workout, you can choose low or no assistance. You decide the speed and effort that feels comfortable for you. It's compact, lightweight, and easy-to-carry so you can store it safely inside, and it folds to the same size as a regular Brompton meaning you can combine riding it with other transit modes to save time and money. Come in for a test ride.
Buy the Brompton Electric Folding Bike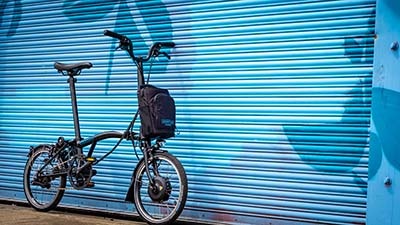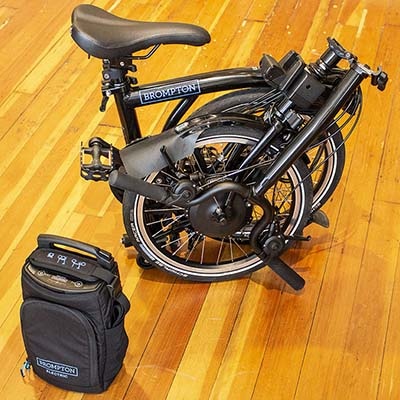 Buy the Brompton Electric City Bag