You may also like: Brompton Tire Guide, Brompton Grips Upgrade, and How to Fly With a Brompton
If you're looking for the most practical folding bike on the planet, then you've found it. Brompton bikes fold small, but have all the features of a regular sized bike. Gears, fenders, integrated lighting options, easy-to-use bags and endless aftermarket upgrades. The first time folding a Brompton is befuddling. But with just a little practice, the fold becomes second nature. A word of warning: everyone will be curious about your Brompton folding bike. Not only will the Brompton gain you new friends, it'll make everyday biking easier.
Why buy a Brompton folding bike?
Brompton folding bikes fold into an incredibly compact package. 23 in x 25 in x 12 in. It'll fit under a table or in a car trunk without issues. It'll even fit in some airline overhead bins. The best part about how small it folds is that everything stays together and the greasy bits are on the inside of the fold. Certainly a big plus over Dahon and Tern bikes. If you're looking for a folding bike that folds small and travels well in the folded position, the Brompton folding bike beats the competition hands down. If you get the optional EZ wheels, it'll even roll around in the folded position so you don't have to carry it.
Brompton has been manufacturing folding bikes in West London since the mid 70's and it shows in the number of accessories that are available and beautifully integrated with the bike. The most important being the front luggage carrier. Brompton has this ingenious luggage block that's fixed to the headtube so that even a heavy load doesn't affect the steering. Actually if anything, carrying stuff makes the bike more stable. Brompton offers over a dozen bag options that integrate with their luggage block. All you have to do is drop the bag onto the front carrier block, listen for the click, and ride away. The Borough Bag is probably the most practical and capacious, but there are lots of smaller and more colorful options to fit your mood and needs. The other really neat accessory is the Brompton Toolkit. It's basically everything you'd need to adjust your seat or fix a flat in a tight little package that fits inside the frame with a magnet. That, and all Bromptons (except the Superlights) come with a pump!
Bromptons may not be the lightest weight folding bikes, but they make up for that with features. Gears, racks, bags, lights, fenders. You can outfit your Brompton however you see fit, but a 6-speed with fenders is probably the most practical for hilly Portland riding. In a flatter city, you could probably get away with a 3 or 2 speed. If you're looking to make the Brompton a regular commuter bike, the dynamo lighting makes riding that much more practical. The lights are always there and never run out of batteries. Really, seriously, dynamo lights will change your world. There are also lots of slick aftermarket parts! Have you seen the titanium seatposts and pedals? Not to mention the ez wheels and diet kit. Swoon.
What type of Brompton folding bike should I buy?
The first choice to make in deciding which Brompton is for you is to determine which product line in the Brompton range to shop. The C Line is the classic all-steel Brompton you are probably familiar with. The Electric C Line, Brompton's line of ebikes, features classic steel Bromptons with pedal assist.
Once you decide on a product line, choose a model based on how many gears you want, 2, 3, or 6. Urban (2 speeds) is the lightest weight. Utility (3 speeds) has the benefit of hub gears (lower maintenance, longer life, allows you to shift gears when the bike is stopped at a stop light). Explore (6 speeds) is the most versatile option and is what we recommend for touring and hilly Portland riding. In addition to the number of gears, the actual gear range can be altered up or down to allow for better hill climbing or faster riding.
After choosing your gears, determine what type of riding position you would like to be in. That will decide your handlebar. It is important to determine which is the correct one for you, as switching handlebars involves more than just the handlebar. The riser section needs to be swapped out as it changes in length and bend radius between the types.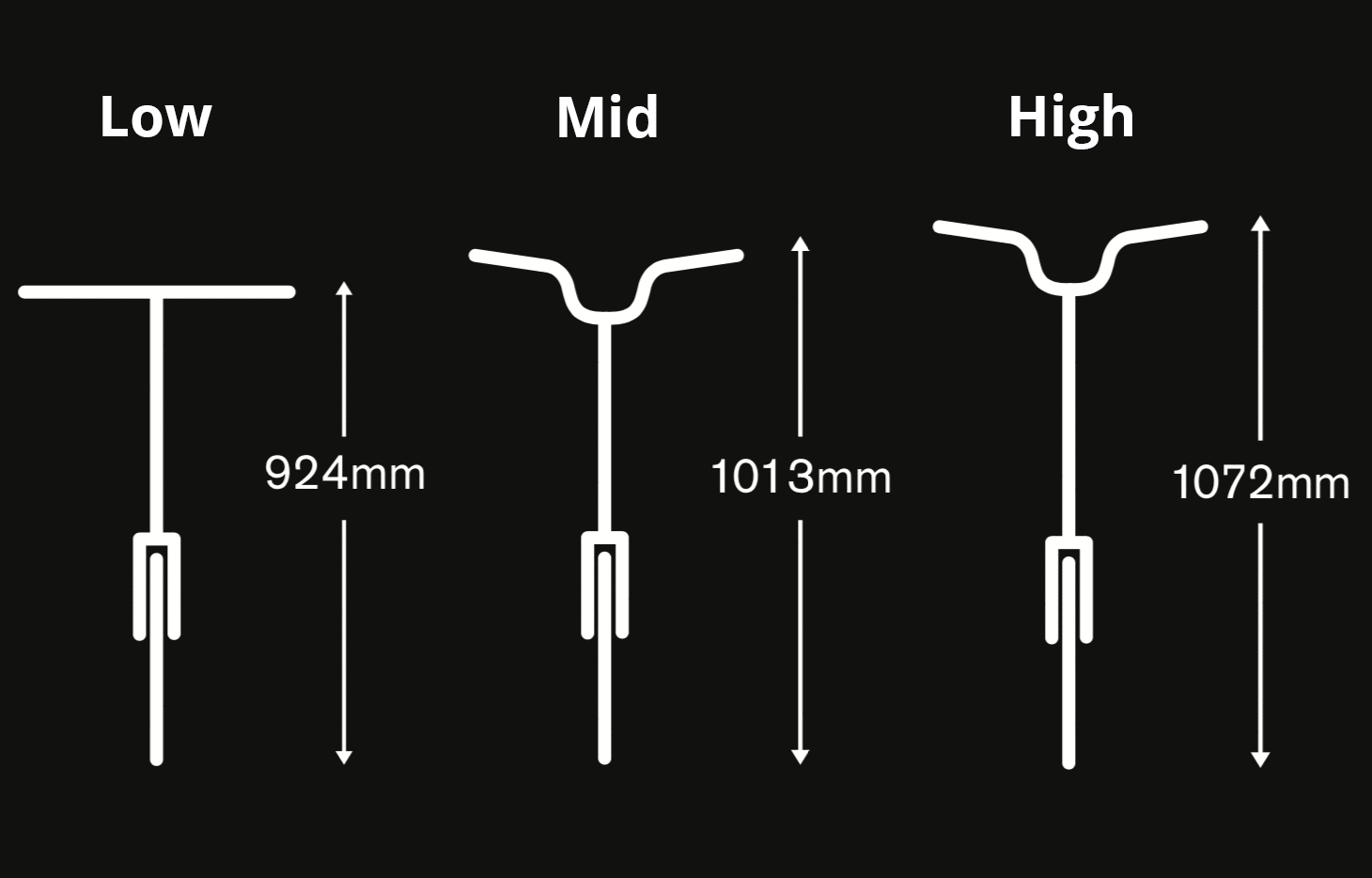 Mid Handlebar (previously known as Brompton M Type)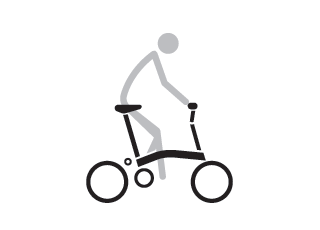 The most popular Brompton handlebar type and suitable for riders over 5' who prefer a leisurely upright ride. This riding position allows the rider to see and be seen a little easier -- especially useful for city riding. The mid handlebar is 2.32 inches lower than the high handlebar and 3.5 inches higher than the low handlebar. 
High Handlebar (previously known as Brompton H Type)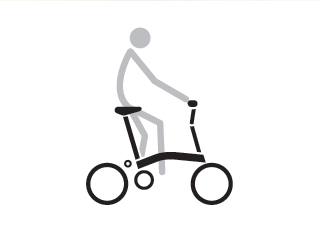 The most upright version of the three handlebar types. This riding position allows the rider to be extremely upright with minimal weight on the hands. Suitable for taller riders or anyone who prefers not to be hunched over. As there is not much weight from the rider on the handlebars, steering is very light. Test riders will comment on this, but after riders get used to the steering, there are no complaints.   

Low Handlebar (previously known as Brompton S Type)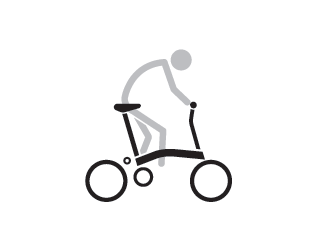 The sportiest. The flat bar has no rise, so cyclists who are used to riding a road bike with dropped handlebars will feel most at home. The low bar is 3.5 inches lower than the mid handlebar and almost six inches lower than the high handlebar. 
Brompton P Type (discontinued)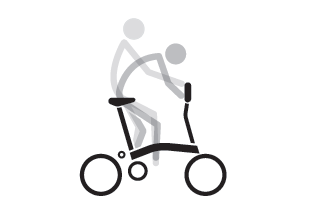 Brompton discontinued the P type as of May 2019. The P Type has two handle bar positions, which create kind of a hybrid between the S Type and M Type positions. The lower position allows for better climbing and fighting headwinds, while the upper position is more comfortable and useful for city riding. Just having an option for another hand position can help with longer rides. The P type was our least popular Brompton model and is now relegated to the wayback machine.
Rack or No Rack?
Some folks want the rear rack for bungeeing stuff; others don't want the added weight. In addition to added cargo space, a rear rack will provide more stability when the bike is folded and also allow the bike to roll better when folded. You will have to remove whatever is on the rack to put the bike in kickstand mode.
What is our best selling Brompton folding bike? - Video
Which is the best Brompton folding bike for me?
We would be happy to help you figure out what Brompton is right for you. If you have a current bike that you like riding, send us a picture. We may ask you to take a couple measurements if we can't determine what Brompton would be ideal from the picture.