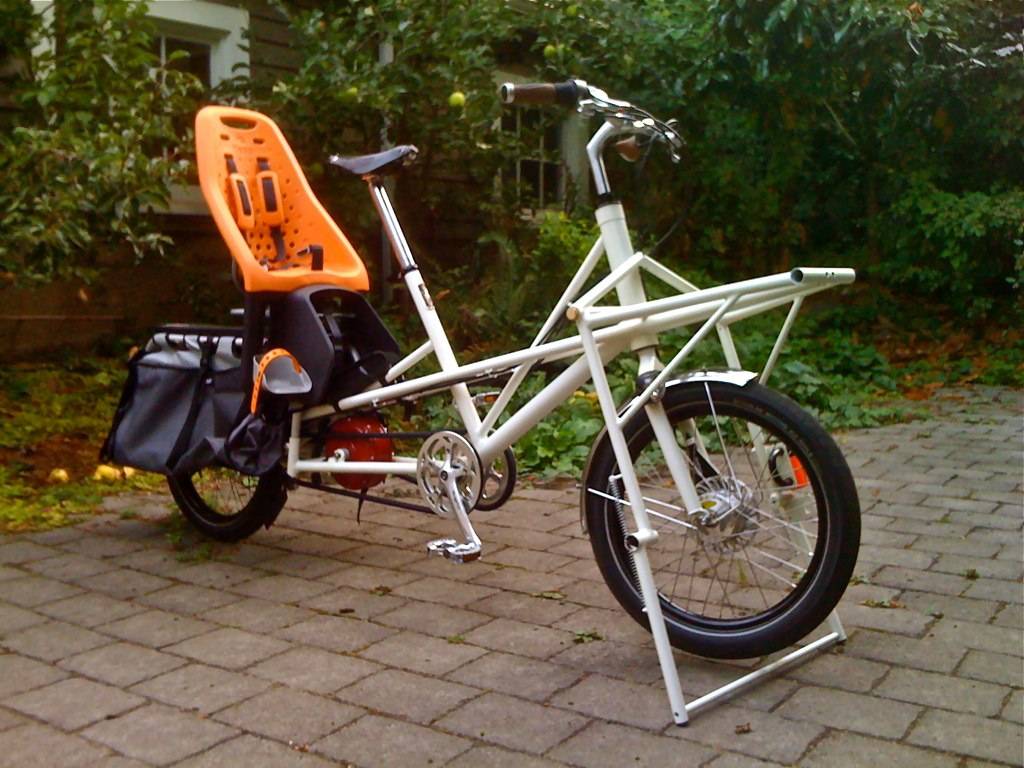 Xtravois 2.0, Our Oregon Manifest Bike
The bike Quixote Cycles and we are entering in the Oregon Manifest Constructor's Challenge is a 20-inch-wheeled Xtracycle-standard longtail with a step-through, one-size-fits-most frame, and a large frame-fixed front rack incorporating a stand. It features also very clean Stokemonkey electric assist integration, including optimal battery stowage. What follows is a super geeky breakdown of the design, its background and rationale.
A travois (trah-voy) is an A-shaped arrangement of poles, loaded near the crossbar with stuff, to be dragged along the ground by human or animal. 
It works better than a wheeled cart when traversing very rugged, brushy, or snowy terrain. A similar arrangement of straight twin-lateral tubes occurs in a mixte-style bicycle, where it permits a rider to step through the frame in a manner that enhances lateral rigidity with an isosceles triangle from head tube to rear axle.
Our Constructor's Challenge bike is a major revision of the travois-inspired elongated mixte I designed in 2003 called Xtravois. 
This was the first unified-frame rendition of Xtracycle's seminal hitchless trailerconcept, a class of bikes now known generically as longtails, with variants now having appeared from numerous artisanal builders as well as companies Surly, Kona, Yuba, Madsen, Rans, Sun, and even Trek. Xtravois was the fifth Xtracycle owned by my household in just two years, and eight years later it is still in weekly, sometimes daily service. I've never stopped noodling improvements.
Goals with the original bike were to improve upon the variable handling, stiffness, strength and aesthetics of Xtracycle's retrofit extension approach, as well as to serve as a development platform for our patented Stokemonkey electric assist product, designed to let people living in the hilliest places take full advantage of these bikes' cargo and passenger capacity. Goals with the present revision were to apply insights gained over a decade of personal longtail use and in having sold thousands of utility bikes at Clever Cycles since 2007. In addition to the minimum Constructor's Challenge required feature set of lights, lock, fenders, stand, and cargo capacity, our feature list includes items often lacking or ill-executed in other longtail designs: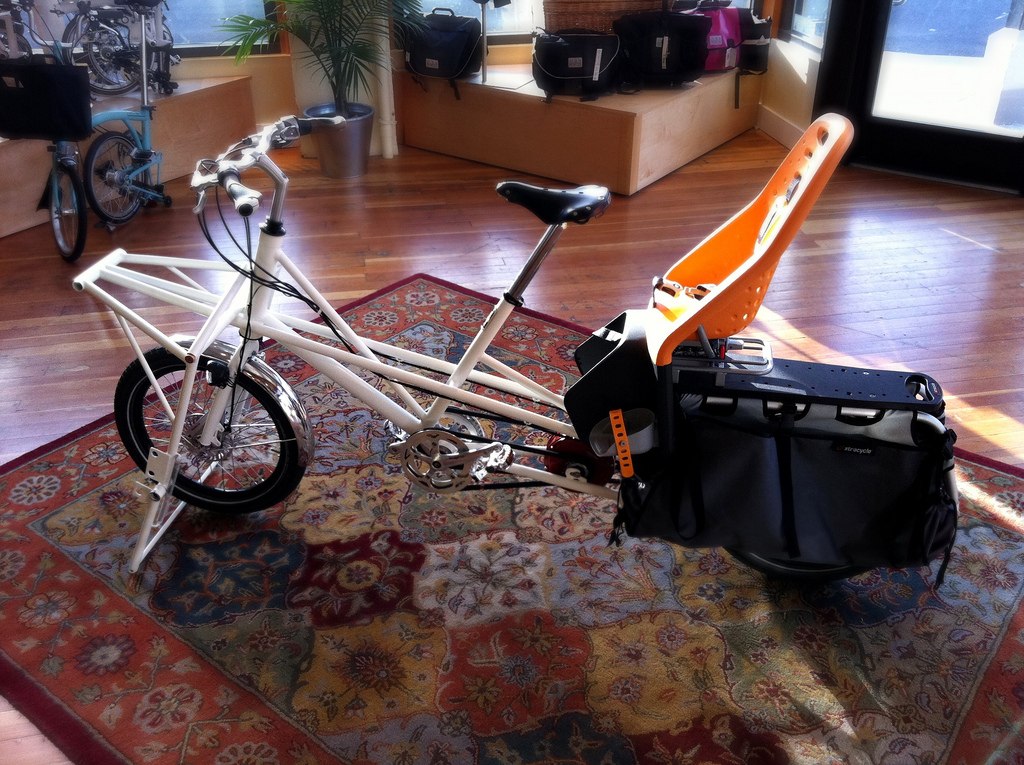 Postscript Oregon Manifest: what an exhausting, emotional day!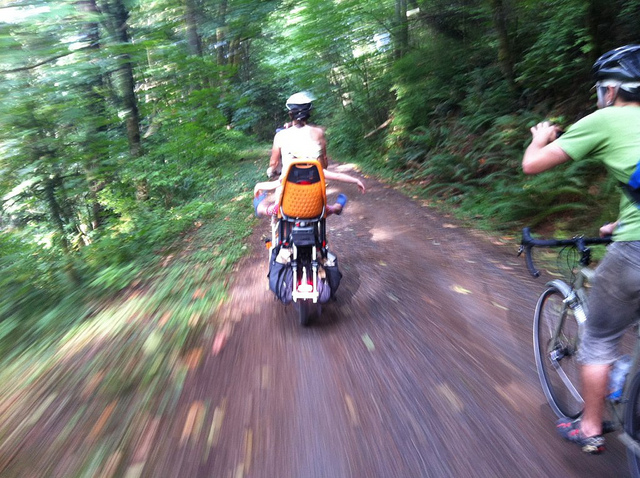 Our rider Diana and her adorable daughter Violet got off to a good start, loaded up with 60lbs of water for 50 miles of hills. Diana is a strong rider and proud of it, so she didn't use the electric assist until hitting the steeps of the West hills, too steep to pedal with such a load, no matter how low the gearing. And that's when the battery cut out. O no! She pushed the heavy bike and its very heavy load of very aggravatingly dead battery and more up, up, up in the hot sun. Began jettisoning water to other riders, as there was no electric-enabled boasting to do.
Diana completed the course in good time in spite of our apparent best efforts to sandbag her with an oversize load and faulty battery. As sorry as I am to have forced Diana to prove just how very badass and tough she is, I'm deeply awed and humbled at how resoundingly she did, smiling, gracefully, though red-faced and clearly at an extremity. I'm perversely happy to settle for this outcome: a demonstration of amazing human power over technological perfidy. As Diana quotes Gramsci, "pessimism of the intellect; optimism of the will." We didn't cheat after all. We said we would bring a gun to this knife fight. She was it.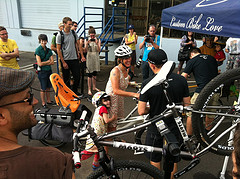 There was no helping the battery on the course. It came DOA from near Seattle the day before the event after a 7-cycle bench testing/conditioning regimen and UPS screwups. The manufacturer drove down to fix it, which we did until after midnight on my dining room table. Pronounced fixed, I rode it up Tabor in the middle of the night and called it good at 2:30am, hours before we needed to hand off the bikes. Little did we understand that the fix wasn't good, an apparent self-discharging condition that meant it was dead by the time the event started. High-end batteries are fickle, treacherous creatures, people! This is one reason we stopped selling them for Stokemonkey long ago, referring customers to specialists. Even the best specialists aren't always 100% reliable, though this case is anomalously bad. Some will seize on this episode as evidence of the folly of assist, but the correct inference is that there's no substitute for shaking down your gear hard before entering a competition. Our particular assist works beautifully, even on this course with a passenger and camping load, except for those rare times it doesn't work at all.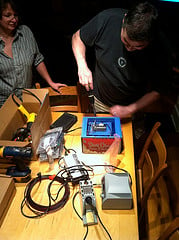 Battery woes aside, the bike handled the loads live and dead beautifully at all speeds and on all surfaces. All required systems worked. Everybody's who's ridden the bike, likes it. Diana loves it. The bike did not rank in the winnings. The bikes that did, while absolutely meritorious in their own ways, confirm my earlier stated belief that there is a deep disconnect between the stated goals of the event and the evaluation criteria. At the end of the day, I don't believe that true, deep innovation in bicycles and more "seamless integration" of critical features is a significant step toward bicycles being used in daily life by more people. And the bikes that won? Didn't go far in those directions either. To maintain otherwise reveals a thin grasp of bicycle history. The winning bicycles may represent the future of bicycling, but that's because they are so firmly rooted in bicycling's past, too.
Another entry that did not win, that I admire deeply is Ira Ryan's very restrained, meticulous, classic red bike. He apparently didn't even try to play to the evaluation criteria, instead calling the bluff, holding firm to the truth that really… can you seriously say there's anything major lacking in what we have long already had? Ira's bike, especially ridden by speedy Ira, says "get real." Apologies if I'm putting words in Ira's mouth; we haven't spoken.
I left the event by rolling out the bike, strapping my folding utility bike in the back, and heading into the still night of the industrial district. My mind raced with joy and regret mixed, spanked pride, gratitude for all the souls whose passions flowed together in acts of generosity and artifacts of beauty today (you are the man, Ross Evans… a list of people who helped would be too long, but I can't not mention Ross). And damn if the bike didn't ride well!
I rode fast, feeling spent and wanting home. Shortly I came across Dave and Katie with their children Jasper and Kestrel, both under 2. Katie was changing one of them on her highly customized Yuba Mundo longtail bike. I love these guys, car-free parents by conviction. Dave rode his Brompton. I rode with them, slower.
Kestrel began to cry in the wood carrier her father built, her dark eyes searching the dark sky as her mother pedaled her along the kinked trace of paint, signage, sidewalks and ramps that are the bike route. The baby's crying obviated a bell to alert the people under the bridges and sometimes in the way of our passage. A more universal language of priority. A baby's cries usually create stress, but now I delighted in this powerful soothing reconnection to the real, and in the measured easy pace of our big bikes. Along the river bank, as Dave and I talked dynamo lighting and Katie's hips gently swayed Kestrel's cries softer, and then silent, I felt my own stresses fall utterly away.
It has been a great pleasure working with Jonathan Reed on this bike. His mix of modesty, expertise, wit, passion and patient diligence is rare and wonderful.